The OFFSET function is one of Excel's best kept secrets. Probably because it's quite tricky to explain, and can be confusing to understand.
In this tutorial I'm going to do my best to keep it simple so you can get your head around it and then I'll cover a few of the most useful ways I find to use OFFSET. I'll also show you the things that trip people up, so you can troubleshoot when OFFSET isn't returning the range you expect.
Watch the Video

Download the Workbook
Enter your email address below to download the sample workbook.
By submitting your email address you agree that we can email you our Excel newsletter.
Please enter a valid email address.
Download the workbook
and practice what you learn, or reverse engineer the formulas for deeper understanding. Note: This is a .xlsx file. Please ensure your browser doesn't change the file extension on download.
Excel OFFSET function technical explanation
The OFFSET function returns a cell or range of cells that are a specified number of rows and columns from the original cell or range of cells.
The OFFSET Function Syntax is:
=OFFSET(

reference

,

 rows

,

 columns

,

 [height]

,

 [width]

)
I like to think of OFFSET a bit like a treasure map. The spot marked 'X' can either be a single cell or a range of cells (more on this later).
In our example let's say our starting point is cell A1 and the spot marked 'X' is cell D5.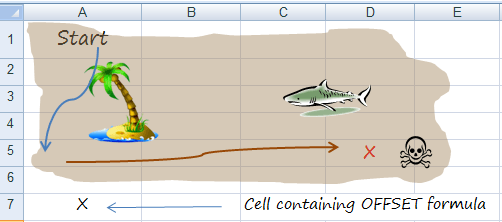 So in treasure map speak our OFFSET function would read:
=OFFSET(

starting at A1

, 

step down 4 rows (you'll be in cell A5)

,

 then step across 3 columns (you'll be in cell D5)

, 

Including cell D5 you'll find the treasure in a range that's 1 cell high

, 

and one cell wide i.e. cell D5

 )
And we would write it in Excel like this:
=OFFSET(

A1

,

4

,

3

,

1

,

1

)
Let's break it down into the arguments:
=OFFSET(

reference

,

rows

,

columns

,

height

,

width

)
1)      The reference is the starting point in your treasure map/worksheet.
2)      Rows are the number of rows you want Excel to move from the starting point.
3)      Columns are the number of columns you want Excel to move from the starting point.
4)      Height is the number of rows 'X' occupies, in our example it's 1.
5)      Width is the number of columns 'X' occupies, in our example it's 1.
Things you should know
You can enter the OFFSET formula in any cell, except of course the cell/cells where 'X' is. In the above example our formula is in cell A7. Although in this example it returns the value in cell A7, it isn't actually designed to use on its own, but because in this example we're asking OFFSET to only return 1 cell, it returns the value in the cell.  If we asked it to return a range of cells it would return an error in Excel 2019 and earlier. In later versions of Excel with Dynamic Arrays it would spill the results.
The reference can be a single cell or a range of cells, likewise the result OFFSET returns.
The height and width arguments are optional, if you don't enter a height and width it will return a range that is the same height and width as the reference.
OFFSET Function Examples



Practical Uses
1) Create a Dynamic SUM Formula
How often do you have to update the range of a SUM formula because you've added a row just above the SUM and it hasn't automatically picked it up?  It's less of an issue with newer versions of Excel, but it does still happen, so here's how I use OFFSET to save time by making my SUM formulas dynamic.
In the table below I have Totals in row 56. In cell D56 my SUM formula using OFFSET would look like this:
=SUM(D45:(OFFSET(D56,-1,0)))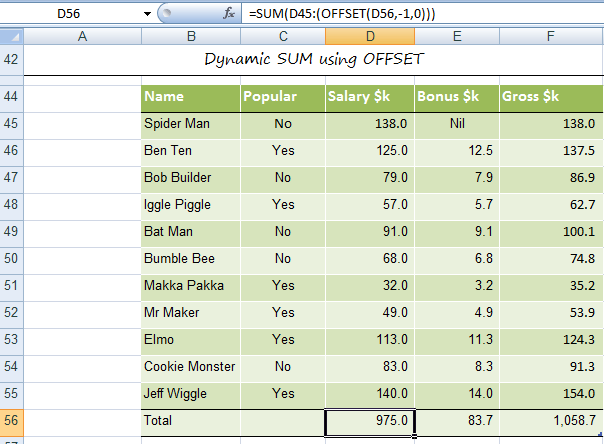 2) Use OFFSET and MATCH functions together with SUM and MAX
There are a few things going on in the example below:
I.  In Cell B61 there is a drop down list or data validation list as they're called in Excel.
By changing the selection in cell B61 my formulas in cells B62 and B63 dynamically change to give the SUM of the viewers for the selected program and the MAX viewers.
Since I already covered SUM with OFFSET above, I'm just going to cover the OFFSET and MATCH section of the formula in the example below.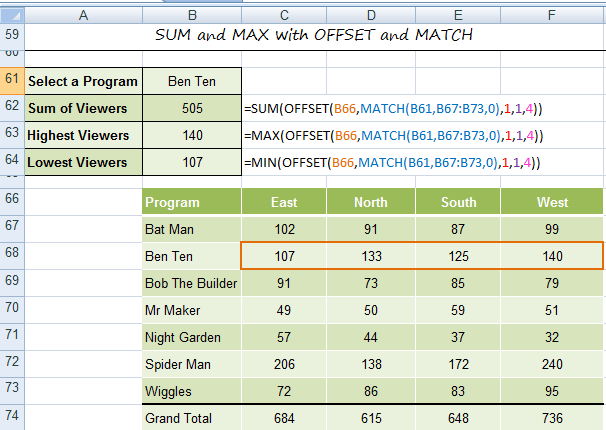 II. Working through the 'Sum of Viewers' formula, the reference cell for the OFFSET function is B66, i.e. the junction of the table.
III. We then use the MATCH function to find the row that Ben Ten is on from the range B67:B73, with row 67 being 1, row 68 being 2 etc. This result is then used to instruct the OFFSET function how many rows from B66 Ben Ten is on.  In this case it is 2.
IV. We then use 1 as the number of columns so that the start of the SUM is from column C.
V.  The number of rows in our range we want summed is 1
VI. The number of columns in our range we want summed is 4.
VII. The MAX and MIN formulas for the Highest and Lowest Viewers works in the same way, only instead of SUM we used MAX and MIN.
3)      Dynamic Named Ranges for Charts
Another common way to use OFFSET is to create dynamic named ranges. For example, below I have a table of data that I've charted. As I add years to the table, I want the chart to automatically pick up the new data.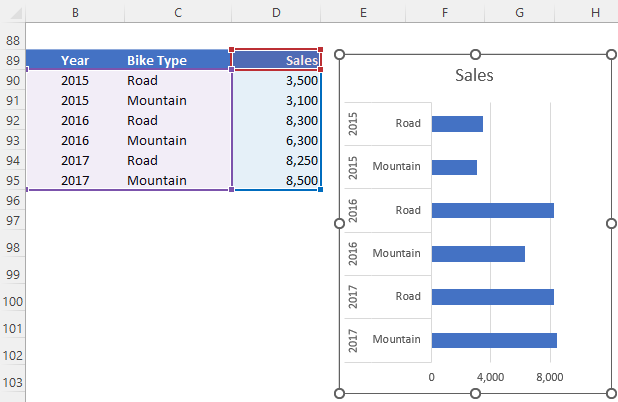 I need two defined names, one for the axis labels and one for the values.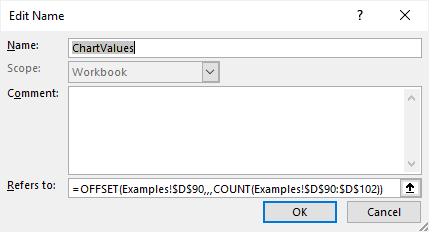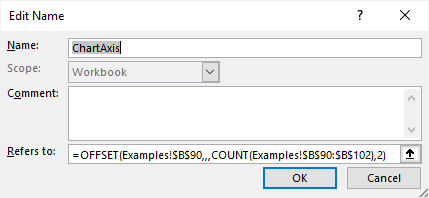 Then edit the chart data source (right-click chart > Select Data > Edit) and insert the names: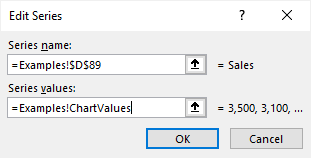 IMPORTANT: the names must be prefixed by the sheet name followed by an exclamation mark.
Common Mistakes
There are two common mistakes people make with OFFSET and I get emails about these issues all the time. They're super easy to spot when you know the cause.
The first mistake is using COUNT or COUNTA to return the size of a range, except there are blanks scattered in the range being counted. We can see in the name manager below that the OFFSET range is one row short, which is caused by the empty Year cell: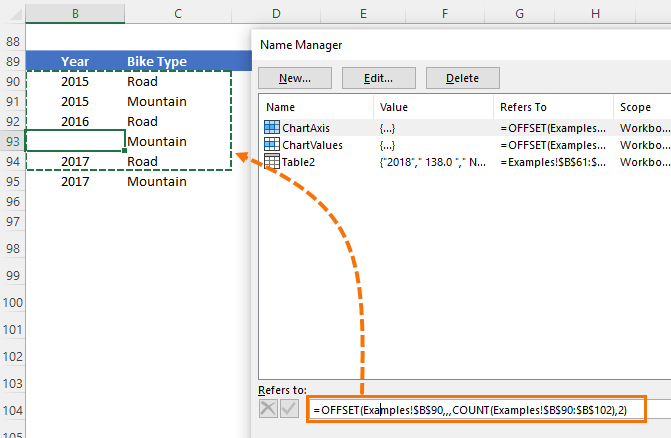 The second mistake is entering data in a range that's being counted. For example, it's quite common to use a cell under your table to do some quick math not realising that that cell is part of a range being counted by offset: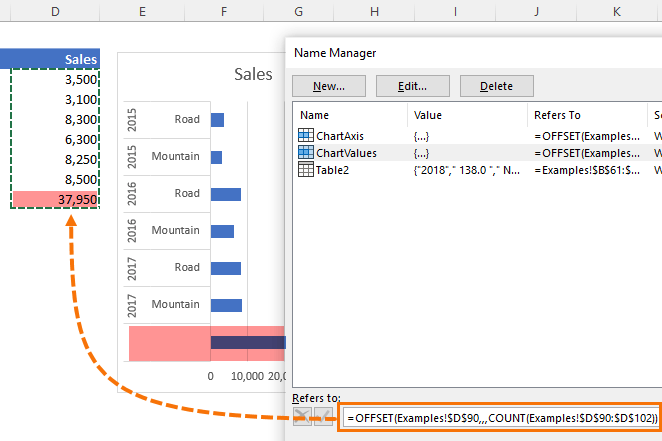 So, if your offset formula is returning the wrong range the easiest way to check is to open the name manager and check the range being returned. If the range is too short then you've probably got blanks being counted, and if your range is too long then you've probably got some erroneous data lingering below your table that's being included.
Watch out for Volatility
One last word of warning is that OFFSET is a volatile function, which in simple terms means it recalculates more often than most functions which are not volatile. The bottom line is that OFFSET can potentially result in performance issues if you use it too much in a file. However, if you're using it to generate dynamic named ranges and the like then it's not likely to cause you any problems. Just don't go entering it in an entire column of a table.