On this page you'll find various workbooks, files and eBooks containing examples to accompany our blog posts and YouTube videos.
Links to the posts are provided so you can read up on the topic.
Please enter your email address below to access the files.
You are the most important thing to us and our business. We have to email you if you request things like a password reset, and we may send you an email about our courses or webinars. But we will never send you spam or give anyone else your email address unless we are legally obliged to. Please see our Terms and Conditions and Privacy Policy at the bottom of this page.
Please enter a valid email address.
TIP: Right click the links with your mouse and choose 'Save as', 'Save target as' or 'Save link as'
Excel Workbooks
Mynda's Courses:
Power BI Desktop Files
Power BI brings your data to life in interactive visualizations.
Download the files with working Power BI report examples as shown on YouTube: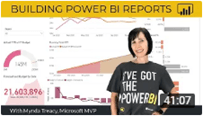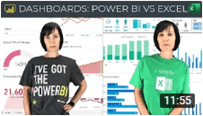 Power BI vs Excel Dashboards - And the winner is...