What previous attendees have said...
"I've been using Excel for over 10 years and I'd like to take the time to say thank you.
That was definitely one of the best courses I've ever taken.
It was incredibly informative, insightful and taught me a few tips and tricks that will surely aid me in producing automated dashboards. Thank you for sharing the course materials.
Nothing short of excellent! "
"I consider myself quite good at Excel, but your mastery of it leaves me in the ashes.
The dashboard presentation was dazzling."
"This was very, very well done.
Most webinars are thinly veiled info-mercials lacking worthwhile content. This webinar contained tips and helpful information that I can actually use right now. Thank you!"
"I have enjoyed the webinar and found it great in its information.
Very dense information that in just one hour you represented what I have spent days reading books about this subject.
I particularly like how to use slicers to make interactive dashboards without using any VBA.
---
Presented By :: Mynda Treacy, Microsoft Excel MVP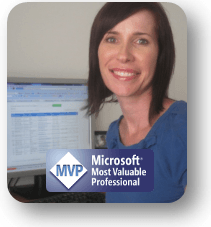 Hi, I'm Mynda Treacy.

I'm a CIMA qualified accountant and my first spreadsheet foray was with Lotus 1-2-3 in 1995.

Back then I was working in the City of London and I spent 8 years in investment banking as Global IT Financial Controller.

It wasn't long before we moved to Excel and that was all I did, day in, day out.

I now run an online Excel Dashboard course and have trained over 3000 people from all over the world and from a vast array of industries.

For the last 3 years I have received the Microsoft Excel Most Valuable Professional award for my contribution to the Excel community.