PivotTables enable you to take massive amounts of data and quickly summarise and analyse it with just a few clicks of your mouse.
This power means you can create reports extremely quickly, and respond to the inevitible report change requests without dread.
Just look at how quickly the data below is transformed into meaningful information with little more than a drag and drop. And changes are easy; no formulas to edit, no copy and paste - just PivotTable power.
Xtreme PivotTable Course
Our Xtreme Excel PivotTable course makes mastering PivotTables easy with video tutorials delivered in bite size chunks (average is 3 minutes long). We'll have you pivoting your data in no time.
Comprehensive syllabus covering every aspect of PivotTables - It's the most extensive PivotTable training available, leaving no menu unturned. Every feature is covered in detail and then applied to real life scenarios.

Tips and Tricks - we'll teach you the tips, tricks and shortcuts that would take you years to learn on the job


Practice Workbooks - Get hands on experience as you practice what you learn using the actual workbooks you see in the videos


Real Life Case Studies - the course includes loads of examples applied to real business scenarios that people like you experience in your day to day work.


PivotTable Cheat Sheet - Bonus cheat sheet to stick on your desk


Watch on any device quality HD videos are compatible with PC, Tablet, iPad or phone


Compatible - The training was recorded using Excel 2010 and it is compatible with Excel 2007, Excel 2013, Excel 2016, Excel 2019 and Microsoft 365. Some concepts are not available in Excel 2007 (like Slicers and some Pivot Table Calculations)


12 Months Support - I'm here to help if you get stuck with a PivotTable problem. This isn't one of those online courses where you're on your own.


30 day money back guarantee - If you are not satisfied with the course, I will return 100% of your money without any questions. That's my personal guarantee to you!
Who's Teaching the Course?
I'm John Michaloudis. I'm a long timer lover of Excel and PivotTable Geek.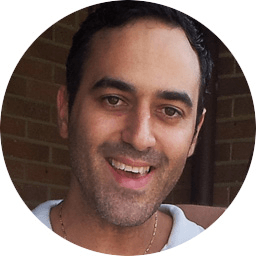 I hold a bachelors degree in Commerce (Major in Accounting) from La Trobe University in Melbourne, Australia and speak English, Greek and Spanish. In 2020 I was awarded Microsoft MVP for my contribution to the Excel community.
My journey in to Excel began after I graduated and have since helped many of my colleagues around the world understand this underutilised but powerful tool. Now its my turn to teach you!
Who is the course for?
Suitable for all levels - From someone who has picked up Microsoft Excel for their first time, to someone who uses it around 2-3 hours a day, as well as long time Excel users who want to go deep in to learning all the commands, tricks and visual analytical reports that Pivot Tables have to offer.


Scared of PivotTables - if you've tried to learn PivotTables before but have struggled then this course is for you. I start from the very beginning and have broken it down into small steps to allow you time to practice as you go, which helps to cement your understanding. Once you get up to speed you'll see they're actually very easy to use... much easier than formulas


PivotTable Intermediate - if you're familiar with PivotTables but would like to tackle some of the more advanced topics like Calculated Fields, Show Values As, Conditional Formatting with PivotTables, Grouping, Slicers etc. then you can skip the topics you already know and go straight to the more advanced lessons.


Update your Skills - PivotTables are a must have Excel skill. If your resume is missing PivotTables then you're going to find it that bit harder to convince a prospective employer of your Excel abilities.


Handle Big Data - if you work with big data, or even large data then PivotTables are going to make your life easier. They're far more efficient than formulas and are handy for quickly getting a feel for new data and what patterns exist.
Watch Sample Tutorials
Inserting a PivotTable
Creating Multiple Sub-Totals
What Past Students have said
"The videos are short and precise, easy to understand and gives you the ability to refer back to them at any time" - Keith, Australia
"I have learned more about Pivot Tables within a week of taking this course than I have over the last couple of years. Really amazing stuff!" - Joyce, England
This course is tremendously comprehensive. The best part is that the course is served in small bite-sized pieces that are easily digested. A teaching course that doubles as a reference guide. Definitely worth your time and money." James - Atlanta
Choose Your Course
Online Only : 12 months online access to the course(s)
Online + Download : 12 months online access to the course(s) + download the course videos to keep
GST : Prices are shown exclusive of GST for Australian customers.


Xtreme Pivot Tables Online
12 Months Online
---
Online Only Access To Course
---
Course Videos 11hrs 6min
---
One Payment for 12 Months Access
---
Unlimited 24/7 access
---
Pause, rewind, replay
---
Download Workbooks and Practice Data
---
*30 Day Money Back Guarantee
Xtreme Pivot Tables Download
12 Months Online + Download
---
Online Access + Download & Keep Course Videos*
---
Course Videos 11hrs 6min
---
One Payment for 12 Months Access
---
Unlimited 24/7 access
---
Pause, rewind, replay
---
Download Workbooks and Practice Data
---
*30 Day Money Back Guarantee


*Notes
Videos will be available for download after the 30 day Money Back Guarantee period ends. You can watch the videos online in the meantime.
Membership and access to the training materials is for one person only. Logons are not to be used by multiple people.
Downloaded videos are to be used only by the registered member, they are not to be transferred/shared amongst other people.
You can request a refund provided that no more than 30% of the course videos have been watched.
Add Other Courses and Get 20% Off Each One.