Are you sick of waiting for the IT department to extract data from your systems?
Do you spend too much time flattening your data tables into one with VLOOKUP just so you can use it in a Pivot Table report?
Are you frustrated that Excel can't handle more data?
Power Pivot for Excel fixes all that.
In my Power Pivot for Excel course I'll teach you how you can use the free Power Pivot Excel add-in to perform powerful data analysis right from within Excel 2010 onward, bringing self-service business intelligence to your desktop.

Don't know Pivot Tables?
Don't worry, I've teamed up with John Michaloudis to bring you the most comprehensive Pivot Table course on the planet (as an optional extra), so you can master Pivot Tables too. More about John's Xtreme PivotTable course in a minute.
Big Data on your Desktop
Leveraging "big data" in your business might be crunching sales patterns to plan inventory levels, cutting staff expenses by analysing employee overtime and rearranging work schedules or using social media data to gauge what customers think about your business and competitors.
Power Pivot for Excel enables you to transform enormous quantities of data with incredible speed into meaningful information to get the answers you need in seconds, all with the comfort of familiar Excel tools and features.
Import millions of rows of data from virtually any source including relational databases, data feeds, Reporting Services, text files, multidimensional sources, cloud services, data feeds, Excel files, and data from the Web into a single Excel workbook,
Create relationships between the different sources just like Access.
Build interactive reports with PivotTables, PivotCharts and Slicers, and then further analyze the data so that you can make timely business decisions.
Power Pivot calculations and analysis are extremely fast. You can process millions of rows in about the same time as thousands.
Data Analysis Expressions (DAX) is a new formula language that extends the data manipulation capabilities of Excel to enable more sophisticated and complex grouping, calculation, and analysis like never before.
The DAX formula language is very similar to that of Excel formulas.
All without requiring IT assistance.
Note: even if IT guard the data like their life depends on it, once they hand over the 'data goods' you can load it into Power Pivot and it's yours forever. Each month/week/day you just need to get the new data and import it to your Power Pivot model where you can analyse it to your heart's desire. Shhh, don't tell IT you're secretly harvesting their data for your own use... that's just between you, me and Power Pivot 😉
Sneak Peek of Power Pivot
| | |
| --- | --- |
| For best viewing quality: press play then 1. click the cog and select 720p HD, and 2. click the icon on the bottom right of the video to view in full screen. | |
What you get in the Power Pivot for Excel Course
Hands on Project Based Learning – We build a Power Pivot model together from start to finish. The course follows a progressive path with each video teaching a technique or step which you then perform using the data provided in the course. So, at every stage you are practicing what you learn which helps retain knowledge and build confidence.
Download the completed Excel Power Pivot files created during filming and use them as a reference tool that you can go back to later on to refresh your memory.
The training is delivered online and tutorials are available to watch 24/7 at your own pace. Pause, rewind, replay as many times as you like.
5.5 hours of video tutorials covering everything from installing Power Pivot, importing data, DAX formulas, PivotTables and more.
Compatible with Excel 2010, 2013, 2016, 2019, 2021 and Office 365 - there are separate courses for Excel 2010/2013 and Excel 2016 onward and Office 365 so that you'll know where to find the various features in the menus in your version.
The pace is pretty fast because I hate courses that waffle on. I like to get straight to the point so you're up to speed fast, and I've designed it so that if you need to re-watch anything you can rewind and replay the videos as many times as you like.
The average video length is 4 ½ minutes! Fit it in during a coffee break, on the train or bus to work, at the airport, or anywhere you have a spare 5 minutes and an internet connection.
12 months access to the video tutorials and file downloads. There's even a download option where you can download all videos in the course and keep them on your own PC forever.

When you've finished I'll send you a 'Certificate of Completion' saying you've completed the course which you can add to your resume/CV arsenal.
BONUS e-Book: Learn to Write DAX by Matt Allington. This book extends your hands-on practice. Inside you will find explanation of concepts, sample exercises and then practice questions and answers to maximize learning retention and experience. The e-book is delivered via email 31 days after joining the course.
Prerequisites:
Have access to Excel 2010 or Excel 2013/2016 Office Professional Plus, Office 2016 Professional, any version of Excel 2019, 2021 or Office 365, or the standalone edition of Excel 2013/2016. Click here for the full list.

Tip: to check if your Excel version has Power Pivot go to the File tab > Options > Add-ins > In the 'Manage' drop down list choose 'COM Add-ins' > click Go. If 'Microsoft Office PowerPivot for Excel' is in the list you're good to go 🙂 If it's not there and you have the Standalone Excel 2013 version below 1511, you can simply update your version and Power Pivot will be available. In Excel 2016, 2019, 2021 and Office 365 Power Pivot ships in the box!


Pivot Table and Pivot Chart knowledge is helpful, but expertise is not necessary to take this course.



If you think you need to brush up on your PivotTable skills first you can add John's PivotTable course to your bundle. Click here to find out more about John's Xtreme PivotTable course.

Mac users: Power Pivot won't run on a Mac, sorry 🙁 You can install Windows on Mac using Parallels, Boot Camp or VMWare Fusion and then install Power Pivot on a PC version of Excel (see first point above) running under a VM.


Compatibility with other versions:



Note: Excel 2016/2019/2021 comes with new DAX functions which are not backwards compatible with Excel 2013.

Sharing Power Pivot Excel files: Office 365 users can share Excel files under 10MB via Excel Online with others. Excel Online supports Slicers and modifying Power Pivot PivotTables, but not the creation of Power Pivot PivotTables. Excel Online is a great option for users who wish to view Power Pivot reports but don't have a version of the Excel Desktop App that contains Power Pivot.
Who is Teaching the Course?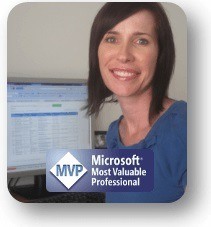 That would be me, I'm Mynda Treacy, Co-founder of My Online Training Hub, and a Microsoft Excel MVP.
I have been working with Excel since 1995 and teaching since 2010 (not including teaching many colleagues over the years), and I'm excited to be presenting this Power Pivot course.
Power Pivot transforms Excel from a day to day spreadsheet to a commanding BI tool able to consume an All You Can Eat Data Buffet right from the comfort of your desk. No donut bribery for the IT department required to rush through your report or data request 🙂
It's exciting, it's ground breaking and you'll never look back.
Choose Your Course
Tip: The courses below (Power Pivot for Excel and Xtreme PivotTables) complement each other. If you want to learn PivotTables then take John's course. If you want to take PivotTables to the next level and use massive data and multiple tables of data in the one PivotTable then take the Power Pivot course. If you think you need to brush up on your PivotTable skills before tackling Power Pivot then take both courses.

Online Only : 12 months online access to the course(s)
Online + Download : 12 months online access to the course(s) + download the course videos to keep
GST : Prices are shown exclusive of GST for Australian customers.
Notes
Videos will be available for download after the 30 day Money Back Guarantee period ends. You can watch the videos online in the meantime.
Membership and access to the training materials is for one person only. Logons are not to be used by multiple people.
Downloaded videos are to be used only by the registered member, they are not to be transferred/shared amongst other people.
You can request a refund provided that no more than 30% of the course videos have been watched.