Sale Now On. 20% Off All Courses
If you want to boost your skills in handling customer service and call center information, then 'Excel for Customer Service Professionals' is for you.
This course will show you step-by-step how to increase your efficiency and accuracy in collecting and analyzing data, creating forecasts and generating clear, meaningful charts and reports.
Based on over ten years of practical classroom and on-the-job training sessions, the course segments and examples are especially designed for professionals working in a customer service or call center environment: supervisors, managers, team leaders and resource planners.
Who is Teaching the Course

The trainer, Harold Graycar is a founder of XL Numerics, and has been a "power user" and developer of Excel applications since the product was launched. He has developed Excel modelling tools for call center and contact center operations, financial applications, workforce planning, resource profile analysis and transaction logging.
Course Benefits
For individuals working in the call center / customer service industry who want to improve their skills so they can be promoted to management level:
The course teaches a practical mix of hands-on skills in collecting, analyzing and communicating customer service information
These skills enable you to move into supervisory and management positions
The 36 included Excel models can be used immediately to help you improve your work and impress your employer and stakeholders
For companies; operators of call centers, customer service centers or Business Process Outsourcing organizations that want to improve efficiency by up-skilling their employees: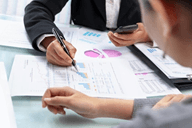 Maintain a clearer understanding of the data driving the business
Make the most use out of current desktop systems and tools
Spend less time handling data
Impress stakeholders and clients
Make better decisions based on the numbers
Reviews
I found the online course easy to follow and very informative. The combination of audio & text are well structured and comprehensive. Tim H
This is an excellent course for all those involved in analysing and presenting data, or indeed for anyone who wants to get more productivity out of Excel in their daily work. Course presenter Harold Graycar has the knack of distilling this challenging subject into easily understood modules with exceptional clarity. Highly recommended. Murray C
Watch a Sample Video from the Course - The Erlang Queue and Calculator
Queuing is a way of equitably handling a number of customers wanting customer service at the same time.
Using Excel, we can build simple and more complex models to predict queue behaviour. As a result we can then estimate the resources required to handle the demands of the queue.
The course materials include a set of Excel functions and models to help you analyze and optimize queues in your own workplace.
Course Structure

'Excel for Customer Service Professionals' is a 3 hour video course covering everything from analyzing the data, visualizations, modelling, simulation and forecasting.
It comes with a detailed 215 page eBook which you can use as a reference guide.
Download a complete package of 36 Excel software models. With this companion set of Excel models you will learn best-practice hands-on skills to:
Collect, analyze and present financial/ operational information from customer service and call centers: including call statistics, customer interactions, efficiency and key result data
Calculate required staffing and resource allocations based on traffic forecasts
Communicate information succinctly and accurately to colleagues, clients and stakeholders
You can use the eBook and Excel model resources immediately for analyzing call patterns, customer interactions, efficiency and key results, calculating required staffing based on traffic forecasts, and communicating information succinctly and accurately to your colleagues, clients and stakeholders.
The Excel models run on Excel versions 2007/2010/2013/2016/Office 365 and components of Microsoft Office 2007/2010/2013/2016/Office 365. This course is filmed using Excel running under Microsoft Windows. Most functions will work on Mac-based versions of Excel, although the menu structure may be slightly different. However, the concepts covered are applicable to all versions of Excel.
12 months access to the video tutorials and file downloads. There's even a video download option where you can download all videos in the course and keep them on your own PC forever.
The training is delivered online and tutorials are available to watch 24/7 at your own pace. Pause, rewind, replay as many times as you like.
Receive a 'Certificate of Completion' which you can add to your resume/CV arsenal.
Choose Your Membership Level
These Prices Already Have The 20% Discount Applied
| | | |
| --- | --- | --- |
| | Excel for Customer Service Professionals Online | Excel for Customer Service Professionals Download |
| Note: prices are +GST for Australian customers. | 12 Months Online | 12 Months Online + Download |
| Excel Customer Service Videos 2hrs 52mins | | |
| One Payment for 12 Months Online Access | | |
| Download Videos * See Notes | | |
| Unlimited 24/7 access | | |
| Pause, rewind, replay | | |
| Download Workbooks and Practice Data | | |
| 30 Day Money Back Guarantee | | |
Notes
Videos will be available for download after the 30 day Money Back Guarantee period ends. You can watch the videos online in the meantime.
Membership and access to the training materials is for one person only. Logons are not to be used by multiple people.
Downloaded videos are to be used only by the registered member, they are not to be transferred/shared amongst other people.
You can request a refund provided that no more than 30% of the course videos have been watched.