Before VBA there were XLM macros. VBA was introduced in Excel version 5, so these Excel macros are also known as Excel 4 macros.
Even though these XLM macros are quite old they still work in Excel 2016. To use them you call them like a regular function e.g. =GET.CELL(64,A1) but entering this into a cell will give you an error.
What you need to do is combine them with defined names and then you can do some cool stuff.
You can do things that might normally require writing VBA, so if you don't fancy doing any coding check these out. Listing files in a folder, highlighting cells containing formulas, or getting the background color (ColorIndex) of a cell. Once you know a cell's background color, you could then do math with cells of the same color like sum, average etc.
Note: the last link to Jan Karel Pieterse site has other examples too.
The trouble I had was that I couldn't easily find any reference to the Excel 4 macros. Because they were written for such an old version of Excel, the help file for the macros is no longer a supported format as of Windows 10.
So I decided to put together this 653 page reference eBook. It basically contains the official Microsoft Excel 4 macro functions help file, but in a useful PDF format.
Free eBook - Excel 4 Macro Functions Reference
Enter your email address below to download the PDF.
By submitting your email address you agree that we can email you our Excel newsletter.
Please enter a valid email address.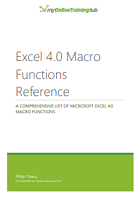 A PDF version of the official Microsoft help file for Excel 4 macros.
A complete reference for all Excel 4 macros including syntax and examples.
You may not find all of these macros will be useful, but some certainly are.
This is provided for reference and if you are curious to see what you can do.
Don't go building mission critical models with these, support for them could be withdrawn in the future.