Keeping track of your share trading is easy with this personal stock portfolio dashboard. It uses the latest Excel tools* including Data Types and the STOCKHISTORY function to create a report that's connected to live data and updates at the click of a button.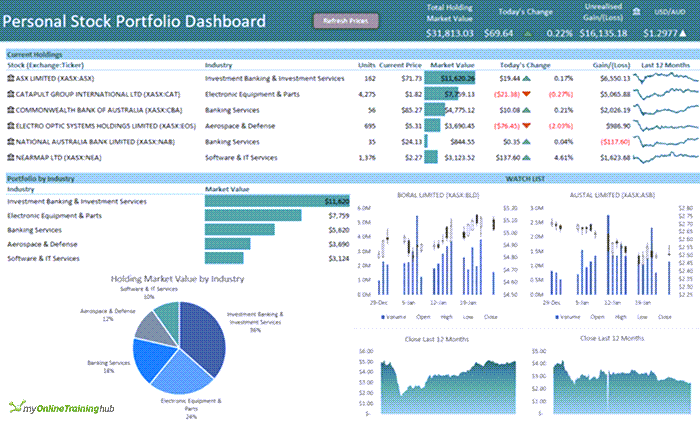 *Note: requires Microsoft 365. Not suitable for Excel 2019 and earlier.
Watch the Video
See how this dashboard can be built in under 30 minutes in this step-by-step video:

Download the Personal Stock Portfolio Dashboard File
Enter your email address below to download the sample workbook.
By submitting your email address you agree that we can email you our Excel newsletter.
Please enter a valid email address.
Personal Stock Portfolio Dashboard Techniques Used
I used several techniques to build this personal stock portfolio dashboard and you'll find the links to individual tutorials on these topics below:
Learn More
The topics above are a great start, but if you'd like to take your Excel skills further, please consider our courses below:
Excel Dashboards Course – A comprehensive course designed to give you the skills to build dashboards for any industry.
Excel PivotTable Quick Start – this course will help you overcome your fears and challenges with building PivotTables. It'll have you up and running in under 2 hours.
Excel Advanced Formulas - I've designed this course to get you quickly up to speed with the functions that are going to give you the biggest efficiency gains. Many of the functions are considered advanced, but when you've finished the course, you'll know like I do, that everything is easy once you know how.
Excel Expert Course – This course includes the PivotTable Quick Start and Advanced Formulas course as well as a load more topics covering everything from beginner topics (which you can skip if you already know them) to more advanced topics.
Power BI Course - Power BI offers functionality we can only dream of in Excel. Including secure sharing of reports on any device, clickable chart elements that cross filter and highlight other charts, and much more.