With the new Excel STOCKHISTORY function we can finally get historical price data for stocks, bonds, funds, crypto and foreign currency exchange rates into Excel, including open, high, low, close and volume.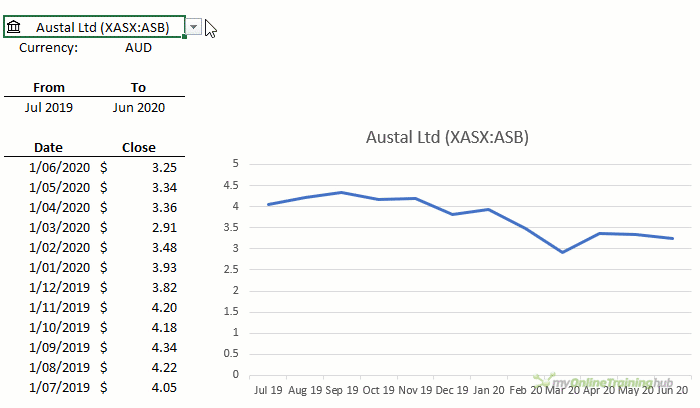 The STOCKHISTORY function is currently only available on the Beta channel (previously Insider Channel) to Microsoft 365 users (previously Office 365). Plus, it is only available to 50% of users on the beta channel, so don't be surprised if you don't have it yet. Whether you're in the lucky 50% who have it or not is a complete lottery!
The data is provided by Refinitive and you require a connection to the internet to get the data.
Watch the Video

Download Workbook
Enter your email address below to download the sample workbook.
By submitting your email address you agree that we can email you our Excel newsletter.
Please enter a valid email address.
Excel STOCKHISTORY Function Syntax
The syntax is:
=STOCKHISTORY(stock, start_date, [end_date], [interval], [headers], [properties1],...)
Argument
Description
stock
Stock or currency ticker symbol in double quotes e.g. "MSFT" or a reference to a cell containing the ticker symbol or the Stocks data type. If you want to get a price from a specific exchange, prefix the ticker symbol with the market identifier code (e.g. "XNAS:MSFT").
start_date
The earliest date for which data is retrieved. Note that if interval is not 0 (daily), the first data point may be earlier than the start_date provided - it will be the first date of the period requested. Dates can be entered enclosed in double quotes e.g. "31-1-2020", a reference to a cell containing a date, or a formula e.g. TODAY().
end_date
Optional. The latest date for which data will be retrieved. Default is today, however prices are only available after markets close, therefore data will be up to yesterday or the last day the markets were open.
interval
Optional. Specifies the interval each data value represents as follows: 0 = daily, 1 = weekly, 2 = monthly. Default is 0.
headers
Optional. Specifies whether to display headings as follows: 0 = no headers, 1 = show headers, 2 = show instrument identifier and headers. Default is 1 (i.e, show headers). When included, headers are rows of text that are part of the array returned from the function.
property0 to property5
Optional. The columns that are retrieved for each stock as follows:

0 = Date,
1 = Close
2 = Open
3 = High
4 = Low
5 = Volume

If any of them are present, only the indicated columns are returned in the order provided. Default is 0,1 (i.e., Date and Close).
Excel STOCKHISTORY Function examples
In its most basic form, you can look up a stock for a date range and STOCKHISTORY will spill an array of dates and closing prices:
Note: I've linked it to a Stock Data Type in cell B3, but you could just as easily enter the stock symbol in double quotes inside the formula e.g. "BLD", or reference a cell containing the stock symbol.
The formula from the image above, translated below:
=STOCKHISTORY(

B3

,

B7

,

C7

,

2

,

1

)
In English reads:
Look up the BLD stock on the Australian Stock Exchange and return the closing prices at monthly intervals from 1 July 2019 through 30 June 2020 and include column headers.
By default, it will return the date and closing price because I haven't specified the optional property arguments.
Sort STOCKHISTORY Data
The data is sorted in ascending order by date, but if you prefer the data sorted in descending order, you can wrap it in the SORT function: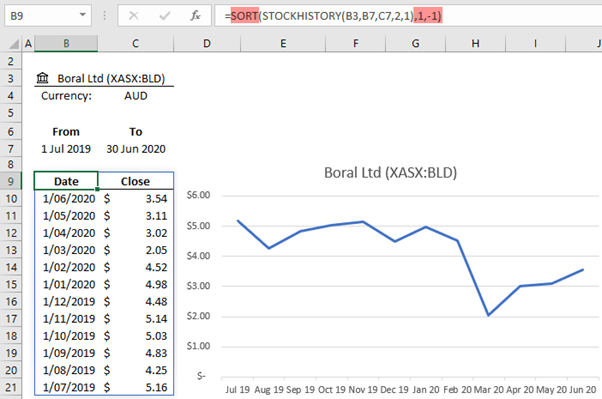 Specify Data to Return
If you prefer to specify the columns you want returned you can use the 'property' arguments to list the columns and their order, where 0 is date, 5 is Volume, 2 is Open, 3 is High, 4 Low and 1 is Close: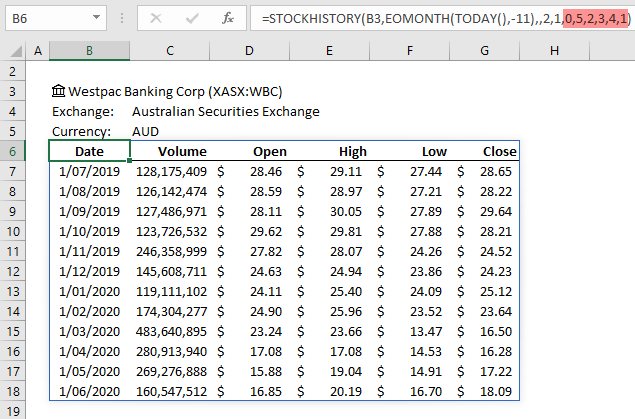 Being able to specify the columns returned in the Property arguments is particularly useful if you want to insert a stock chart that requires the columns in a specific order: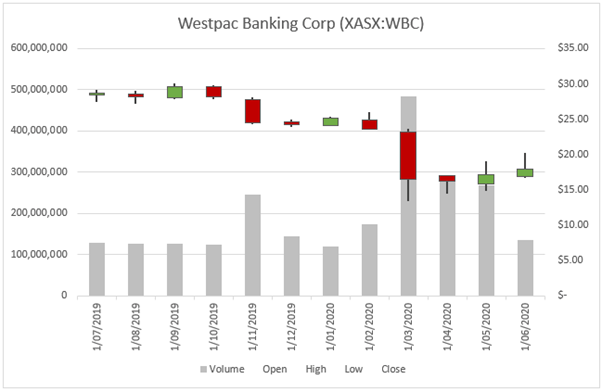 Crypto and Foreign Currency STOCKHISTORY
Foreign currency and cryptocurrency exchange rates are also available: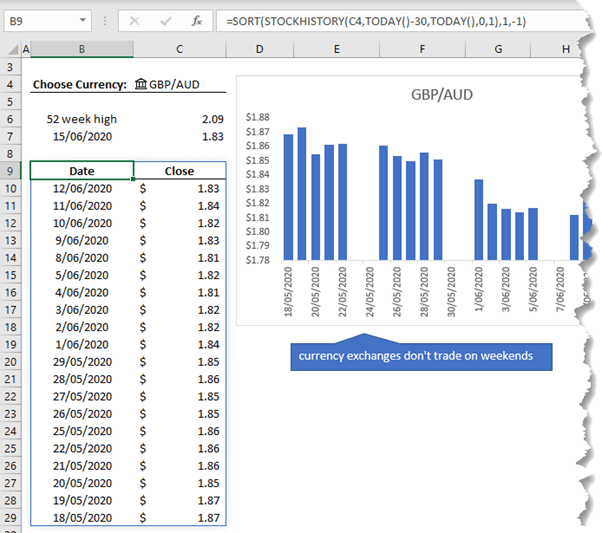 Traditional currencies don't trade on weekends and the spilled data skips those dates (the chart above uses a date axis which includes weekends), however Cryptocurrencies like Bitcoin do trade on weekends, as you can see below: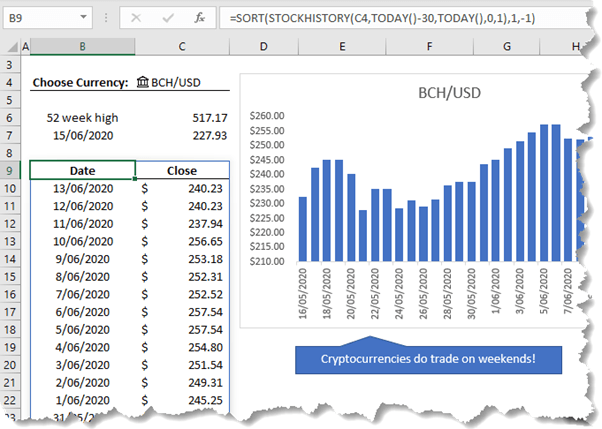 IMPORTANT: Intraday prices aren't available with STOCKHISTORY. If you use the TODAY() function as the date_end argument it will only return data up to the last close of market which could be yesterday. Note that yoou'll get an error for any exchanges that don't trade on weekends. This post discusses options for handling weekends. In the examples here I've used the stock data type to return the intraday price in cell C7. There is a two day gap between the data STOCKHISTORY returns for me and the date in cell B7 because I am 17 hours ahead of the U.S. exchange!
Referencing Spilled Arrays
Because this is a dynamic array formula, we can reference a range of cells containing multiple currency pairs (C4:H4) and spill the results. Notice in the properties argument I've also inserted an array of the property values I want spilled to the rows:

You can also apply conditional formatting to the results:

Or Sparklines:

Tip: Did you notice in the image above that the date is linked to a dynamic array in cell D23#. You can see in the image below that I used the SEQUENCE function to return an array of dates using the date serial number 43994 as the starting date:

Of course, you could nest the SEQUENCE function inside STOCKHISTORY like so:
=STOCKHISTORY(B24:B29,SEQUENCE(1,5,43994,-1),,0,0,1)
However, you can't display the headers with this formula, so I thought it made more sense to use SEQUENCE for the headers, and reference them in the start_date argument.
Formatted Number Values (FNVs)
The STOCKHISTORY function is the first function that comes with number formatting. It will apply currency formats when the cells are formatted in 'General' i.e. when cells have no number formatting applied.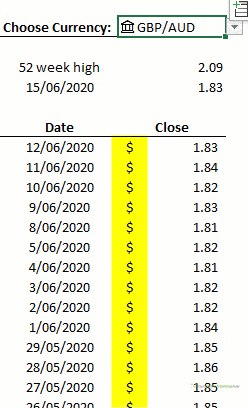 FNVs can also pass through lookup style functions such as XLOOKUP, INDEX, IF, CHOOSE, or simple cell references e.g. =C5. However, FNVs are ignored by other functions which only see their number value.
Charts can also pick up FNVs! However, if you're linking your STOCKHISTORY formula to a data validation list that allows you to choose a different stock/currency pair, the chart won't pick up the changes, as you can see below ☹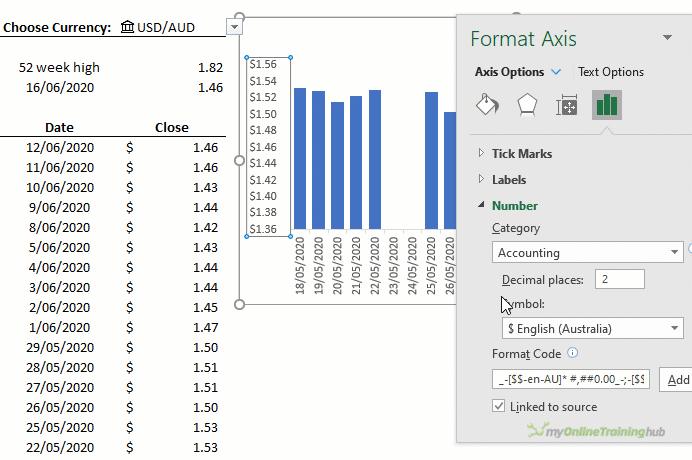 Excel STOCKHISTORY Function Errors
With this new function we also get a new error: #BUSY! You'll see the #BUSY! error while Excel is getting the data. It should disappear quickly, although the more dates and columns you want returned, the longer it will take.
Another error you might see is #BLOCKED!, which appears when you try to retrieve data that isn't available. For example, if you reference an empty cell for the 'stock' argument.
For me #CONNECT! also appears sometimes after Excel crashes and I reopen the file. This could be caused by the Stock Data Types. It's nothing a reboot doesn't fix though 😊