A common chart mistake is to use a line chart for the wrong type of data. An example of that is the chart below that has categories* along the horizontal axis: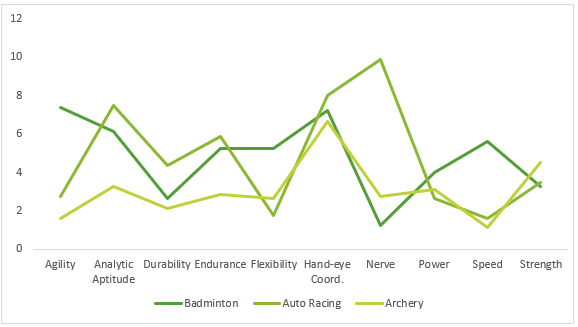 *This chart displays the degree of difficulty each sport requires for the categories above, as judged by a panel of 8 experts made up of sports scientists, Olympic Committee members and academics.
The categories are distinct from one another, whereas the line connecting them implies they are related. A typical use for line charts is to show trends in continuous data collected at equal intervals. For example, data over time, with time/dates on the horizontal axis.
A better chart for nominal data, like categories, is a bar or column chart: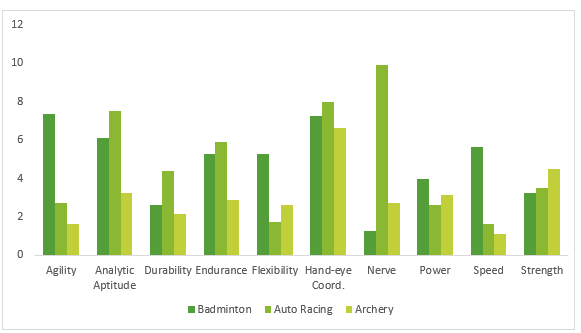 But once you get to more than 3 or 4 series in one chart, they become too cluttered to make sense of: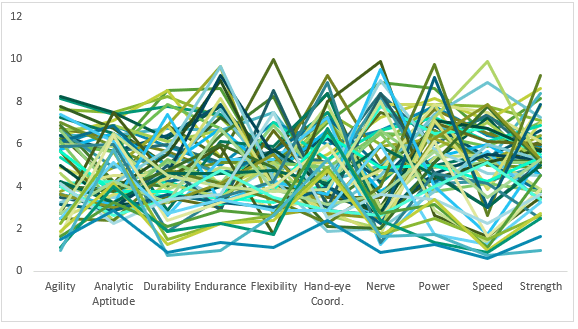 That said, if I remove the axis labels, I could probably sell it as abstract art. Sorry, I digress 😊
Download the Workbook
Enter your email address below to download the sample workbook.
By submitting your email address you agree that we can email you our Excel newsletter.
Please enter a valid email address.
Watch the Video

When to Dot your Lines
When you have a lot of series to display you need to decide whether to separate your data into panel charts or Sparklines so you can clearly view each series. Or focus on one or two series and let the other series provide context.
In the Dot Plot chart below, we've called out one sport, Speed Skating and the other sports show the range and distribution in each skill:
I can also add a Slicer to allow the user to select a different sport to focus on: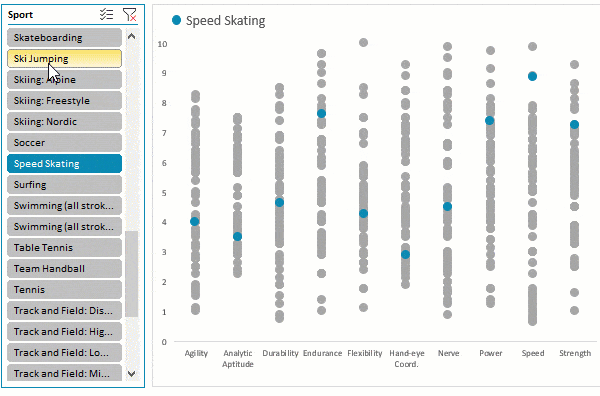 Or multiple sports: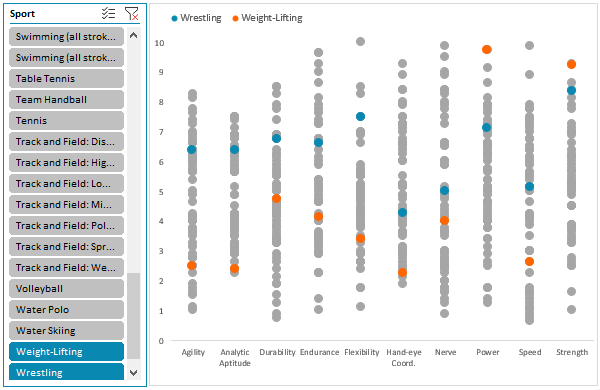 Building Excel Dot Plot Charts
A vertical Excel dot plot chart can easily be built in Excel using a Line Chart with Markers.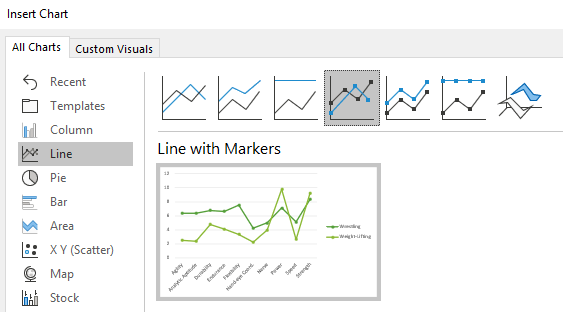 Then format each line to display 'No Line':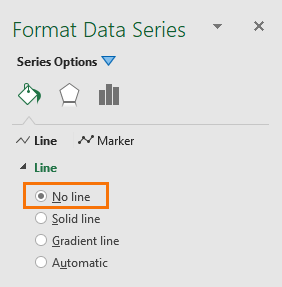 This leaves the markers behind and what you end up with is a vertical Excel dot plot: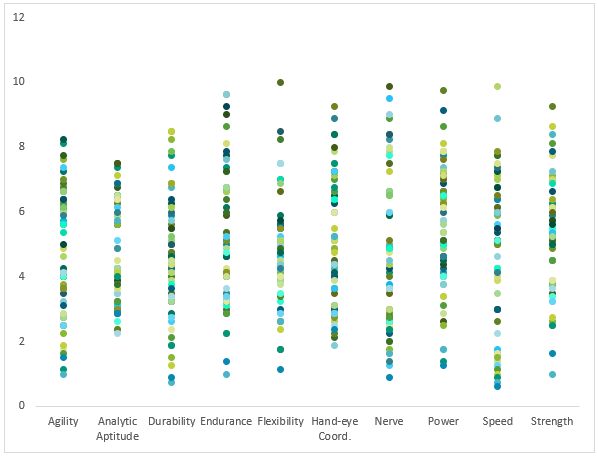 Next you need to set each series' marker size slightly larger and set the colour to something subtle, like grey.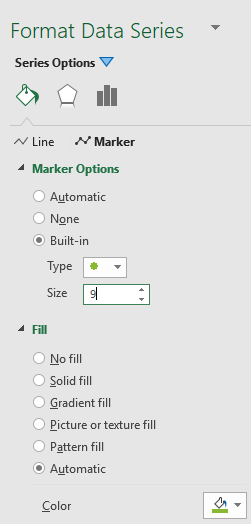 Warning, it's a labour of love to set the marker for each series one by one. This post provides some VBA to quickly format the markers.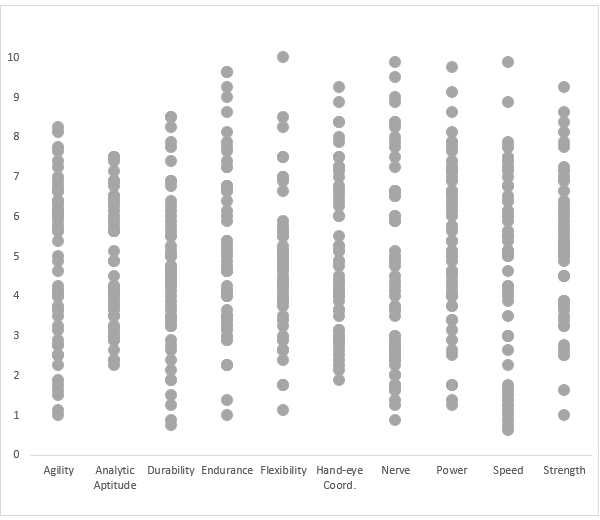 Note: I also fixed the vertical axis height to 10, which is the top score for each skill.
How to Highlight One Dot
Here's the secret, there are actually two charts, one containing all of the sports displaying the grey dots and a separate one on top highlighting the selected sport in a different colour. You can see both charts in the image below: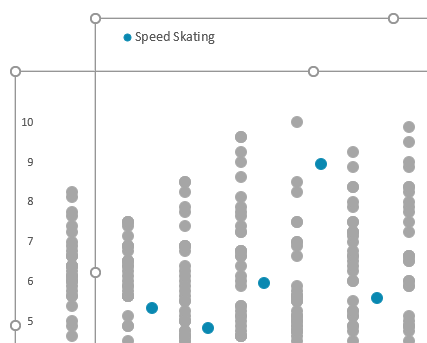 I used a PivotTable as my chart source data, so I can use a Slicer to select which sport to highlight. This means I need two charts; one for the grey dots displaying all sports, and a separate chart that displays the sport/s selected in the Slicer.
Tip: If you're not using a PivotTable as your source data for the chart then you don't need two charts. You can simply add another series to the chart and format that series in a different colour to the rest, as described here. Just be sure to put this series on top of all the other series in the chart so that it doesn't get covered by the grey dots.
Top Chart Format
Make sure you set the vertical axis height the same in each chart: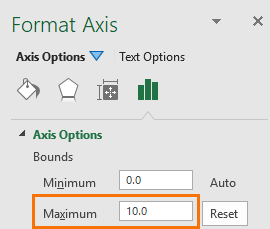 Then hide/remove the axis labels on the top chart and set the 'Shape Fill' to 'none' so the bottom chart shows through: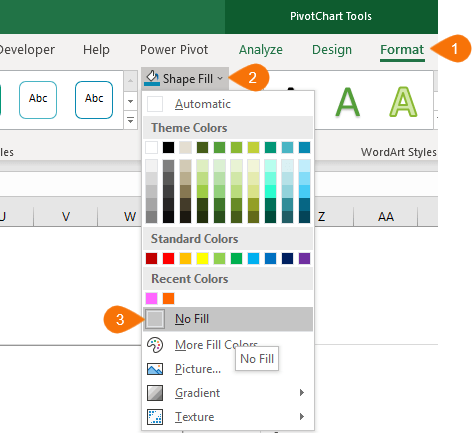 Then align them perfectly: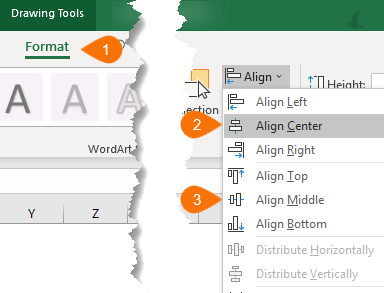 Data Source: http://www.espn.com/espn/page2/sportSkills
Thanks
Thanks to Sunny Kow, our Excel forum superstar, for suggesting layering two charts. If you're going to share the file with others just check that they don't go all wacky on different PCs.
Related Tutorials
Please Share
If you liked this please click the buttons below to share.