Warning: this is a long post. Get supplies so you don't dehydrate or suffer from low blood sugar levels before reaching the end 🙂 Don't let the length of this post put you off though. The process is fairly straight forward and there aren't really that many steps...honest.
Embedded below is an interactive Excel dashboard using Excel Web App, which is hosted in the cloud on a OneDrive Personal account (previously SkyDrive). It includes password security so that each salesperson can only view their own sales.
Go ahead and test it by selecting a different username from the list beside 'Choose User'. The passwords are:
Bob: bpw
John: jpw
Richard: rpw
Press ENTER after typing in the password to update the report.
Before we get too excited I should make something clear. This information isn't 100% secure, but then neither is a password protected Excel workbook.
Tip: You should know that a password protected Excel workbook can be hacked into with a little VBA knowledge, or the desire to search Google until you find an answer.
This technique (which I'm about to share with you) is protected from the majority of users, however anyone who knows JavaScript, or even a very determined user will eventually do enough Google searches and find a way to download the actual workbook. Once they have that then it's a matter of figuring out how to unhide the sheets, and Bob's your Uncle, they'll have access to the underlying data for all salespeople.
That said, I'm going to show you how to make it very difficult for them, and it's probably more secure than a password protected Excel workbook you distribute via email or give users access to via a network.
I say 'it's probably more secure than a password protected Excel workbook' because this whole Excel Web App thing is quite new so there won't be a lot of documentation on how to crack this code….. for now anyway. Plus most users wouldn't even consider trying to figure it out.
Now, because this post is so long I've done up a TOC with hyperlinks so you can navigate through it quickly if you want to skip ahead. There's no extra charge for that convenience either 😉
Table of Contents
When to use Excel Web App for Report Distribution Benefits of Excel Web App
Things You'll Need
Get Your Excel Dashboard Ready
Upload it to OneDrive
Create Your Web Page
Hide Excel Web App Viewer Bar - Optional
Workbook Layout Problems in Wordpress
Caveat
More OneDrive Uses
When to use Excel Web App for Report Distribution
This is the perfect alternative to distributing your password protected Excel reports via email.
Although it's not 100% secure, it's still good for information you'd rather people not see but, if it were to get out then it's not going to cause World War III. And if you keep it on your Intranet then only employees have access.
The drop down list means it's suitable if you want to distribute reports and tailor what each individual sees without the need to create a separate workbook for each person.
It's also a great alternative for Excel phobic users who like you to send their reports as a PDF or PowerPoint presentation, or worse, print them out since the interface is fairly basic, yet it still maintains the functionality of Excel and the interactive elements.
Benefits of Excel Web App
Any changes you make to the workbook will be reflected automatically in the embedded Excel Web App view. If you update your reports with the latest data regularly then you don't need to email the workbook out or even send a new link. The web page will reflect the latest version of the workbook when you refresh the page. Happy days!
The report can be viewed on any web browser. No need for Excel to be installed.
It maintains its interactivity just like it was in Excel. Note: Excel Form Controls (the ones you insert via the Developer tab in Excel) don't work in the Web App... yet. So interactivity must be achieved with data validation lists or Slicers. Alternatively if you know JavaScript then you can use it to control HTML Form Controls but that's a lesson for another day.
Data typed into the Excel Web App, like the password, doesn't get written back to the Excel file on OneDrive, thus maintaining data integrity and password confidentiality.
Things you'll Need
An intranet or internet site to host the Excel Web App on, or an HTML file you can email to your report recipients. Yep, that's right, you don't even need a website to distribute a report viewable in a web page that contains an embedded Excel Web App. More on that later.
Excel - the full version on your PC. Note: there is an Excel Online version but it doesn't include all of the functionality of the PC version. Mind you, if your report is fairly basic then you might get away with using the online version of Excel to build it.
A OneDrive account to host your Excel file in the cloud. They're free. Note: OneDrive for Business accounts only provide iframe embed code. JavaScript embed code is only available with Personal OneDrive accounts.
Some unsuspecting users to test your new Excel Web App toy on.
Step by Step Process for Publishing Reports on Excel Web App
Get Your Excel Dashboard Ready
This is all about securing your data in preparation for publishing it via the Excel Web App. If you don't need to tailor the view of your report for specific users, or you're not concerned about preventing nosey parkers from downloading the file then you can skip steps 1 to 3 in this section.
Note: I'm not going to teach you how to build the dashboard, since I do that in my course. This is how to get your already built dashboard ready for publishing via the Excel Web App.
Step 1: Setup Passwords
On the dashboard sheet cell D3 has been given a named range; 'username' and G3 has been given the name 'password'. I use these names in my formula that verifies the password entered in the dashboard (more on that formula in a moment).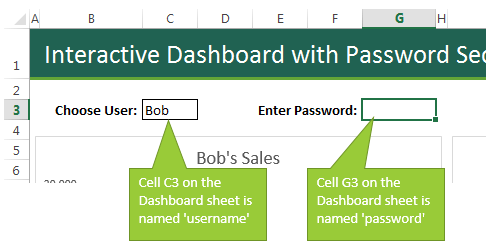 In columns A and B on my Validation sheet (see image below) I have my list of usernames and passwords formatted in an Excel Table called 'security'.
Tip: make your passwords a bit more robust and less predictable than mine 🙂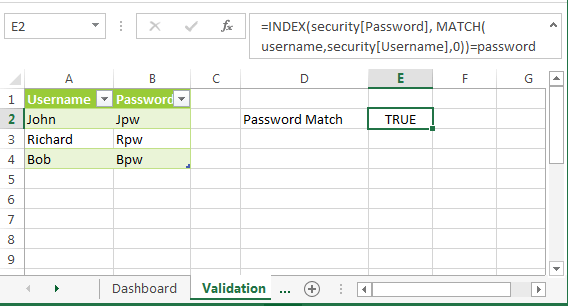 In cell E2 (see image above) I have a logical test formula to check if the username and password combination entered in the dashboard sheet (in cells C3 and G3 respectively) matches the username and password combination on my Validation sheet:
=INDEX(

security[Password]

, MATCH(

username

,

security[Username]

,0)) 

=password
If they match the formula result is TRUE, otherwise it returns FALSE.
In English the formula reads:
INDEX the 'Password' column of the security table and return the password that is on the row which, MATCHes the name in the cell named 'username' on the dashboard, in the 'Username' column of the security table, match it exactly, if it = the value in the cell named 'password' on the dashboard worksheet then return TRUE, if not return FALSE
Every formula in my analysis is multiplied by the result of this formula. When you multiply by TRUE it is the same as multiplying by 1, and multiplying by FALSE is the same as multiplying by 0.
We all know that anything multiplied by 0 = 0 so if the password doesn't match then the formulas all result in zero and nothing is displayed in the dashboard.
Remember: You don't have to add this password protection step. If you don't mind John seeing Bob's reports and vice versa, you could just provide the drop down list and let each person choose their view, and if they want to view the other results then that's ok too.
Step 2: Hide the password. Format cell G3 with custom number format ;;; to hide the password from view.
CTRL+1 to open the Format Cells dialog box > Number tab > Category; Custom > in the 'Type' field type in 3 semi-colons ;;; > press OK.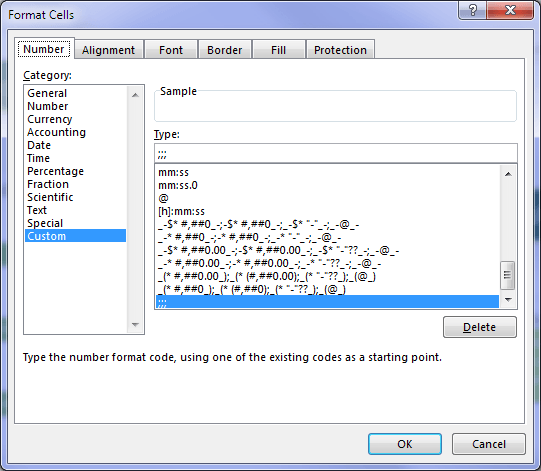 Step 3: Hide Sheets
After creating your Excel Dashboard you'll want to hide any sheets that are confidential. This is an extra barrier to someone accessing the confidential data. It's not strictly required since the only worksheet visible in the Web App will be the dashboard, but if someone were to find a way to download the workbook then this would be another hurdle for them to jump before actually locating the confidential data.
Usually we'd just right-click and hide the sheets we don't want accessed and then put password protection on the file to prevent them from being unhidden. However, in the Excel Web App we can't display a workbook that contains password protection so we're going to use the VBA editor to change the sheet properties to '2 – xlSheetVeryHidden', thus hiding the sheets.
Note: we use this approach because a VeryHidden sheet won't even show in the list of hidden sheets available for unhiding. i.e. when you right-click a sheet tab and select unhide. Plus you can't access the VB Editor from the Web App.
Alt+F11 to open the VBA editor.
In the VBAProject list select the sheet you want to hide then below in the Properties change the 'Visible' property to '2 – xlSheetVeryHidden':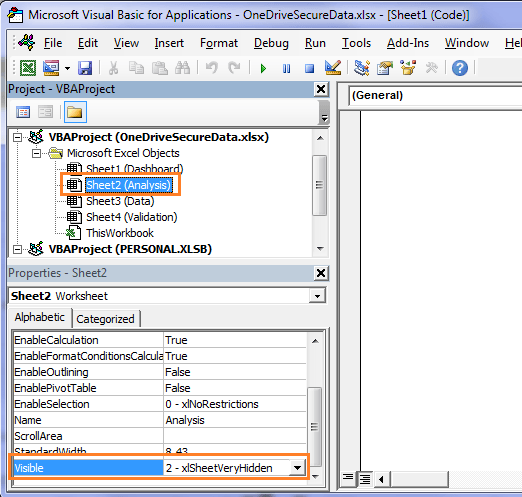 You'll notice as you change this setting the sheet will automatically be hidden in the workbook. Repeat for each sheet you need hidden then save the file. Note: you don't have to save the workbook as a .xlsm since there is no VBA code actually in the workbook.
Step 4: Name Your Dashboard Range
Set a named range for your dashboard area. Select the cells where your dashboard resides and in the Name Box give the range a name: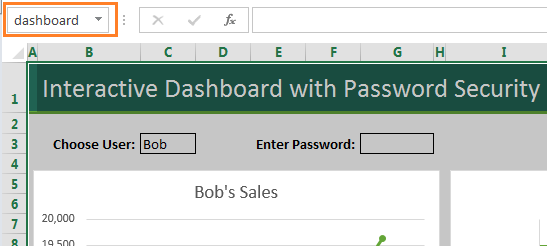 This just makes it easy to specify the range you want visible in the Web App.
Step 5: Protect cells – this is optional but if you don't want people to accidentally break your report (you know they will) then it's prudent to protect the cells they don't need to edit. i.e. everything except the username cell and the password cell. You don't need a password on this protection, simply turning it on in the Review tab > Protect sheet will do.
Step 6: Delete the Password - before you publish the Dashboard to your website you'll want to make sure the password in cell G3 of the dashboard is removed. Otherwise when the Excel Web App loads in the web page it will display the data for the currently selected salesperson. Just like is does in my example above.
Upload it to OneDrive
Now that your dashboard workbook is ready it's time to upload it to OneDrive and get the JavaScript code for embedding the Excel Web App in your web page.
Step 1: get yourself a OneDrive account. They're free and come with 5GB of data, in fact if you already have any kind of Microsoft account like Hotmail, Outlook.com, MSN, Office 365 etc. then you can go right ahead and access your OneDrive account.
Note: OneDrive for Business accounts require a different approach.
Step 2: Upload your Excel workbook to OneDrive.

If you have Excel 2013 or later, you can save it to OneDrive (no need to Upload):

Or in Excel 2010 go to the File tab > Save & Send > Save to Web menu: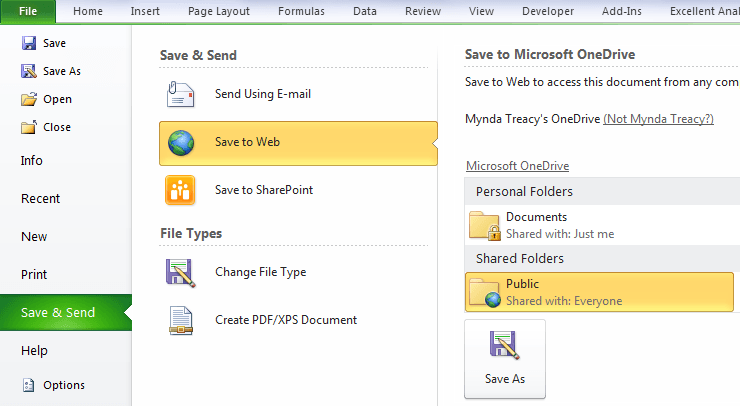 Step 3: Locate your file on OneDrive and right click and select 'Embed':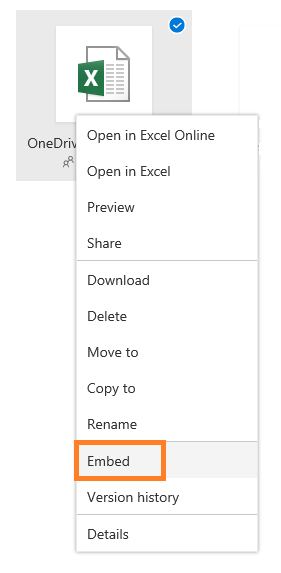 Step 4: Click the 'Customize how this embedded workbook will appear to others' link:

Step 5: Customise what you want to show and how to show it: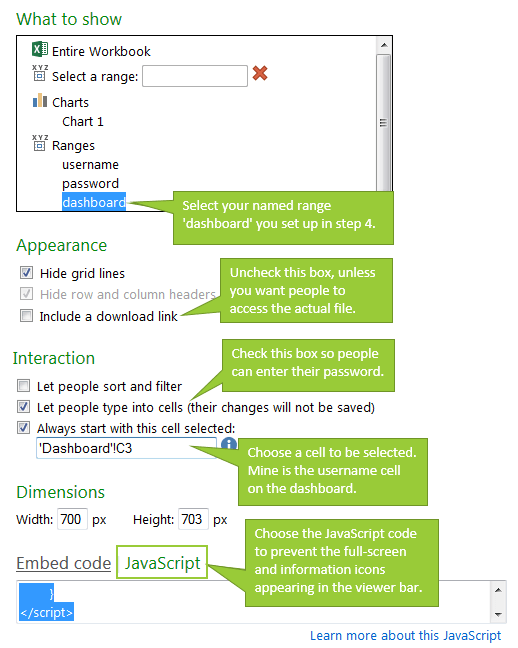 OneDrive won't let you set the width to anything larger than 700. Who knows why, but you can manually alter this later if needed.
Step 6: Copy the JavaScript and paste it into your web page (see next step for creating your web page).
IMPORTANT: You must select the JavaScript code as opposed to the 'Embed code' (see last box in image above). If you use the Embed code the Viewer bar (the dark grey bar at the bottom of the Excel Web App) will still contain 2 icons which completely defeat the purpose of unchecking the 'include a download link' option. They are:
Information about this workbook
View full-size workbook

The problem with these icons is they enable anyone to download the workbook easily because if you choose to view the Web App in full-size it will include a button where you can then open the file in Excel.
Also, when you use the Embed code the 'Information about this workbook' icon gives a direct link to the file on OneDrive which you can then use to open the file in Excel.
The Embed code method does this despite the fact that we have opted to NOT include a download link. It's frustrating!
That's why you MUST choose the JavaScript code. For some reason the JavaScript correctly hides the 'View full-size workbook' icon, and the 'Information about his workbook' doesn't give the direct link to the file on OneDrive like it does if you choose the Embed code.
Create Your Web Page
To view the web app you need to create a web page in which you can put the code you get from OneDrive. You can put this code into a website hosted by your company for internal use (an intranet), or you can put it on a website accessible on the internet. You might need your web developer to help you with this.
Alternatively you can create a simple HTML file which you can store on your computer. The HTML file will open in your browser and works just as well, though probably won't look as good as hosting it on your own website.
Download this example .html file, TIP Right click this link and choose 'Save As' to save the file to your computer.
Or right click the link and open in a new tab to see how it would look.
If you do use a HTML file to put your OneDrive code in, you can email this file to whomever you want to see your dashboard. It's no less secure than viewing it on a 'regular' website and it comes with the added bonus that the file size will be tiny since it only contains a few lines of code.
A basic HTML file is just a text file with some special codes in it. The example HTML file I provided above looks like this: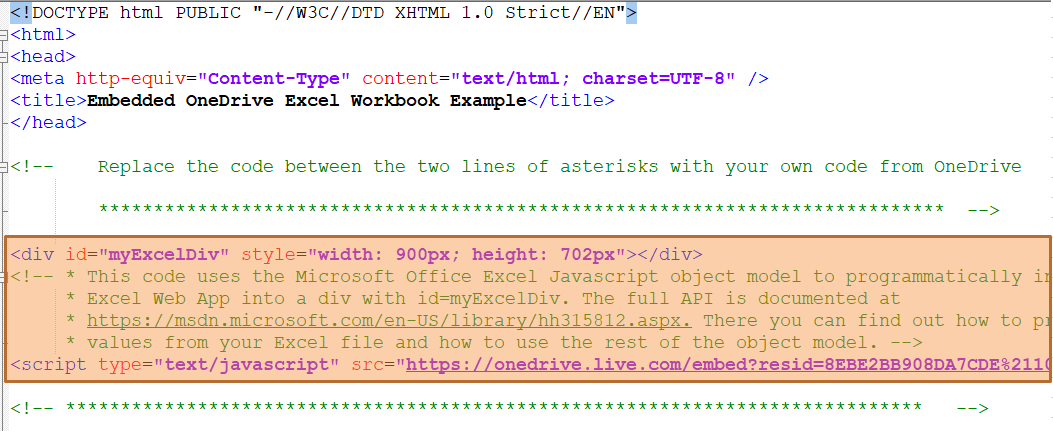 In order for you to get your embedded workbook working, you just need to replace the code I've highlighted in orange, with your own code copied from OneDrive.
Please note that I use the excellent Notepad++ for editing code including HTML. Notepad++ provides helpful features like coloring of code elements. You can use Windows Notepad but it's not as feature rich.
If you want to change the page title – this is what the title of the page will be in the browser - just change the text between <title> and </title>. I've given my page the title 'Embedded OneDrive Excel Workbook Example'.
Save the file with your code and and open in your browser. You should be looking at an embedded Excel workbook.
If you have a scroll bar along the bottom of the embedded workbook like this

Then you could give the workbook more room on the page. In your code look for the bit at the top like this
<div id="myExcelDiv" style="width: 900px; height: 703px"></div>
and change the width value to something bigger. I've changed mine from 700px to 900px, and the scroll bar is now gone.
If you have a vertical scroll bar, adjust the height value.
Don't worry, you can't really break anything. If you change the value to something too big and the workbook now goes off the right-hand side of the page, just change the width value to something smaller and try again.
Hiding the Excel Web App Viewer Bar - Optional
Remember the viewer bar is the dark grey bar at the bottom of the Web App. I like to hide mine as I think it makes the report cleaner, but it's up to you.
Hiding the Viewer Bar
Because Microsoft sometimes change the code that controls the way workbooks are embedded, I find that the JavaScript to hide the viewer bar sometimes does not work until it is updated to account for Microsoft's changes.
Should you have problems, contact me and I'll fix things up.
Hiding the Viewer Bar With JavaScript
The example HTML file above already contains the JavaScript code necessary to hide the viewer bar, so if you want it back you just need to remove this code.
Looking inside the example HTML file you'll see a bunch of code between two <script> tags, below the bit where you put your embed code, shown here highlighted in orange:
Delete all of this code, save your file and the viewer bar will be back.
Why This Works
What we've done with the JavaScript is tell your web browser to hide the Viewer Bar. It's still there, just not being displayed on screen.
We can do this because we know the ID of the Viewer Bar, which is ewaSyndmyExcelDiv_m_ewaEmbedViewerBar.
Web pages are made up of many elements like text, images, paragraphs and lots of other things 'under the hood' that aren't actually displayed on your screen. You can give each one of these elements an ID which allows programmers to manipulate the web page elements, which is exactly what we are doing.
By knowing the Viewer Bar's ID, we can do things to it, like hide it. But if the Viewer Bar's ID is ever changed, our JavaScript to hide it won't work. So, warning, if Microsoft change the ID of the Viewer bar, my JavaScript will not hide it.
If this does happen, just let me know and I'll try to find another solution to this.
Workbook Layout Problems in Wordpress
We've had a number of people who are using Wordpress report that when embedding a workbook, the formatting and layout of the workbook isn't right. It just 'displays weird'.
If you haven't had this type of issue, or you aren't using Wordpress, you can skip this whole section.
After looking into this what I found is that the style sheets in Wordpress could affect the way a workbook is displayed.
The look and layout of a website is controlled by the styles for that site. Things like the size of the font, the color of text, spacing between paragraphs (basically the entire site layout and look) are controlled by the site's Cascading Style Sheets, or CSS.
In these CSS files, I found that some Wordpress websites had particular settings for the way a table is displayed that were affecting embedded workbooks.
You can think of a table in a web page as just a series of rows and columns, containing cells. Just like a workbook.
An embedded workbook is displayed on a web page as a table, so could be affected by any CSS for tables on the site it was embedded in.
The Solution to Incorrectly Displayed Workbooks
The solution to this, is to use a combination of iframes and the JavaScript embedding code.
OK, let's slow up a bit first. I know I've been talking a lot of web coder stuff : JavaScript, CSS, iframes. But it's really easy, just follow these steps and you'll be fine. But if you do have any issues just let me know, I'm more than happy to check over your web page.
Right, an iframe is one of those 'under the hood' elements in a web page. If you used the 'Embed Code' from One Drive, you've already used an iframe. An iframe allows you to load one webpage (let's call it the target) inside another web page (we'll call that the host). The web page in the iframe can't be changed by the CSS styles of the host website. It's just one of the rules of iframes, and it's very handy for us in this case.
Create your webpage following the steps above (use my example file) and you will have a .html in which you have your JavaScript embedding code. If you open this in your web browser you're workbook should load.
Now you need to put this web page onto a web server, either your own website's server or one internal to your company. You'll probably need to use FTP or the Control Panel provided by your hosting company to do this. Or if it's an internal server, ask your IT people to help. You will need to get the URL (link) to this web page. My web page is located at https://d13ot9o61jdzpp.cloudfront.net/files/moth_embedded_workbook_js.html
Back in your Wordpress site you add the iframe and reference your own web page, using it's URL. If you wanted to load our example workbook you would enter this :

<iframe width="900" height="703" frameborder="0" scrolling="no" src="https://d13ot9o61jdzpp.cloudfront.net/files/moth_embedded_workbook_js.html"></iframe>

Notice how I have set the iframe width and height values to match the actual width and height I want the workbook to be.
Save your Wordpress page/post. That's it. The workbook should now load, the viewer bar should be hidden and the workbook should display without any messed up layout.
Caveat
Now that you're ready to release your Excel Web App dashboard to your users please bear in mind that this is not bullet proof security. By its nature JavaScript is downloaded and run on the computer of the person looking at the web page, which means they can access the code and change it.
Anyone who knows enough JavaScript can edit the code and download your Excel workbook. And if they can do that then they can probably find a way to unhide the VeryHidden sheets too.
If you wanted to make it even more difficult you could obfuscate the code which would further complicate it by converting the JavaScript from 'JavaScript English' to 'JavaScript Gobbledygook', but again even that can be reversed using various online tools.
So remember, until Microsoft put some proper security in place you should only use this with documents that do not contain super sensitive information or anything that you really don't want people to see.
More OneDrive Uses
OneDrive and the Excel Web App have a vast range of uses. I've just demonstrated one here, however I recommend you take a few minutes and click here to see what other things you can do with it.
Excel Online and Excel Web App are in an ongoing enhancement phase, so what you can't do today, you might be able to do tomorrow. This post covers the new features that were added in Nov 2013.