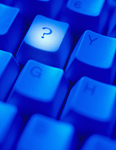 A while back Quiara asked me if there was a way she could collect data from over 1000 different sites that was easier than their current process, which was via emails!
I don't know about you but the thought of keying data into Excel from over 1000 sites puts me to sleep.
Since Quiara didn't have the budget or time to develop her own system I suggested she use an Excel Survey in Microsoft's OneDrive (formerly called SkyDrive).
It's free, easy to set up and best of all Quiara doesn't need to lift a finger because each of the 1000+ sites enter their own data directly into an Excel Web App, which she can then open in Excel.
All Quiara needs is a Microsoft account, which is free. In fact she might already have one since you can access OneDrive through your Hotmail, Messenger, Windows Phone, Xbox LIVE or Outlook.com account.
Setting Up a Survey
To create an Excel survey simply log into OneDrive and click 'New' > 'Excel Survey'.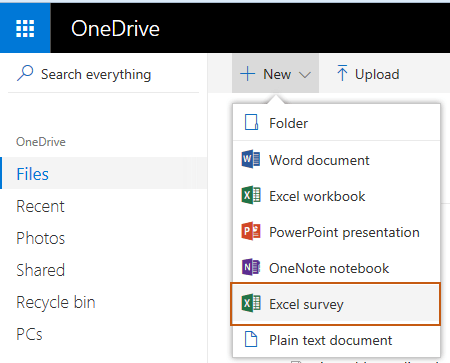 Or from within an Excel Online workbook you can click 'Survey' from the Home tab of the ribbon:

This opens the survey designer where she can start to set up her questions.
Quiara can change the response type to Date, Type, Yes/No, or multiple choice and even give a default answer.
Before publishing Quiara can see a preview of what others will see and make any changes.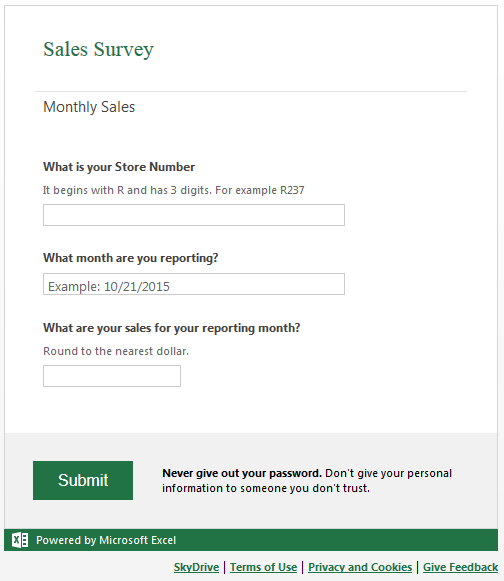 Once it is ready Quiara simply gets a link to the survey which she can then email to the 1000+ sites. They don't even have to log in to complete the survey.
Results
Quiara then sits back and watches the data roll in, in real time. And since it's a Web App she can access the data from anywhere.
As you can see below, the response from each question populates a column in an Excel worksheet.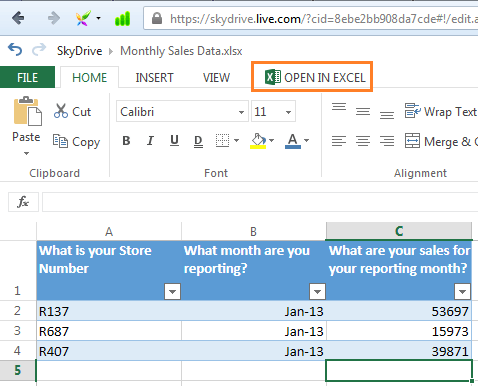 If Quiara wants to start reporting on the data she simply clicks the 'Open in Excel' button at the top of the OneDrive window to start working away on her monthly sales report.
Alternatively she can use the built in charting tools in Excel Web App.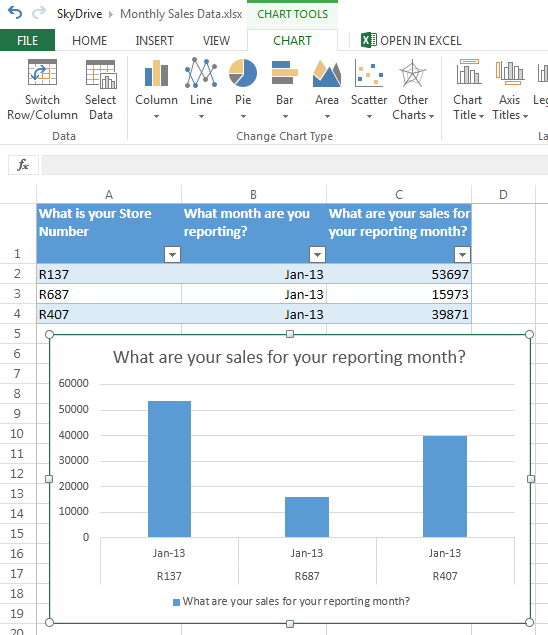 Other Uses
Of course you don't have to use OneDrive for serious stuff. Here are some other ideas:
Put together an office pop quiz or a game of 'Would you rather'
Collate a list of your colleague's top 5 movies, books, bands…
Survey the office to find a date that suits the majority for your Holiday Party
Did you find this useful? Share this tip by clicking the Facebook, Twitter or LinkedIn buttons below, or leave a comment and let me know your thoughts.