Did you know you can use Slicers to filter Excel Tables? It's like having your cake and eating it too! Not just any cake either, it's like the most delicious Excel cake you've ever eaten and once you get a taste of the 'Table Slicer Cake' you'll be wanting more. The good news is it's zero calorie 😉
Slicers enable you to quickly and easily toggle filters on and off. I like to use them to save time applying filters I use regularly.
Below is an example of some English Premier League Football (soccer) data with Slicers to filter by Home Team or Away Team.
The great thing is you can insert a Slicer for any column(s) in your Table.
In order to use Slicers like this you first have to format your data in an Excel Table, and then you can insert a Slicer.
Note: Slicers are only available in Excel 2010 or later and unfortunately only work with Tables in Excel 2013, but don't let that stop you cause you can still take advantage of Tables and use Slicers with PivotTables in Excel 2010.
Enter your email address below to download the sample workbook.
By submitting your email address you agree that we can email you our Excel newsletter.
Please enter a valid email address.
Download the Excel Workbook
and Slice some Tables yourself. Note: This is a .xlsx file please ensure your browser doesn't change the file extension on download.
Master Excel Tables
Tables have other benefits that make them a key ingredient for your Excel workbooks. If you want to master Excel Tables (and you should), then consider my comprehensive Excel Tables course that'll have you up and running with them in under 1 hour.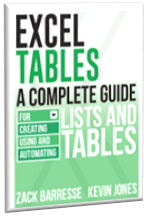 Or, get a copy of this book by Excel MVP's Zack Barresse and Kevin Jones. It's a complete guide to Excel Tables and contains everything you'll ever want to know, including automating Tables with VBA, using them with SharePoint, and Tables on the iPad, Mac and Office Mobile.
Disclosure; I'm an affiliate for Zack and Kevin's book so if you click on the link above and buy a copy I'll make a couple of dollars. I'd recommend their book even if I didn't earn anything from it, in fact if you prefer you can simply search for their book online without clicking my link and buy it and I won't earn anything. I hope that shows you just how important I think learning Excel Tables' is.