Excel Slicers are great, but they're a bit on the chunky side and that can be a pain when you're building reports like Dashboards where space is limited. Unfortunately, the Excel Slicer Formatting available on the Slicer contextual tool tab is limited because you can't adjust the font size (see below):

I'm going to show you how we can uncover the font settings and make them much smaller.
Watch the Excel Slicer Formatting video

Download Workbook
Contains step by step written instructions with screenshots that you can use as a reference.
Enter your email address below to download the sample workbook.
By submitting your email address you agree that we can email you our Excel newsletter.
Please enter a valid email address.
Excel Slicer Formatting Step by Step
The trick is to create your own custom Slicer style.
Step 1: Select a Slicer to reveal the contextual Slicer Tools; Options tab
Step 2: In the Slicer Styles gallery choose a style that's close to what you want. Trust me, this will save you time. Right-click the style you like > Duplicate: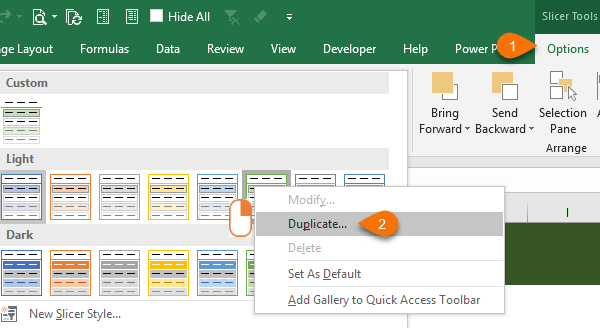 Step 3: In the Modify Slicer Style dialog box that opens, give your style a name. Mine is called 'Compact'.  Then select 'Whole Slicer' in the Elements list and click 'Format':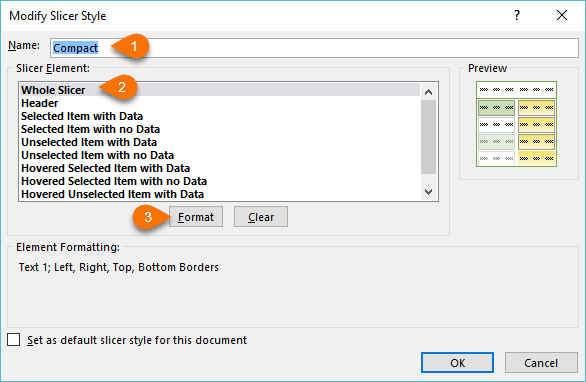 Step 4: In the Font tab alter the font size as desired. This will allow you to make the button height smaller.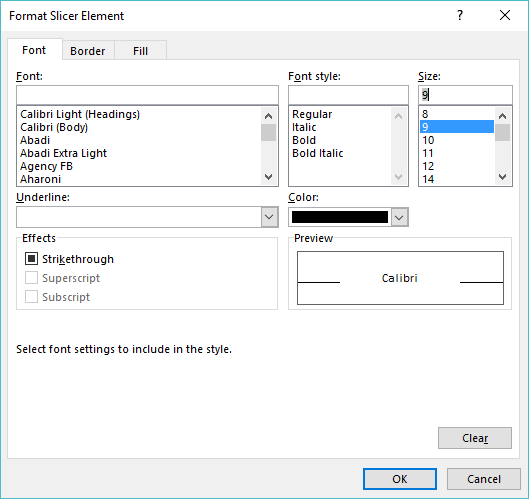 Step 5: Go to the Border tab and set the border to 'None'. This will enable you to overlap the Slicers slightly, as you won't be constrained by the borders: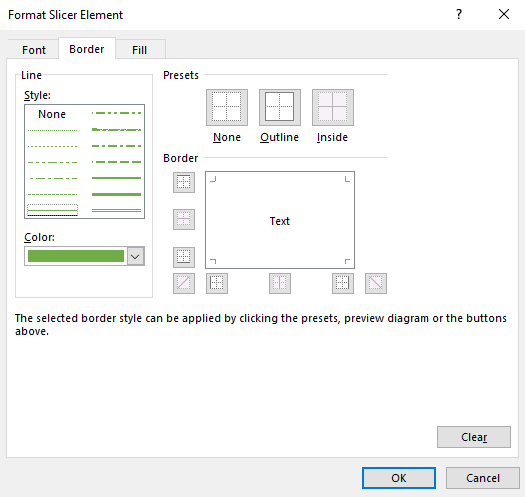 Step 6: After you click OK in the Format dialog box you'll be taken back to the Modify Slicer Style dialog (image below). You can also select the other elements and modify them as required, but generally I'm too busy for fiddling about with that.
Be sure to check the 'Set as default slicer style for this document' box: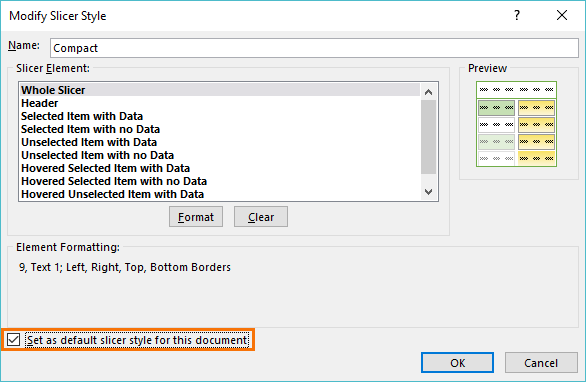 Your Slicer style will be the first in the gallery:

Now all you need to do is apply it to the Slicers already in your workbook. Tip: Select one Slicer and then press CTRL+A to select all the Slicers. Now you can apply the formatting with one click.
Note: Pressing CTRL+A with at least one Slicer selected will select all objects, so if you have images or shapes in the worksheet CTRL+A will also select them.
Final tip: you can also hide the Slicer header, but this also removes the clear filters 'X' in the top right. You can remove filters by selecting all items in the Slicer, but this may be inconvenient in Slicers with lots of items.
To hide the Slicer header right-click > Slicer Settings: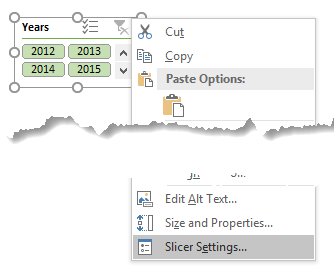 In the Slicer settings dialog box deselect 'Display Header':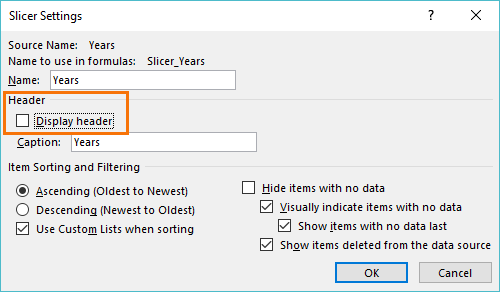 Learn Excel Slicers
Are you new to Slicers? Master them with our step by step Excel Slicers tutorial, including video and workbook.