If you've written subs or functions in your own add-in, you can use them in your worksheet as you would with any other sub/function.
Subs can be called using shapes or buttons, the QAT, the Ribbon, or from the list of macros brought up by ALT+F8.
Functions can be called by typing the function name into a cell e.g.
=CUBE(3)
Calling Add-In Code from Another VBA Module
If you want to call a sub or function that resides in an add-in from another VBA module, you have to do something different.
One option is to add a reference from your workbook to the add-in. It's the same process as adding a reference to PERSONAL.XLSB.
Give Your Add-In a Nice Name
If the VBA editor, click on your add-in, and in the Properties box give it a more personalised or descriptive name. For mine I've called it Cube AddIn.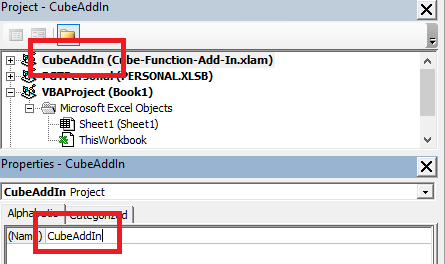 Add A Reference
Make sure that you click on the workbook you want to add the reference to, and from the VBA editor menu choose Tools -> References.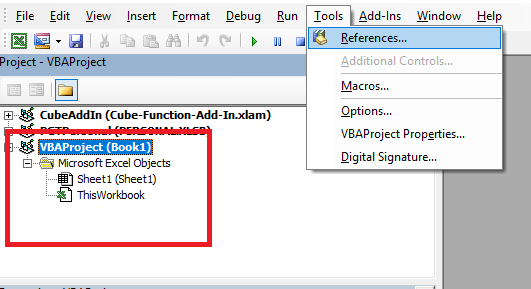 In the displayed list check the box beside your renamed add-in, and then click on OK.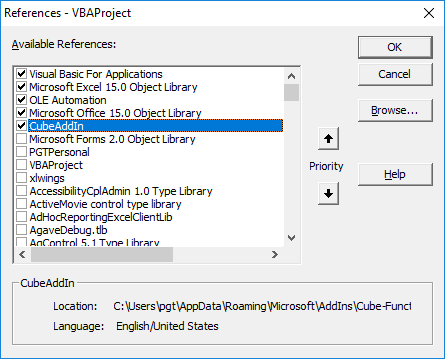 You'll see that your workbook now has a new reference to the add-in.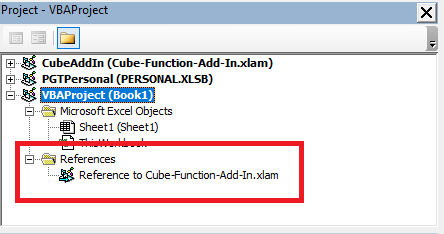 Problems With This Approach
Whilst this works, you have to follow these steps for every workbook that you want to use the add-in code in and that can be cumbersome, but there is a better way.
Application.Run
If you use Application.Run to call your sub or function, you don't need to set a reference to the add-in. This is a much neater solution.
If we look at my CUBE function add-in as an example, it takes one number as an argument. So if we want the cube of 2, we would write
Result = Application.Run("CUBE",2)
Where Result is a variable I've declared to hold the value that CUBE returns.