You can customize the Quick Access Toolbar (QAT) in Excel so that you add icons to run your macros, or commonly used tasks and tools. Just follow the 8 steps below, it shouldn't take you more than 5 minutes, if that.
You can also modify the Ribbon to show custom tabs, groups and icons for your own macros and commands.
Step 1
Right click your mouse anywhere on the QAT or the Ribbon, and from the menu that appears, click on Customize Quick Access Toolbar ...

Step 2
The window that appears allows you to choose commands from the list on the left hand side of the main pane, and add them to the QAT by clicking on the Add>> button.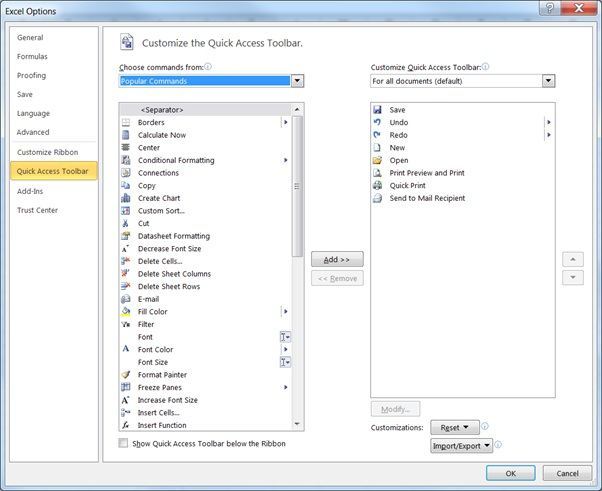 Step 3
You can click on the drop-down list under Choose commands from to select where you want to add commands from. It is here that you can also choose to add macros.
As this is what I want to do, I am going to click on Macros.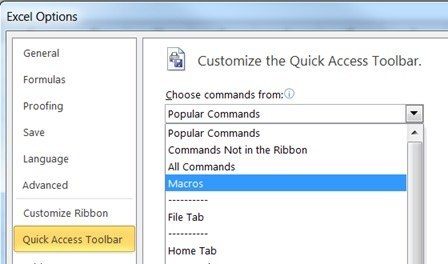 And I now see a list of the macros available to me.

Step 4
Any commands or macros you add to the QAT can be made available either to all Excel documents (which is the default), or just for the workbook you currently have open.
If you are adding standard Excel commands then leave this option on For all documents (default). Likewise if you are adding macros that are in your Personal.xlsb, you can stay with this option.
If you want to run a macro that is only in the workbook you currently have open, then change it so that it reads For 'Workbook Name' so in my case it's For Book1. By doing this the icon you create will only appear when you open this particular workbook.
Also note that if you choose For all documents (default), and then select a macro that is in a workbook other than Personal.xslb, when you close that workbook, the icon will stay on the QAT. When you click that icon, the workbook will be opened before the macro is run.

Step 5
So I've chosen to add macros to my QAT. I need to click on the macro and then click the Add>> button, and PERSONAL.XLSB!PersonalMacro is added to the list on the right.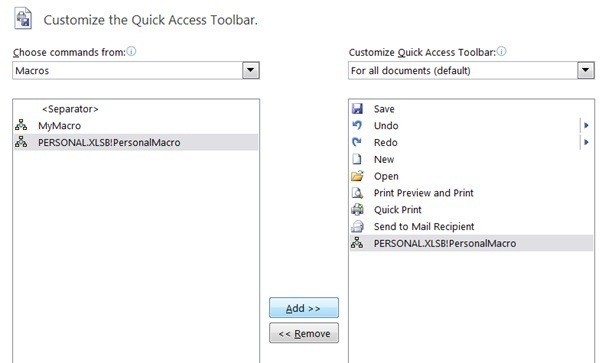 Step 6
I now want to change the default icon for this macro, and give it some other useful information so with the newly added macro selected, click on the Modify button.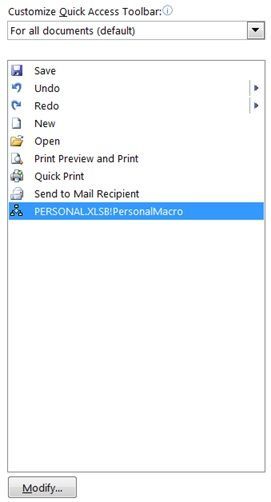 Step 7
You'll see a large list of icons, choose whatever one you want for your macro. I'm going with a green square.
In the Display name box, type in a useful description for the macro, this will be the tool tip that appears when you hover your mouse pointer over the icon.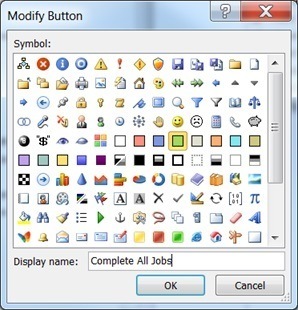 Click OK to close, and you'll notice that the macro's icon and description have changed.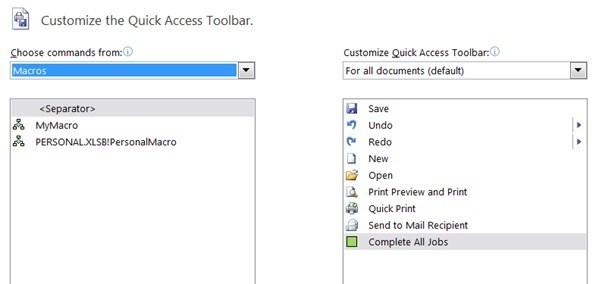 Step 8
Click OK to close the window you are in and you'll see that you now have a new icon on your QAT. Hover your mouse over it to see the tool-tip.