Typically if you need to lookup a value from a table you'd employ VLOOKUP or INDEX/MATCH.
However if your data looks like this

and you are looking up by Employee name then you'll run into some issues because there are two employees with the name John.
Both the VLOOKUP and INDEX/MATCH approach will have problems with this because they need to lookup unique values.
You can use VLOOKUP or INDEX/MATCH to lookup multiple values across multiple columns but this requires writing a complicated (legacy) array formula using CTRL+SHIFT+ENTER
So, what to do? If you have the new FILTER function you could use that.
FILTER allows you to return all records that match your criteria, so in this case you could return the data related to both John's. But if you are just interested in the John with the highest Rating, FILTER will also allow you to specify additional criteria to give you the data you are after.
The key here is that FILTER lets you look for more than one thing in your source data (for example Employee="John" and Target=12) and return the data in that record.
Most people don't yet have FILTER though so this is where DGET comes in.
DGET allows you to look up a value in a table (or a range/list of records) based on multiple criteria, just like FILTER. However DGET only returns a single value, not an entire row of data.
Excel Dynamic Arrays
FILTER is one of the new Excel Dynamic Arrays family of functions.
Dynamic Arrays are currently only available in Office 365 to a portion of Office Insiders.
Excel 2019 will not have the Dynamic Array functions.
DGET Syntax
The syntax to use DGET is

where the arguments are
database - a table/range including headers.
field - field/header name or numeric column index.
criteria - criteria range including headers.
DGET Examples
As shown previously I have a table of data like this, I've named the table Employees. Note that your data does not have to be in a table for DGET to work.

We have two employees named John. As stated earlier, neither VLOOKUP nor INDEX/MATCH can be relied upon to return the correct result if we want to look up something related to one of the John's.
Putting Stuff Under Tables
If you put data or formulae under a table and rows are added to the table, your data/formulae will get shifted down. This may or may not break something on you so be aware.
If I try to use DGET to lookup the Rating for John, it returns a #NUM! error because it doesn't know which John I want.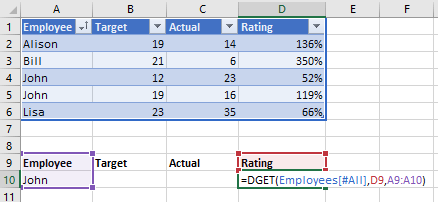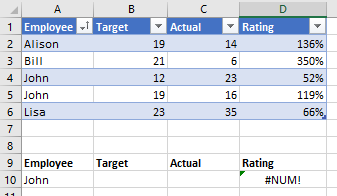 So I also specify Target is 12 and I get the answer 52% for the Rating.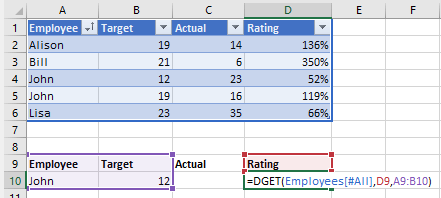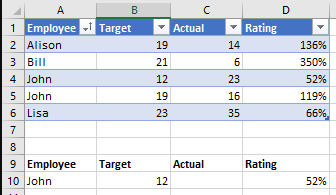 Notice that when specifying the criteria you must include the header/name of the column as well as the data, this is why the 3rd argument is the range A9:B10.
The 2nd argument for DGET is the data/field you want the function to return. In the example above I reference cell D9 which contains the word Rating, so I want the Rating returned.
I could replace the word Rating with the number 4 to indicate I want the data in the 4th column of the table returned. Of course you could just type in 4 to the DGET formula rather than reference cell D9.
Criteria
Expressions can be used in criteria such as
| | |
| --- | --- |
| Jo* | Matches a string starting with "jo" (case insensitive) |
| 12 | Equal to 12 |
| <>12 | Not equal to 12 |
| <12 | Numbers less than 12 |
| <> | Not blank |
| < 28/10/2008 | Dates before October 28 2008 |
String matching is case insensitive so "John" will match "John" and "JOHN".
Multi-Row Criteria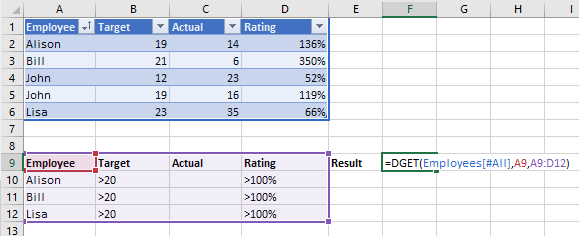 The criteria for DGET can include more than one row below the headers.
In such a scenario, the conditions in a row are joined using AND, and each row is joined using OR.
Taking the example image above, I am looking for the employee (either Alison, Bill or Lisa) whose Target is greater than 20 and whose Rating is greater than 100%.
So the criteria we have are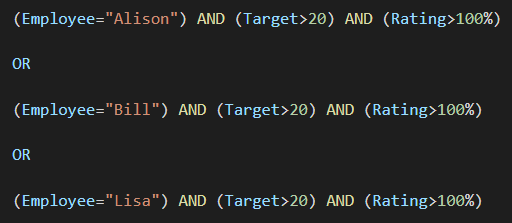 If we check these against the source data table, we find that there is an Employee named Alison (TRUE), her Target is not greater than 20 (FALSE) and her Rating is greater than 100% (TRUE).
Doing this for all 3 rows we can simplify to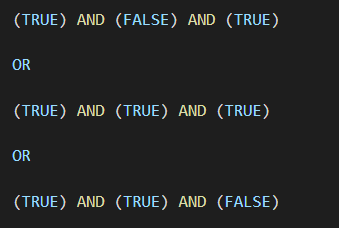 Combining the conditions within each row to give a True/False we get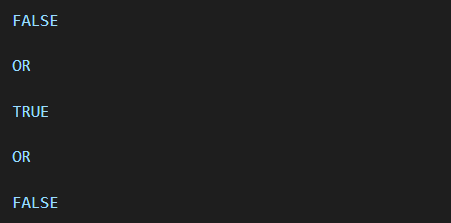 The only criteria that gives a True result is the 2nd one so the value returned by DGET is the Employee that matches that, Bill.
Download Sample Workbook
Enter your email address below to download the workbook.
By submitting your email address you agree that we can email you our Excel newsletter.
Please enter a valid email address.
Examples of using DGET from this post are in the sample workbook.