Real World Scenario
One of my customers (thanks Tony) creates invoices in Excel for his clients and at the end of each month he wants to email these invoices to each of those clients. Each invoice is on a separate worksheet.
If he has a lot of sheets doing this one by one will quickly become a time consuming chore so let's use some VBA to automate the process.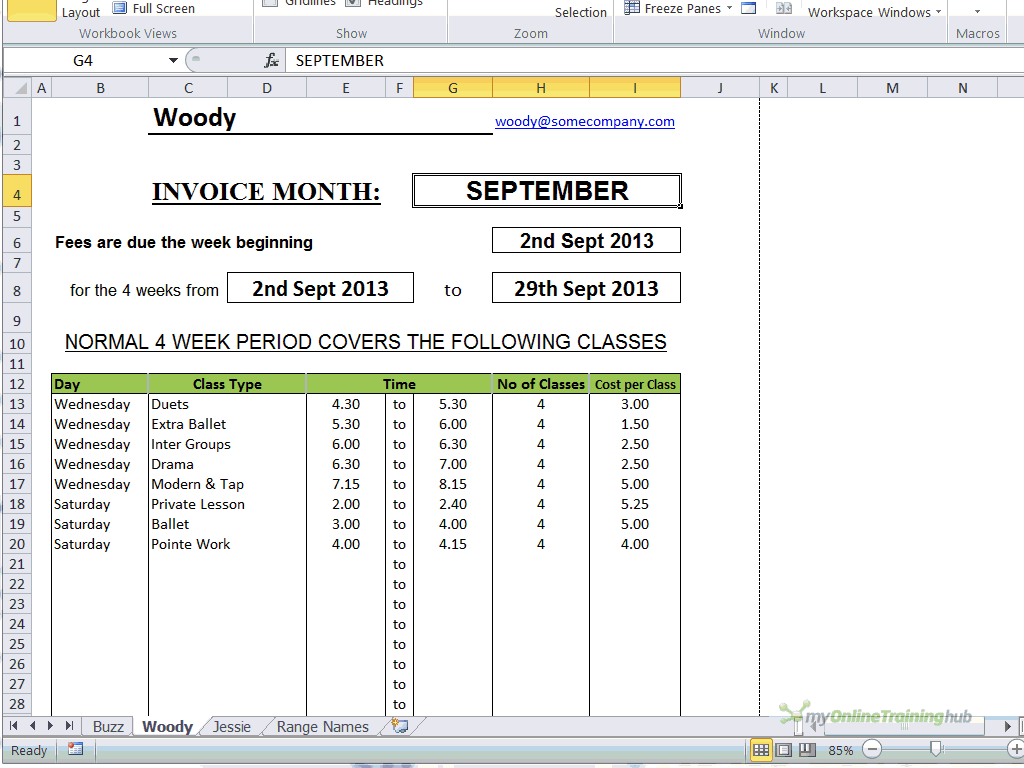 What We Are Trying To Achieve
We want to create a PDF from each sheet, attach that PDF to an Outlook email and then send it. Before it's sent we want to be able to add some text in the body of the email and make any other changes we wish.
In this example we will be using Outlook to send emails. Since Outlook 2007 (Service Pack 2) we've been able to create a PDF and then email it. You can do this manually by going through the menus and first Saving/Exporting a PDF, then attaching it to an email. Or you can tell Excel to create a PDF and then email it all it one go.
This is ok if we have one or two sheets but, as I said already, if we have a lot of sheets we won't want to do this because of all the pointing and clicking involved. If you are like me, you'll want to get it done as quickly as possible.
Are you using Excel 2007 or Earlier?
If you are you'll need to download and install the Save as PDF or XPS add-in from Microsoft so that this code works.
If you are using a version of Excel earlier than 2007 my code won't work for you as the method used to export the file just isn't supported in your version.
So, What does this code actually do?
When you run the macro the VBA code does the following :
Asks you which folder you want to save the PDF in. The PDF file name is automatically created based on the sheet name and the current month. The current month is taken from cell H6 on the active sheet.
If that PDF already exists, you are asked if you want to overwrite it.
Creates the PDF, then creates a new Outlook email and attaches the PDF.
Displays the email and allows you to type your message, add CC and BCC etc.
Changing How the Code Works
I've tried to make this as easy as possible to modify by yourself. At the top of the code you'll see a section marked You Can Change These Variables. By changing these values you can alter how the code behaves, and how much you have to do once the email is created.
Here's a list of the variables you can change and what they do :
EmailSubject
The text in the email subject. This has the current month added to the end, and this is picked up from cell H6. For example if the EmailSubject string is "Invoice for " then the subject of the email will be "Invoice for Sep 2013".
If you want to adapt the code yourself and don't want the current month then just find this section of the code

and make it look like this by
Adding an apostrophe to the start of the line to comment it out
Deleting

"_" & CurrentMonth &

OpenPDFAfterCreating
Do you want to see the PDF after you've created it? TRUE or FALSE.
AlwaysOverwritePDF
Do you want to overwrite the PDF if it already exists? If set to TRUE the macro won't ask you to confirm if you do want to overwrite a file that already exists. Set it to FALSE if you want to be prompted.
DisplayEmail
Do you want to see the email before you send it? If you set this to FALSE then you must specify a recipient, see the next bit.
Email_To, Email_CC, Email_BCC
Enter any default To, CC and BCC recipients for the emails.
You could have the primary recipient's email address in the worksheet and pick this up in the code. To do this you would set Email_To to the value in the relevant cell. In this case we'd want to get the email in cell H1. So you'd type this Email_To = ActiveSheet.Range("H1"). See the animated image below to see what I mean.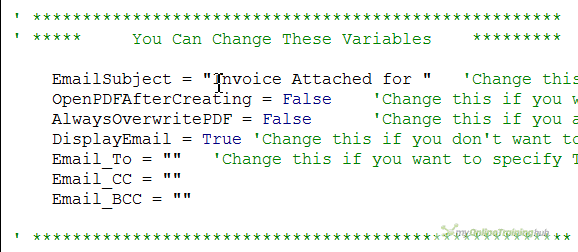 Further Modifications
Honestly I could write several posts about modifications to this code. It was written this way to address a specific need, but we could get it to do things like :
Email the workbook
Email a selection in the sheet
Send the sheet/workbook/selection in the body of the email, rather than as an attachment
Get the TO email from the worksheet
Choose which email account to send from be default, if you have several configured in Outlook.
Specify multiple sheets to send
Specify body text in the email
Loop through all sheets in the workbook and send each one to separate recipients. Or send the all to the same person.
Prompt for the PDF file name, rather than creating the file name from the sheet name and current month
I think I'll leave those for separate posts, but if you can think of any more I'd love to hear.
Show Me The Code!
Enter your email address below to download the sample workbook.
By submitting your email address you agree that we can email you our Excel newsletter.
Please enter a valid email address.