Excel infographics, like the one below, are easy to build and there are loads of tools you can use to add some sparkle.

Infographics are suited to one off brochure style reporting designed to catch your eye and be easily digestible and memorable. They're often found in newspapers or other print publications because they draw you in with the colourful display and fun graphics.
Don't confuse them with Excel Dashboard reports, which are interactive and aim to quickly convey key business metrics without unnecessary noise and gimmicks that might distract your audience.
Download the file
Enter your email address below to download the sample workbook.
By submitting your email address you agree that we can email you our Excel newsletter.
Please enter a valid email address.
Building Excel Infographics
The black and white image below numbers the various elements I used to build my Excel infographic. Continue scrolling past the image for further instructions.

Excel has lots of tools you can bring together to build infographics, including:
Doughnut and Bar Charts – Generally, I avoid pie and doughnut charts because they're big and bulky and are more difficult to read than bar or column charts. However, in infographics your goal is to grab attention first and convey information second. And for this, pie and doughnut charts work well.

That doesn't mean you should pile your pies full of segments. No more than two or three segments is enough.

When using bar or column charts it's helpful if you can sort the data in descending or ascending order.
Cell Fill and Borders – I used a fancy line style for the infographic border and applied a contrasting color:
Bonus tip: Set your Excel Theme to a color palette that suits your topic. This will save you time choosing colors because the color palettes will be prepopulated to suit your infographic.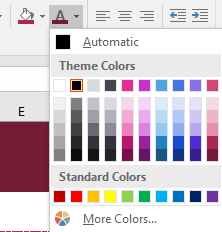 I used the Red Violet color theme, as you can see in the screenshot below.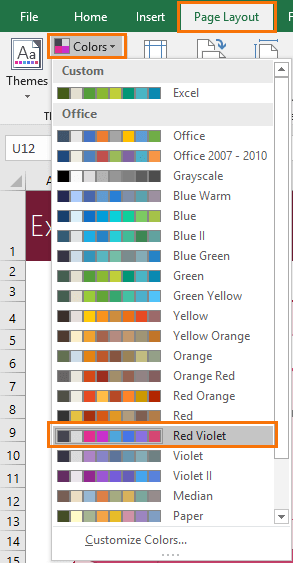 A word of advice on color; less is more. Try to stick to one color palette column for the majority of your infographic, and maybe use one or two colors from the other side of the spectrum to differentiate elements. The screenshot below highlights the colors I used in green boxes: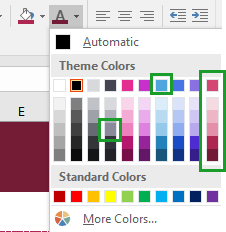 Use color consistently; I've used blue when encoding male data, stereotypical I know!
Excel Infographics Summary
Remember, infographics are for one off brochure style reports. Don't be tempted to turn your dashboard reports into infographics.
Layer and combine different Excel tools like Shapes, Icons and text boxes. But don't use every shape available, again, less is more.
Be consistent with color – data that represents the same location/product/gender etc. should be encoded in the same color.
Don't go crazy with fonts. Two or three different fonts is enough.
Use placement - put your most important information towards the top to draw the reader in. Create a story with the data that flows from one point to the next to keep the reader engaged.
Please Share
If you liked this please click the buttons below to share.