At first glance the CHOOSE function isn't very exciting and typically you have to team it up with other functions to get the party started. Fair enough I suppose, after all, the more the merrier.
In this tutorial we're going to use choose to toggle through different aggregation methods (AVERAGE, MAX, MIN, SUM) as seen here: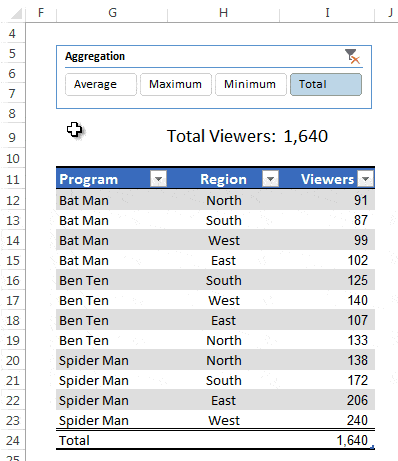 Download the Workbook
Enter your email address below to download the sample workbook.
By submitting your email address you agree that we can email you our Excel newsletter.
Please enter a valid email address.
CHOOSE Function
But first a quick rundown for those not familiar with CHOOSE:
The syntax is:
CHOOSE(index_num, value1, [value2], [value3],….)
It returns a value from a list based on the index_num argument.
A simple example:
=CHOOSE(2, "Functions","PivotTables","Macros","Tables")
Would return PivotTables as it's the second value in the list.
Whereas
=CHOOSE(4, "Functions","PivotTables","Macros","Tables")
Would return Tables because the index_num argument is 4, and Tables is the 4th value.
One of the unique features of CHOOSE is that the value arguments can be:
Numbers
Cell references
Defined names
Formulas
Functions
Text (as in the above examples)
CHOOSE Party
That' a long list of options and provides a huge range of applications (and opportunities to party...sorry, I couldn't help myself ;-)).
There are a few moving parts to this technique: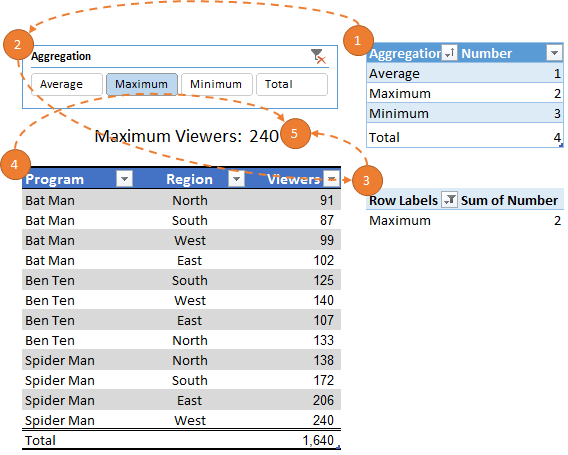 Is your head in a spin? Let me explain them:
CHOOSE's index_num argument comes from a Table called agg that maps the aggregation type to the index number:

Slicers (available in Excel 2010 onwards) provide the interactivity that enables the user to toggle through the different aggregation methods:

The Slicer filters a mini PivotTable (mini being small and with the Grand Total line removed, as opposed to some special breed of PivotTable):

Our data is formatted in an Excel Table called ProgramTbl2 (see below) and this means our formula will be using Structured References to reference the table.

And our CHOOSE formula in cell I9

references cell L13 of the PivotTable

to find which aggregation method was selected:
=CHOOSE(

L13

, AVERAGE(ProgramTbl2[Viewers]), MAX(ProgramTbl2[Viewers]), MIN(ProgramTbl2[Viewers]), SUM(ProgramTbl2[Viewers]),)
Bonus: in cell H9 there is a dynamic text label which also uses CHOOSE to display which aggregation method has been chosen:
=CHOOSE(L13,"Average","Maximum","Minimum","Total")&" Viewers:"
Excel 2007 Method
For those of you still using Excel 2007 you don't have the luxury of Slicers but you can achieve the same results using Form Control Radio Buttons: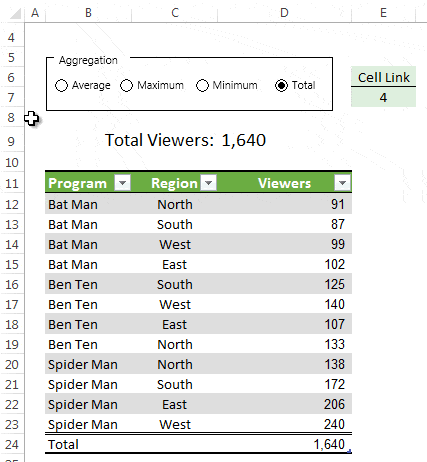 To insert radio buttons you first need to enable the Developer tab in your Ribbon.
After selecting the Radio Button from the Insert drop down on the Developer tab simply left click and drag the mouse to draw it on your workbook. Right-click it to edit the text.

Make sure you put them in a Group box (Form Control) so Excel knows they're all part of a group and numbers them consecutively. Click and drag to draw the Group Box on your worksheet just like you do with the Radio Buttons.
Tip: the whole of each Radio Button must be inside the bounds of the Group Box.
Set the Cell Link cell for each Radio Button. Right-click the Radio Button > Format Control > Control tab and choose a cell for the Cell Link (mine is in cell E7):
The Cell Link is a cell anywhere in your workbook which captures the number of the selected radio button. All 4 of your radio buttons should use the same cell as this populates the index_num argument in your CHOOSE formula.
Note: you'd normally put your Cell Link cell out of sight. I put beside the radio buttons so you can see all the moving parts together.
Tip: you can copy and paste the first Radio Button and it will remember the cell link so you only have to set the Cell Link once.
Link your index_num argument to the Cell Link cell.

=CHOOSE(E7,AVERAGE(ProgramTbl[Viewers]),MAX(ProgramTbl[Viewers]),MIN(ProgramTbl[Viewers]),SUM(ProgramTbl[Viewers]))
Toggle away!
Uses for this technique
Headline figures in your Dashboard reports
A quick way to summarise your data in different ways
Use it with named ranges to return different regions/product group summaries
More CHOOSE Examples
Totals in Excel Tables
Excel Tables also enable you to choose the aggregation method by clicking on the down arrow in the Total cell: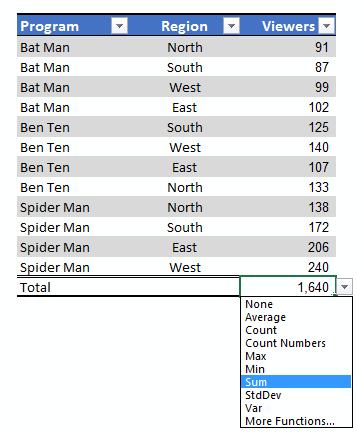 It's a nice touch, however there are two things I don't like about this:
The 'Total' label in the first column doesn't change to tell you what aggregation method is in use. You can choose Standard Deviation and 'Total' still says 'Total'.
It's at the bottom of the Table which can be a long way away.