I get the fanfare around infographics. They're used to make information more appealing, grab attention, awaken interest, lessen boredom and make that information memorable and easier to understand.
However sometimes they don't deliver on all points and often miss the most important point, which is to quickly and clearly communicate your message.
Just take the graphic below by Economist.com titled "Rebalance of power", which I wouldn't say is strictly an infographic but it's had a bit of zhushing. To test its effectiveness see how long it takes you to:
compare one region's results to another
find the region with the lowest unemployment %
compare the shape of each region's radar charts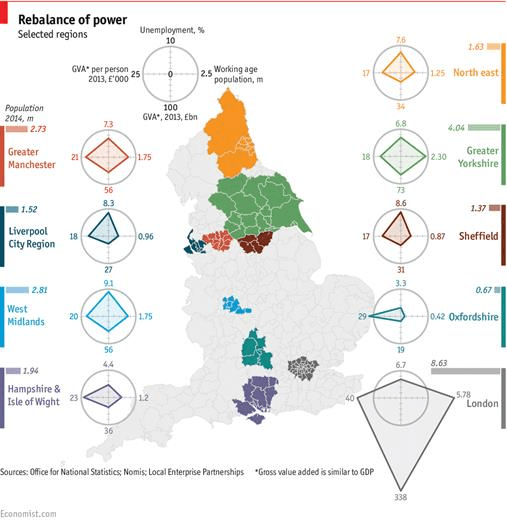 Now, my economics training consists of one semester as part of my accounting qualification so perhaps I'm not the target audience for this infographic. That said, if the target audience are economists then I'd have thought they don't need it all pretty to get the message.
So for the purpose of this post let's assume that the target audience is your average man on the street because I want to address the use of radar charts in general and look at alternatives for them.
Chart Effectiveness
Before we dive in to critiquing the infographic let's recap the purpose of a chart, which also applies to an infographic:
The goal with any chart or graph is to clearly and quickly communicate your message.
Testing the info-graphic against that statement, and assuming the target audience is your average Joe Blow, it falls short.
To Map or not to Map
Whenever you're reporting data by region or country it's tempting to use a map. However the map in this example, while attention grabbing, is really just a space hogging, fancy legend with no substance or message to deliver.
Off the Radar
The radar charts are the real problem here though.
Radar charts display data in a circular fashion, which is the opposite of the straight line comparisons we're able to subconsciously perform. This means we have to work hard to make any comparisons and as a result we're likely to make mistakes in our assumptions.
I could go on scolding radar charts but Stephen Few has already written this paper; "Keep Radar Graphs Below the Radar – Far Below".
Caveat; as with pie charts there will always be advocates for radar charts and as Few cites in his paper, there are a few instances where you might argue radar charts are good, including when:
The data consists of multiple measures that require different quantitative scales, which a bar graph cannot accommodate.
The objective of the graph is to assess the symmetry of the values rather than to compare their magnitudes.
The data fits a circular display because it is intuitively circular in nature or by convention.
That said, I still think most of the time you're better off using charts that allow you to plot data in a linear fashion as this makes it easier for all ability levels to interpret. i.e. not only Economists.
Download
Download the Excel workbook to see close ups of the images below and how I set up the Conditional Formatting and in-cell bar charts.
Enter your email address below to download the sample workbook.
By submitting your email address you agree that we can email you our Excel newsletter.
Please enter a valid email address.
Note: This is a .xlsx file please ensure your browser doesn't change the file extension on download.
Excel Alternatives to Radar Charts
One option is to use Conditional Formatting Data Bars as shown below:

Boring, I hear you say 🙂 I agree it doesn't have the same attention grabbing appeal of the infographic but it's a lot quicker and easier to interpret and your readers will thank you for that.
If you wanted to retain some of the eye catching infographic effect you could do something like this:

But, personally I think grouping the data by region makes comparisons difficult. And if you retain the grouping by measure (see below), then the colour coding makes it look like a Christmas tree and you don't know where to look first:

Note: the map in this example is a static image. This tutorial does not cover creating choropleth maps in Excel but you can find some choropleth chart templates here.
Moral of the Story
If you want to compare data across multiple criteria and regions then radar charts are not ideal. Better choices are Conditional Formatting Data Bars, bar charts, small multiples and Sparklines.