When you know what Power Query is capable of you'll want to get your hands on it immediately. It's available in 32-bit and 64-bit, but unfortunately it's not available in all versions of Excel.
I've put together a comparison table to help you identify Power Query version compatibility.
Power Query Version Compatibility Table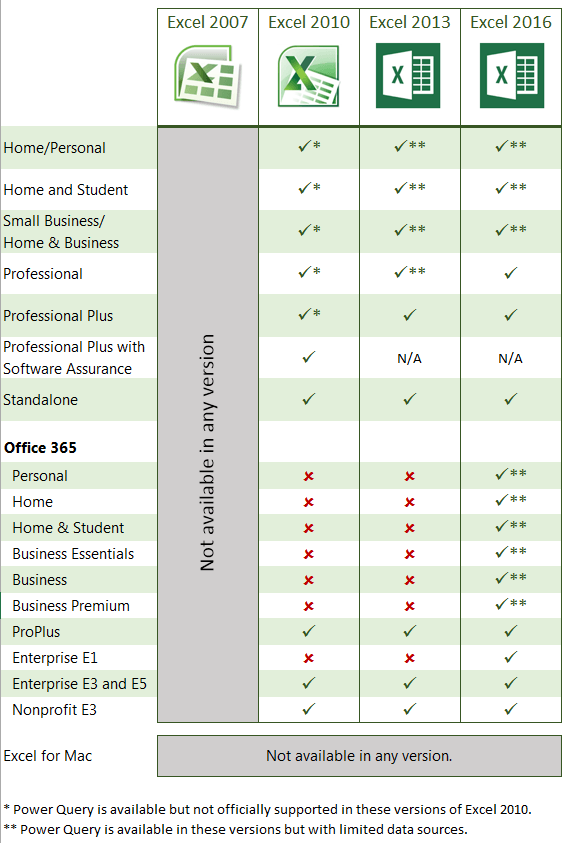 How to check what version of Excel you have
Discovering which version of Excel you have is slightly different depending on the version.
Excel 2010
Go to the File tab > Help. On the right you'll see the version and bitness: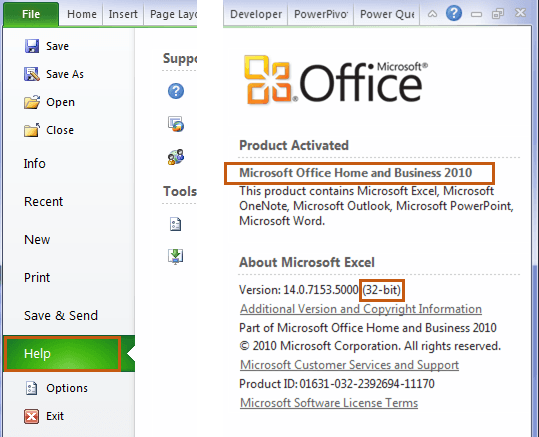 Excel 2013 and 2016
Go to the File tab > Account and then click on the About Excel button. This will display the About Microsoft Excel window where you can see the version, build and the bitness: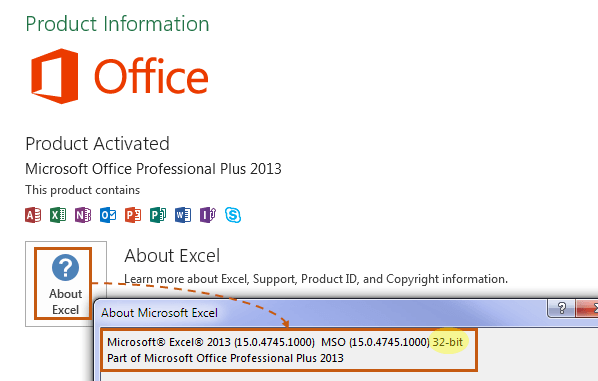 Click here for a complete guide on finding which version of Office you're using.
How to Install Power Query
Now you know which version of Excel you have and whether you can get Power Query you're either annoyed you don't have the correct version (I'll tell you the cheapest way to solve that in a moment*), or you're ready to go and install it.
Installing Power Query for Excel 2010 and 2013
In Excel 2010 and Excel 2013 Power Query is available as a free add-in. You can find out more about the system requirements and download it here.
Note: make sure you choose the correct version to match the bitness (32-bit or 64-bit) for your installation of Excel.
Once you've downloaded it simply run the MSI installer and follow the steps.
When the install is complete you'll find a new tab for Power Query:

Note: if you've installed Power Query and it's gone missing you can usually re-enable it by going to the COM add-ins.
File tab > Options > Add-ins > COM Add-ins: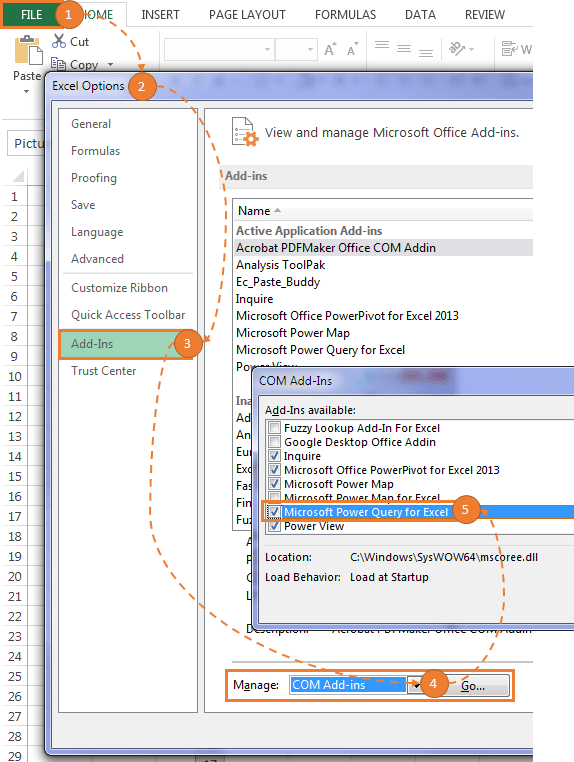 Excel 2016 Onward and Office 365
In Excel 2016 onward and Office 365 Power Query is integrated and is included in the Data tab, which means you don't need to download or install it. You'll also find that in Excel 2016 Power Query took on a new name: Get and Transform (personally I preferred Power Query, but anyway):

*Power Query not available in your version of Excel
If you find you don't have a version of Excel that has Power Query then the cheapest and easiest solution is to purchase the Standalone version of Excel 2013, or 2016 for around US$100 (price varies based on your local currency).
Go to www.MicrosoftStore.com and in the Search field type 'Standalone Excel'. If you only need it for home use then you can choose the 'non-commercial' licence, which is cheaper.
The great thing about this version of Excel is that it comes with EVERYTHING. That means full Power Query functionality AND full Power Pivot functionality, as well as all the other standard Excel features.
Power Query in Action
So, now that you've installed Power Query here are some examples of ways you can use it:
Combine Excel Worksheets with Power Query
Transpose Data with Power Query
Power Query Training
If you want to get up and running with Power Query fast then check out my Power Query course. I'll have you up to speed in just 3.5 hours.