The monthly update cycle for Excel's Power Query sure keeps us on our toes.
Power Query Updates for Excel 2010 and 2013
If you're using Excel 2010, 2013 then you update Power Query by going to the Power Query download page and getting the latest copy and reinstalling it. No need to uninstall first, just download and install again.
Power Query Updates for Excel 2016 (non-subscription)
For Excel 2016 users who aren't on an Office 365 subscription there's bad news and good news. The bad news is you don't get updates, the good news is you don't have to re-learn how to do things in Power Query because Microsoft changed something!
That's not to say the good outweighs the bad 😉
Power Query Updates for Excel 2016 Office 365
For Excel 2016 users with an Office 365 subscription your updates come at different intervals depending on your update channel. By default, Office 365 is installed on the Deferred Channel. This is often up to 6 months behind the Current Channel.
To find what Channel you're on go to the File tab > Account. Below the Version number in the Product Information you'll see the channel details. For example, this is what mine looks like: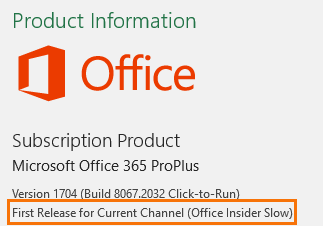 You can see I'm on a 'special' Office Insider Slow channel, the standard channels are Deferred and Current. You can find the updates available for the various channels on this page (change the radio buttons on the left-hand side to view the details for the different channels).
And this page explains how to switch to the current channel.
Updating Power Query Course
On my short-term to-do list is updating the Power Query course for the Excel 2016 menu (remember it's only the Excel ribbon/menu, not the Power Query Editor menu itself), however with the constant changes it's a moving target. For example, for non-updating versions of Excel 2016 the menu looks like this: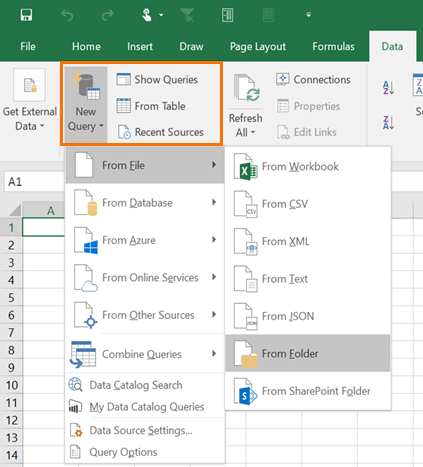 But recently my Excel 2016 Power Query menu has changed again and now looks like this:

Where do you think you'd click if you now wanted a 'New Query'? If you said 'Get Data' you'd be right.
Did you also notice the old 'Get External Data' group has gone? It's now hidden and only recoverable by changing the settings in Excel Options (via File tab):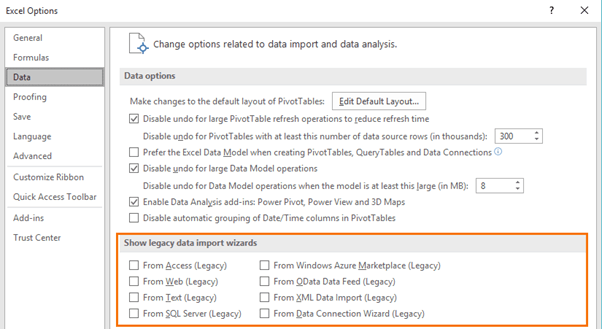 Microsoft hid the old Get External Data menu because Power Query is the new Get data tool and it's light years ahead of the legacy data import processes.
So, as Excel users these days we need to get used to Microsoft moving our menus around as they continue to develop and improve our beloved Excel.
And, as I've said before, when we're learning we need to be prepared to go looking for icons and tools that look one way in a video, book or blog post, and are different in the latest version of the software we now have at our fingertips. To help us locate rogue icons we must comprehend the task, we can't just copy clicks and learn by rote. Because when we comprehend the task we can use our understanding to bridge the gap between what we see in the video, book or blog post and the menus we have on our PC.
Of course, if you get stuck, our Excel Forum is where you can go for help.
Learn Power Query
Power Query is the most important Excel skill you can learn this year. It's going to give you the most bang for your training buck because it's for every Excel user. I can't think of an Excel job that doesn't involve getting data from somewhere, cleaning that data, adding columns and calculations to that data, and all before we can use it for reporting, or further analysis.
Power Query simplifies and automates these repetitive tasks with point and click ease.
If you haven't got yourself up to speed with Power Query yet, then please check out my Power Query course.