Format your dashboards and reports fast with these pro Excel chart formatting tips.
Watch the Video

Pro Tip 1 – Select Multiple: Hold the SHIFT or CTRL key to select/de-select multiple charts or objects.
Pro Tip 2 – Select All: Select one chart then press CTRL+A to select all. Note: This will select all Objects so if you have shapes or images in your worksheet it will select them as well.
With all charts selected you can move, resize, align, group, delete, copy, right-click and set properties including size, locking and more: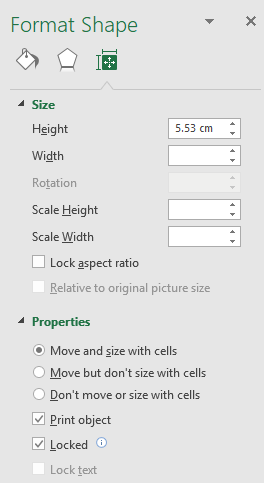 Pro Tip 3 – Snap to Grid: Hold down the ALT key while resizing and moving to snap to the grid: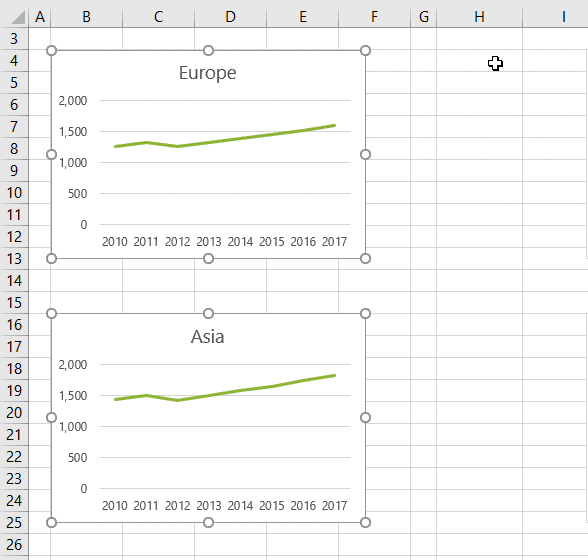 Bonus tip: You can move and resize multiple charts at the same time.
Pro Tip 4 – Distribute Evenly: Select 3 or more charts > Format tab > Align > Distribute Vertically or Horizontally:
While you're there you can also align them all left or right, or top/bottom.
Bonus tip: This is great for aligning any object, e.g. form controls, shapes etc.
Pro Tip 5 – Lock Alignment while Moving: Hold the SHIFT key while you left-click and drag to keep your chart aligned to its original horizontal or vertical position (useful it you're not using the grid for alignment):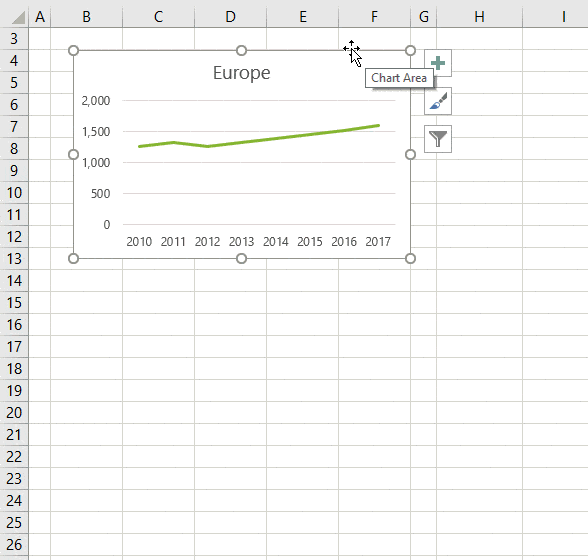 Pro Tip 6 – Repeat Formatting: Let's say you decide that you want to remove the chart border from all your charts.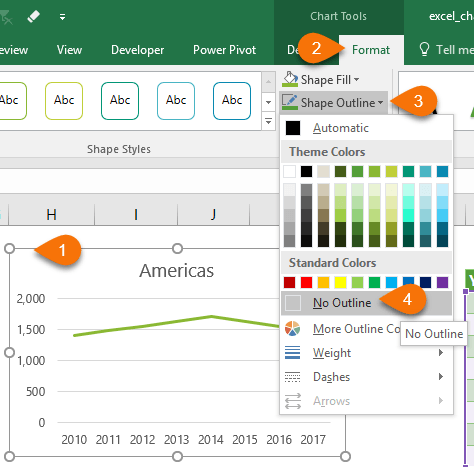 Make the formatting change to one chart, then select the next chart and press F4. Rinse and Repeat for remaining charts. This works for other formatting too.
Pro Tip 7 – Themes: Change all formatting in one go with Excel Themes. Choose from the built-in themes: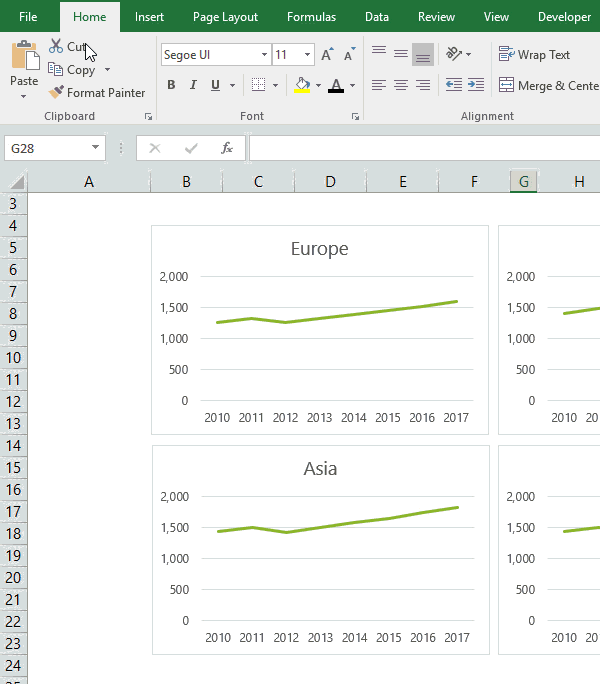 Or customize your own including colors, font styles and shape effects. Click here to learn how to use Excel Themes.
Pro Tip 8 – Duplicate/Copy Charts: Copy an existing chart with keyboard shortcut CTRL+D or left-click to select the outer edge of the chart > hold the CTRL key until the mouse pointer displays a + symbol, then left click and drag while holding CTRL.
Bonus tip: hold SHIFT at the same time to keep the new chart aligned to the one you're copying: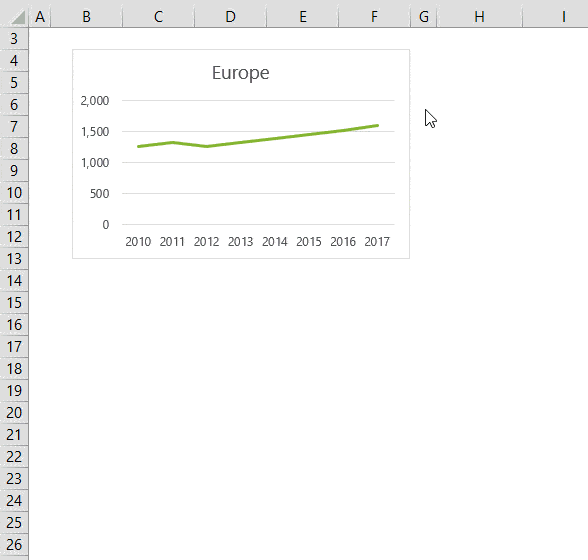 Pro Tip 9 – Chart Templates: Got a chart you've spent considerable time formatting to just the way you like it and now use it all the time. Make it a chart template so it's on call when you need.
Pro Tip 10 – Move Chart with Arrow Keys: Hold CTRL while left clicking the outer edge of your chart. Note: in Excel 2016 you no longer need to press CTRL, just a left click will do. The pull handles will be small dots which indicates that you can move the chart with your arrow keys: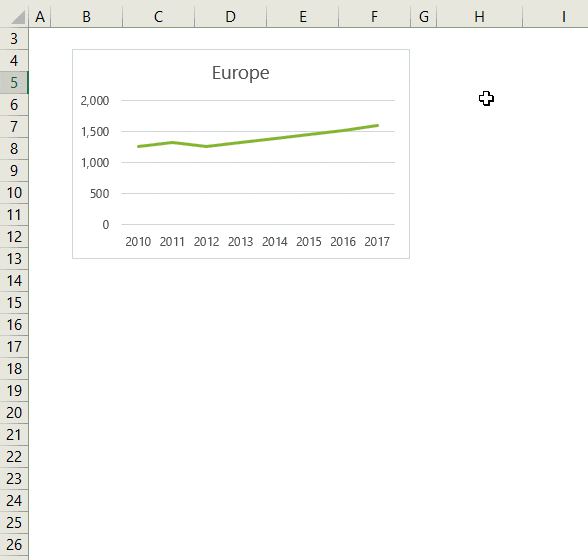 Pro Tip 11 – Prevent Charts Resizing: By default, charts will resize and move when you adjust column width and row height, but you can prevent this in the Properties. Right-click the chart > Format Chart Area > Properties: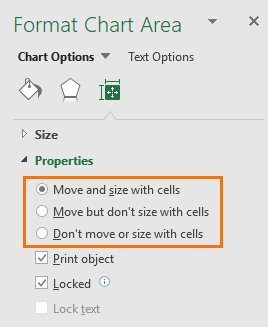 Pro Tip 12 – Don't Use Built in Chart Styles: All but the default, Style 1, is generally a bad idea. They're full of noise like unnecessary formatting and fill:

Pro Tip 13 – Select Chart Elements: Sometimes selecting the element you want can be tricky, like the 'Small Values' series in the chart below: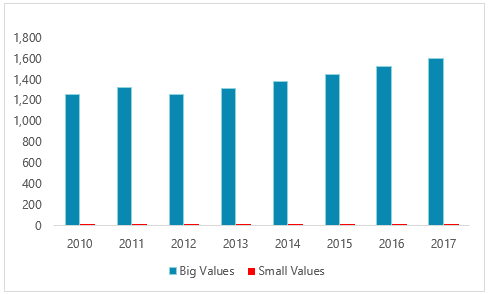 There are two options for selecting those teeny tiny chart elements:
Select an element that's easy to click on, like the 'Big Values' column > hold the CTRL key and press the up/down arrows to toggle through the other elements in the chart until you get to the one you want. Note: pre Excel 2016 you don't need to hold the CTRL key.
Select the chart > Chart Tools: Format tab > choose the element from the drop down:
Pro Tip 14 – Copy All Formatting: If you want to copy the formatting from one chart to others, you can simply select the chart you want to copy formatting from > CTRL+C, then select the chart you want to copy formatting to > go to the Home tab > Paste > Paste Special > Formats: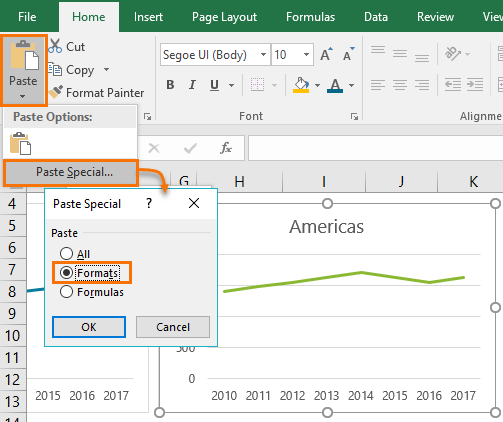 Note: Paste Special doesn't work with Pivot Charts. Instead, you can simply copy and paste, which will paste the formatting.
Please Share
If you liked this please click the buttons below to share.