Around this time last Year I created an Advent Calendar in Excel: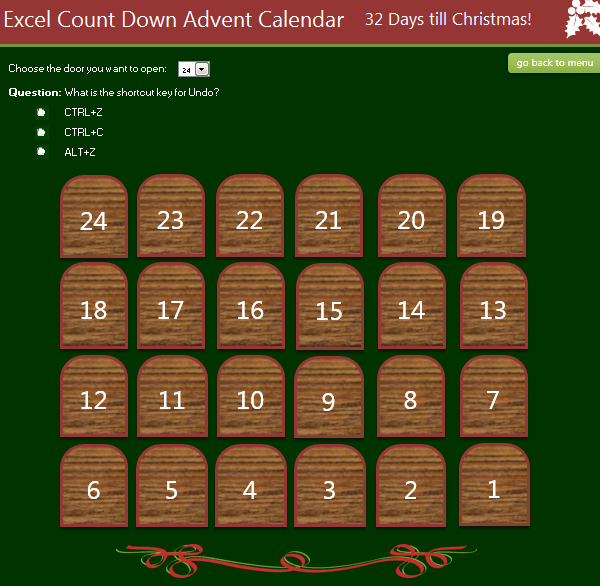 To Count Up or To Count Down?
Now, for me an Advent Calendar had always counted down to Christmas day, but to my surprise some people counted up, or rather counted the dates. That is they read the numbers on the calendar as the date as opposed to the number of days until Christmas.
So in the spirit of giving, this year I have created two calendars; one for those who want to count up and one for those who want to count down. I know, generous eh!
They're not those chocolate/candy filled calendars though, plus you actually have to do a bit of work to open the doors. It's nothing too Grinch inspired, just some fun Excel trivia to test your knowledge. Any tips you learn are my Christmas gift to you 😉
Enter your email address below to download the sample workbook.
By submitting your email address you agree that we can email you our Excel newsletter.
Please enter a valid email address.
Security Warnings
When you open the file make sure you Enable Editing and then Enable Content by clicking on the yellow messages above the formula bar like this one:

How it was made
The calendar is not password protected so feel free to pull it apart and learn how it works. Here's a list of the techniques I used and links to tutorials on those topics to help you get started:
And some magical VBA!
More Excel Advent Calendars
If you want more Excel trivia frivolities then check out these (VBA Based) Excel Advent Calendars by Spreadsheet1.com and friends. Plus they're running an Advent Calendar contest where you can try your luck.