What Are Events?
An Event occurs when certain actions are performed by the user or VBA. For example when you open a workbook the Workbook_Open event is triggered. When you (or your VBA) saves a workbook, the Workbook_BeforeSave event is triggered.
These events are built into Excel VBA and are executed automatically by Excel. You can write your own code which is also executed when these events occur. This code is known as an Event Handler.
In this article I'm going to look at events for worksheets and workbooks, but there are also events specific to the Excel application itself, user forms, and charts.
What Events Are Available?
For each object there are specific events available. An easy way to check is to let the VBA editor show you.
Worksheet Events
Right click on a sheet tab and choose 'View Code'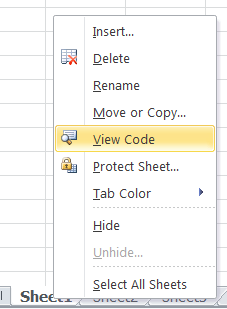 This will open the VBA editor with your sheet module already selected. Below you can see that I have the Sheet1 module selected.

In the code window on the right hand side of the editor window, click on General and from the drop down click on Worksheet.

You'll notice that the drop down on the right side has now changed, and is showing the SelectionChange event. The editor has also entered the Worksheet_SelectionChange event declaration for you.
If you click on the right hand drop down, you will see a list of all the events for the worksheet. Clicking on any of these will enter the event code declaration for you into the code window.

Workbook Events
For workbook events, double click on ThisWorkbook on the left hand side (in the Project Explorer)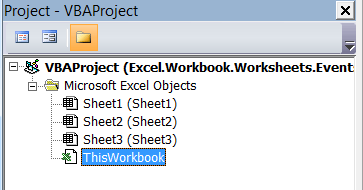 and on the right hand side (the code window) select Workbook from the left hand drop down.

You should now have the declaration for the Workbook_Open event in your code window.
As with the worksheet, clicking the right hand drop down gives you a list of events for the workbook and clicking on these will enter the code declaration for that event.

Location of Event Code
Before we go any further let's talk about where the event code must be stored. With 'normal' VBA code you'd create a new module and enter the code in there. But with events, VBA expects the code to be in specific places. If you put it in a 'normal' module, it won't work.
If you want to write an event handler for a worksheet the code must be in the sheet module for the relevant sheet. Each sheet has its own module. Double click the sheet name in the Project Explorer in the VBA Editor to access the sheet module.
Likewise, workbook level code must be in the ThisWorkbook module.
Writing VBA for Worksheet Events
You can write whatever code you like and put it into the event procedure declaration. When an event occurs it is said to be raised and when this happens, Excel runs whatever code it finds associated with that event.
So let's write some code to execute when the Worksheet_SelectionChange event is raised. We're going to change the color of the currently selected cell (the ActiveCell) to green


Cells.Interior.Color = xlColorIndexNone

ActiveCell.Interior.Color = RGB(117, 173, 33)


OK so I can now make a cell a nice, bright green, but that's not a huge lot of use I suppose. Let's do something more useful, like indicate the currently selected cell by putting a border around the current row and the current column


Cells.Borders.LineStyle = xlLineStyleNone

ActiveCell.EntireColumn.BorderAround Weight:=xlThick, Color:=RGB(117, 173, 33)

ActiveCell.EntireRow.BorderAround Weight:=xlThick, Color:=RGB(117, 173, 33)


You could combine both pieces of code to change the color of the ActiveCell, and put a border around the current row and column.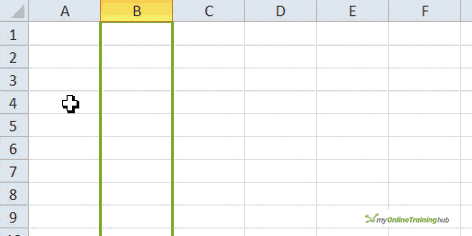 Parameters
You may have noticed that the declaration for the Worksheet_SelectionChange event specifies a parameter, Target, that is passed into the Sub


Private Sub Worksheet_SelectionChange(ByVal Target As Range)


This parameter is a range and you can use it in your code to test things like how many cells are selected, or which column is selected, or some value or property of the selected range. I'm going to test how many cells are selected and if there are more than 1, I'm going to exit the sub. To do this I just add one line of code


If Target.Cells.Count > 1 Then Exit Sub


So my event code now looks like this


Private Sub Worksheet_SelectionChange(ByVal Target As Range)

If Target.Cells.Count > 1 Then Exit Sub

Cells.Borders.LineStyle = xlLineStyleNone

ActiveCell.EntireColumn.BorderAround Weight:=xlThick, Color:=RGB(117, 173, 33)

ActiveCell.EntireRow.BorderAround Weight:=xlThick, Color:=RGB(117, 173, 33)

End Sub


If you use your mouse to select more than one cell, nothing happens because I am checking the Target parameter and can tell that there is more than 1 cell selected.
Other events pass in different parameters, but all are there for you to test/use as you see fit.
Useful Worksheet Events
Below are some useful worksheet events, but you can read more about the available events at Microsoft
Worksheet_Activate
Worksheet_BeforeDelete
Worksheet_Change
Worksheet_Deactivate
Writing VBA for Workbook Events
Let's look at a couple of examples of workbook events. The first is Workbook_Open which is raised when, you guessed it, the workbook is opened. We could write something like this.


Private Sub Workbook_Open()

MsgBox "Welcome back, I missed you!"

End Sub


You can of course put whatever code you like in there and it will run when the workbook is opened.
But, hang on you say, what if macros are disabled?
Well yes, then the macro won't run, but that is a topic for another day. Let's for now assume that you have things set up so that you either are opening workbooks from Trusted Locations and the macros will run, or you have your users educated to know to enable macros on your workbook(s).
Next we want to do something when a user tries to add a sheet. Let's say we want to ask them what they want to call the sheet. We can use a simple InputBox to ask them for the new sheet name, and rename the sheet for them.


Private Sub Workbook_NewSheet(ByVal Sh As Object)

Dim NewSheetName As String

NewSheetName = InputBox("What do you want to call this sheet?", "Please enter the new sheet name")

If NewSheetName <> "" Then Sh.Name = NewSheetName

End Sub


Note that I use Sh.Name = NewSheetname to change the name of the new sheet. Sh is the parameter passed into the Workbook_NewSheet event sub and is actually the new sheet object.
I use an IF statement to test if the user has entered anything. If they hit the ESC key or click Cancel, then a zero length string is returned, and this can't be the sheet's new name. So this


If NewSheetName <> ""


checks if a zero length string (nothing) has been entered. If it has, then I don't try to rename the sheet.
Don't forget that code for your workbook events must go into the ThisWorkbook module.
Useful Workbook Events
Some useful workbook events are listed below, and further info on workbook events can be found at Microsoft's MSDN site
Workbook_BeforeSave
Workbook_BeforePrint
Workbook_AfterSave
Workbook_SheetActivate
Workbook_SheetCalculate
Workbook_NewSheet
Workbook_SheetChange
Workbook_BeforeClose
Workbook_Open
Further Reading
This link is for an article about 2010 Events, but is generally applicable to 2007/2010 and 2013.
Running VBA for Excel 2010 Events
Sample Code
Enter your email address below to download the sample workbook.
By submitting your email address you agree that we can email you our Excel newsletter.
Please enter a valid email address.
Please download and have a play around with your own events. Let me know if you have any questions or get stuck, and I'd love to hear your comments below.
Please Share
If you know someone who could use this please click the buttons below to share it on Google+, LinkedIn, Facebook and Twitter.