We can use VBA to retrieve webpages and comb through those pages for data we want. This is known as web scraping.
This post will look at getting data from a single web page. I've written another post that deals with getting data from multiple web pages.
Here I'm going to use ServerXMLHTTP which provides a means to communicate with websites via VBA.
NOTE: ServerXMLHTTP is intended to be used for communication between web servers. Microsoft also provide XMLHTTP which is intended for use by programs (like my VBA) to access websites.
In testing I found XMLHTTP to encounter errors accessing sites where ServerXMLHTTP did not, so I stuck with ServerXMLHTTP.
To use either you will need to set a reference in your VBA project.
Web scraping can be frowned upon if it puts too much load onto the web site, but there are legitimate reason for doing it. Just check the web site you are going to use to make sure you aren't violating their terms, and never write code that puts excessive load onto a site.
ServerXMLHTTP
Before you can use ServerXMLHTTP you need to set a reference to it in your VBA project.
Open your VBA editor (the keyboard shortcut is ALT+F11) and with your workbook selected in the VBAProject window, go to Tools -> References.
Look for Microsoft HTML Object Library and check the box beside it. Then click OK.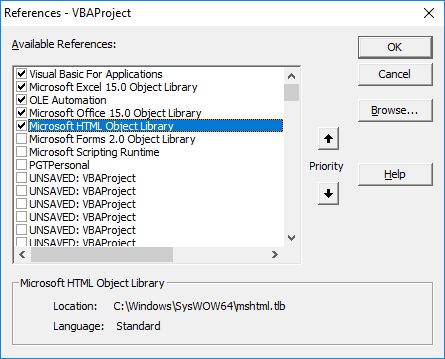 Extracting Data from a Web Page
Depending on what we want, we may need to dig around in the web page to understand how that page is constructed and locate what we are after.
Load a web page in your browser (or just use this one), right click on the page and in the pop-up menu click on 'View Source' (or similar wording).
You'll see something like this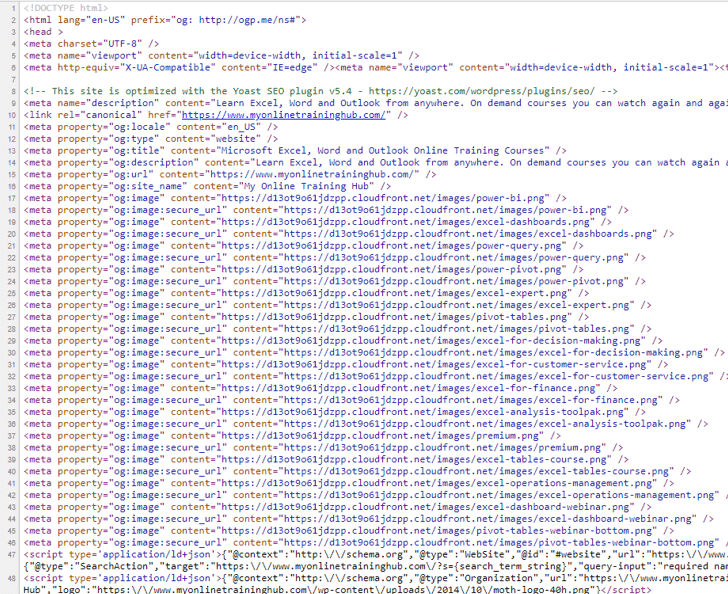 That's just some of the code that makes up our home page.
So how do you find what you want? If it's something buried in the code we have to use the Inspector built in to your browser.
You can see how to do this in Web Scraping Multiple Pages, but we don't need to do that for this example.
Extracting Links
Let's say we want to get the web addresses of the social media presence for a company.
NOTE : in web speak, a web address is referred to as a URL - Uniform Resource Locator.
The URL's for the social media profiles will be links on the web page. If you look at our home page, right at the bottom are links to our YouTube channel, Facebook, Twitter feed, Google + and our RSS feed.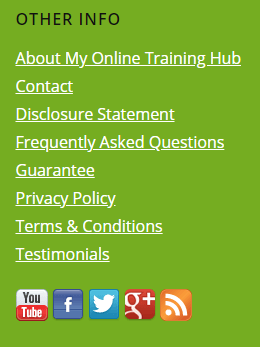 If you hover your mouse over each of these social media icons you'll see in the status bar at the bottom of your browser, the URL, e.g. for our YouTube channel https://www.youtube.com/user/MyOnlineTrainingHub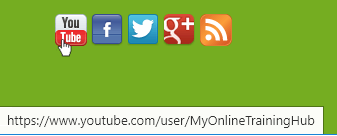 So to find that channel URL on our home page I could search the page for the string "youtube". Likewise for the other social media platforms I could search for "facebook", "twitter" etc.
Bear in mind that I am assuming the only link to YouTube and the other sites on our home page is to our social media profiles. Searching just for "youtube" could find a link to a YouTube video.
I know that this isn't the case for us, but you need to make sure on the sites you are working on.
Writing the Code
After declaring variables I need to create a ServerXMLHTTP object. I'll use this to request data from a website and check what response it sends.

Download the Example Workbook
The VBA code used in this post is in the example workbook. Download a copy for yourself.
Enter your email address below to download the workbook.
By submitting your email address you agree that we can email you our Excel newsletter.
Please enter a valid email address.
Download the workbook
. Note: This is a .xlsm file. Please ensure your browser doesn't change the file extension on download.
I'm reading a list of URL's from the ActiveSheet starting at cell A22, working my way down column A, and checking each site in turn.
There are two parts to getting a web page. First you must prepare the request using .Open, then you .send the request.

If the .send generates an error, maybe because the URL is badly formatted, you need to handle this so I have turned off default error handling using 'On Error Resume Next'. I turn it on again later in the code.
I can check the site responded by checking that no error occurred (Err.Number = 0)

It's possible for the site to send a valid response, but still not send you what you were expecting. Perhaps the page you requested is forbidden, or the web server encountered an error.
So I also need to check the Status of the response is 200, which means everything is OK. Check other HTTP status codes you may encounter.
If the site sucessfully returned the webpage I can now store that page in my HTML variable

To find the links I am after I can search through the webpage for <a> tags. Web pages consist of lots of HTML elements created by these tags. Along with CSS and JavaScript, HTML forms the core of almost all web pages.
If we look at the source code of our home page again we see that the link to our YouTube channel looks like this

Notice the start of the <a tag at the beginning of the line.
I can get a list of all links on the page

Now it's just a case of looping through all the links to find the ones I want, and writing those out to the sheet.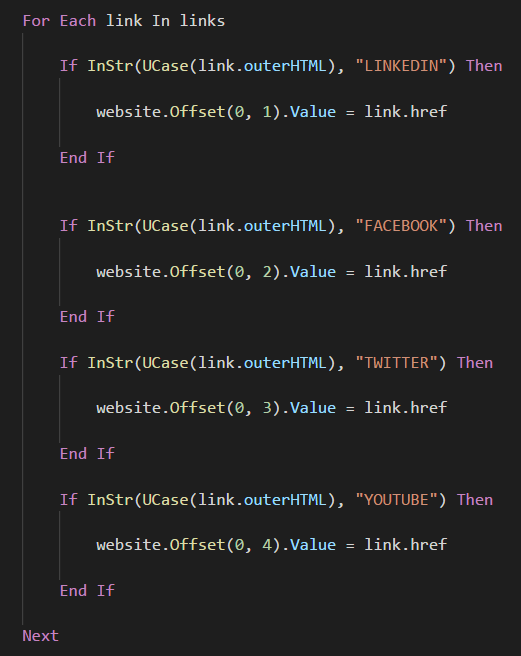 Reference
Frequently asked questions about ServerXMLHTTP
https://support.microsoft.com/en-us/help/290761/frequently-asked-questions-about-serverxmlhttp
XML DOM methods
https://docs.microsoft.com/en-us/previous-versions/windows/desktop/ms757828(v%3dvs.85)