Moving back and forth between worksheets in a large workbook can be tedious.
Of course you can use the shortcut keys CTRL+Page Up or CTRL+Page Down to quickly move from one worksheet to another (and CTRL+Tab to move between workbooks).
However if there's a lot of worksheets in a file the shortcut keys aren't going to cut it, especially if you only want to view a few cells on a summary sheet while modifying formulas or entering data in one of the worksheets in the boon dogs of your workbook.
Option 1 – New Window
If you've got a big monitor, or even two, you can open the workbook in a New Window and then choose View Side by Side.
You'll find New Window on the View tab of the ribbon:

Option 2 – Watch Window
The Watch Window is a toolbar that hovers above your workbook, or you can dock it if you want.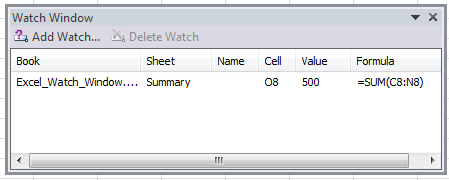 It keeps track of one or more cells and displays the following information about them:
Workbook name
Worksheet name
Name of the cell if applicable
Cell
Value
Formula
To set up your Watch Window:
Go to the Formulas tab of the ribbon and click the Watch Window icon:

Click the Add Watch button and select the cell or cells you want to watch.
Tips:
To add multiple cells at a time simply select all the cells and click Add.
Double click a cell in the Watch Window to jump to it.
You can display cells from external workbooks in the Watch Window, but only if the other workbook is open.
Now when you enter data or modify formulas that affect the watched cells you will see the results in your Watch Window.
Formatting the Watch Window
You can reduce the amount of space your Watch Window takes up by reducing the size of the columns or eliminating some of them altogether.
Simply hover your mouse on the right hand boundary between the headings until the double headed arrow appears, then click and drag to adjust their size. Then you can use the pull handles on the four corners of the Watch Window to make it smaller.
Moving and closing it is easy too. Click on the down arrow in the top right corner:

To dock it at the top, bottom, left or right of your workbook simply drag it towards the location you want until it inserts itself: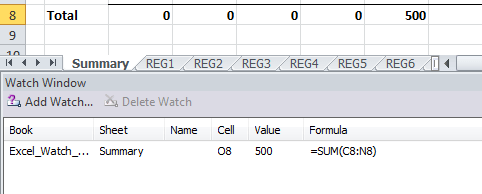 If you liked this tip please let me know by sharing it on Facebook, Twitter, LinkedIn or +1 on Google using the buttons below.