You're not likely to hear about Excel's Camera tool on a training course and you certainly won't find it on the ribbon. It is one of those insider tips that are hidden away in the toolbar options.
What is Excel's Camera Tool
The camera tool takes a snapshot of a range of cells from somewhere else in your workbook and displays it where ever you position it. The snapshot image dynamically updates so when the data changes, the snapshot changes too.
Add Excel's Camera Tool to Your Quick Access Toolbar
1.       Add the camera tool to your Quick Access Toolbar. Right click on the Quick Access Toolbar and select 'Customize Quick Access Toolbar'.

2.       You'll find it under 'All Commands', then scroll to 'C' for Camera. Click 'Add' to add it to your Quick Access Toolbar.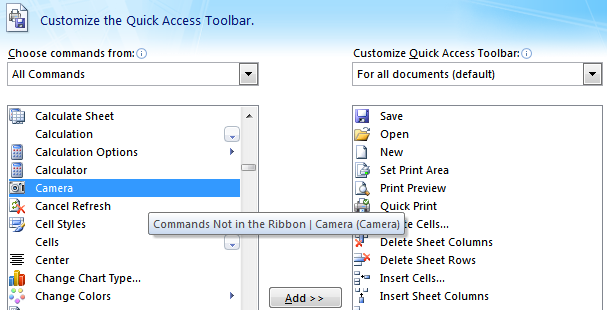 How to Use Excel's Camera Tool
1.       Select the cells you want displayed in your snapshot. Note: if you're taking a snap shot of a graph you will need to align the graph to the underlying cells first.
2.       Click the Camera icon on your Quick Access Toolbar.
3.       Click the worksheet location you want your snapshot placed.
4.       Use the handles to resize and reposition it.
5.       Right clicking the image brings up options for formatting the snapshot like removing borders, cropping, protection etc.
Handy Uses for Excel's Camera Tool
1.       It's handy for putting together dashboards as you can resize the snapshot to fit where you choose.
2.       If you don't have the luxury of two monitors you can take a snapshot of the result area of your workbook that you want to monitor or reference and insert it on the sheet you are working on.
Advanced Camera Tool Tip – Use IF Statements to Determine What Cell Range to Display
When you click on your snapshot image you'll notice in the formula bar that it is referencing the range of cells displayed in the snapshot.

This means you can use an IF statement to determine what range of cells the snapshot image displays.
For example; if results are favourable use the graph with green colour formatting, but if the results are negative use the graph with red colour coding.
Unfortunately you can't write a standard IF statement that references cell ranges e.g. $C$1:$G$50, you have to use Named Ranges, but this is a minor inconvenience.
For detailed instructions on how to use formulas with your camera tool check out Charley Kid's tutorial.
Limitations of Excel's Camera Tool
1.       The image doesn't stay sharp when you reduce it significantly.
2.       The camera images don't print well, so it's really only ideal for viewing on screen.
Want More Tips Like This?
Tips That Make Your Work Easier, Faster
And Much More Enjoyable!
Click Here to Get 102 Excel Tips & Tricks