If you use a scatter plot for a dataset that has discrete values in one dimension, for example your x-axis shows the days of the week, you can get points overlapping when you plot the data.
To make the chart easier to interpret you can introduce jitter to the data points. This means moving the plotted points slightly so they don't overlap so much.
Doing this makes it easier to see the distribution and frequency of values.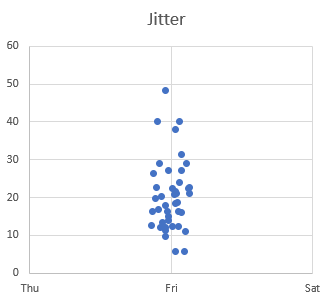 Download Sample Workbook
Enter your email address below to download the workbook containing the data, charts and examples used in this post.
By submitting your email address you agree that we can email you our Excel newsletter.
Please enter a valid email address.
The data, charts and examples in this post can be downloaded in this workbook.
Creating Jitter
The first thing to say is that one axis needs to be discrete numeric values.
If you are plotting x-y values where x already varies a great deal, then there's no need to use jitter.
In the case of my example, I'm looking at the value of restaurant bills over four different days. These days can be represented by different numbers e.g. 6 represents Friday, 7 is Saturday etc.
NOTE: Excel doesn't provide a built-in way to scatter plot categorical data where the categories are not numeric. If you are in this situation then you will need to assign numeric values to your categories so your data can be plotted, then create your own text labels on the categorical axis.
Shift
We want to move, or shift, the x value a little left and right. We aren't actually changing the value we are measuring which is plotted on the y-axis.
Sample of Data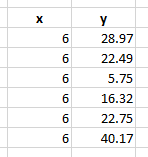 You'll notice that the x-axis values are all 6. This equates to Fri when I set the axis format to date and use a custom format ddd.
To start, use the RAND function to generate a random number. You'll get something greater than or equal to 0 and less than 1.
If you add this to your original x value, it will be increased (of course). Doing this for all your data points will result in the data being pushed along the x-axis in the positive direction.
Sample Data Shifted Right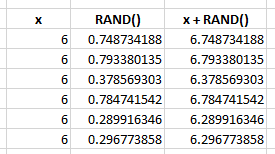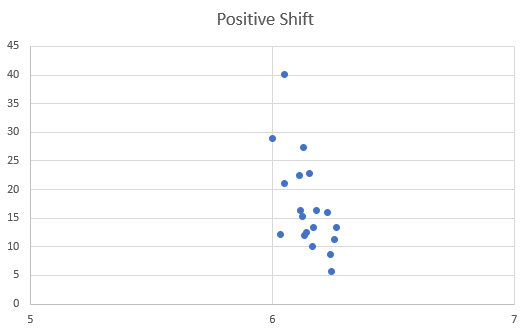 But we really want the data distributed either side of the central, original value. To achieve this, deduct 0.5 from the value generated by RAND. For random numbers less than 0.5 you'll end up with a negative value. Adding this to your data point will move it left along the x-axis.
For random values greater than 0.5 (which must also be less than 1) you will end up with a number greater than or equal to 0 and less than 0.5. Adding this to your data point shifts it in the positive direction along your x-axis.
Sample Data Shifted Left and Right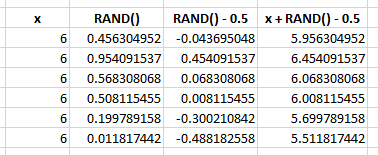 You end up with some data points shifted left, and some shifted right, giving a nice looking distribution around the original x-axis value.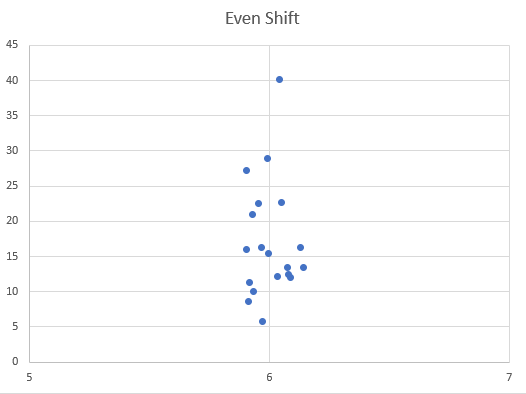 Spread
Having created even shift we can also control the spread of these values, that is, the distance moved from the original value.
To control the spread, multiply the shift value by some number. The larger the number the wider the spread. In the animation below, with a small spread value of 0.1 the data points are clustered close to the central value of Friday. With a spread value of 0.8, the points are spread out much more.
For the data I am using, a value of 0.3 is good but you will need to find a suitable spread value for your own data.
Jitter Formula
We end up with this final formula to calculate jitter
= x + ((RAND() - 0.5) * 0.3)

In practice we can use a formula like this, and copy down for every data point
=A1+((RAND()-0.5)*$E$2)
where A1 is our value on the x-axis and $E$2 contains the value that controls the spread of the data. If you refer to a cell for the spread value, you can change this on the fly.
NOTE: RAND is volatile so points are recalculated and replotted every time Excel recalculates. This is why the RAND values in the images above are different in each image. You can leave it this way in your workbook or you can copy/paste as values after calculating jitter. I leave it as it is and like pressing F9 to watch the points dance.
Plotting Jittered Data
Plotting the unaltered data we get this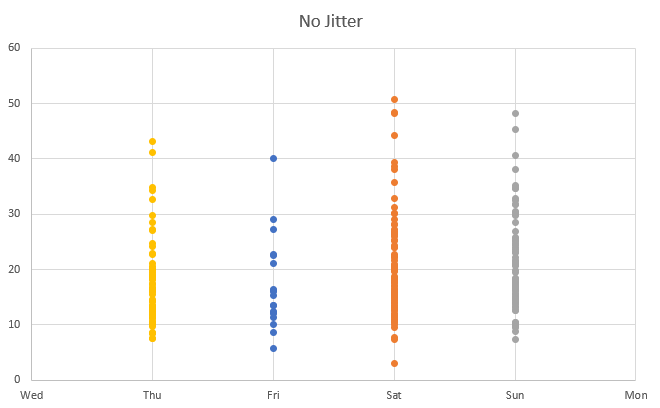 As you can see there are many overlapping points. Not easy to read.
Applying the jitter formula from above to the x value for each data point, we get a chart that provides a lot more information.