Excel PivotTables make light work of analysing data but there are a few tricks once you get past the basics.
In this first tutorial, in my 3 part series on PivotTable tips and tricks, I'm going to show you how to add a percentage of total sales to your PivotTable like this one in column C below: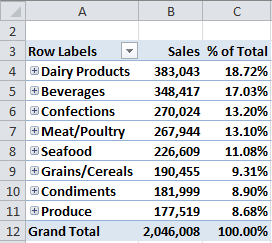 Watch the Video
For best viewing watch the video in 720p HD full screen.
Download the Workbook
Enter your email address below to download the sample workbook.
By submitting your email address you agree that we can email you our Excel newsletter.
Please enter a valid email address.
Written Instructions - How to Add a Percentage of Total Column
1. Add an additional set of Sales values to the Values field from your Field List.
You will have two 'Sum of Sales' fields like this: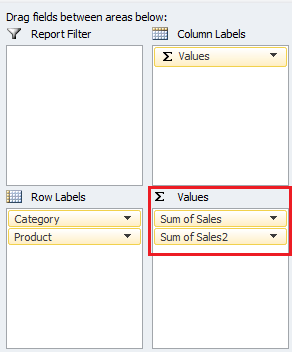 2. Right click on any of the cells in the 'Sum of Sales2' column in your PivotTable and select 'Value field settings'.
3. Click on the 'Show Values As' tab and select '% of Column Total' from the 'Show values as' list and click OK.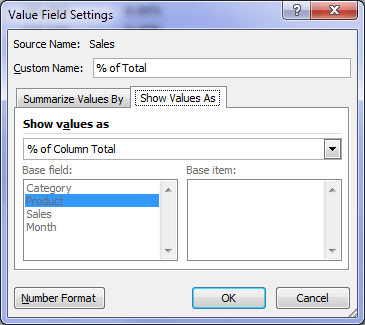 More PivotTable Tutorials
Click this link for more on Excel PivotTables
Do you want more like this?
Let me know by sharing this tutorial on Facebook, Twitter, LinkedIn or +1 on Google by clicking the icons below, or leave a comment and tell me what other tutorials you'd like.