Each year our sons choose a cake they want me to make for their birthday. Now, I am no baker and their cake of choice is usually something elaborate they find on the internet, and from there I talk them down to something I think I can manage.
Last weekend our eldest son, Conor, turned 8 and his cake of choice was this Minecraft inspired cube: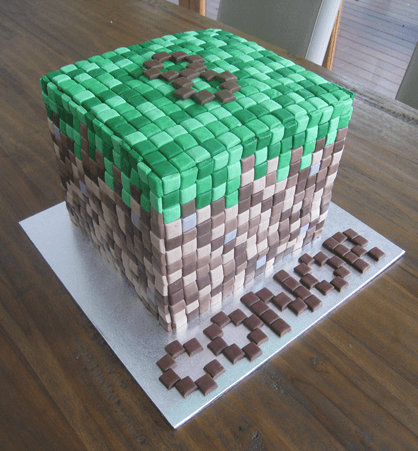 What's that got to do with Excel I hear you say. Well, I used Excel to help me plan and design it.
Excel Template for the Pattern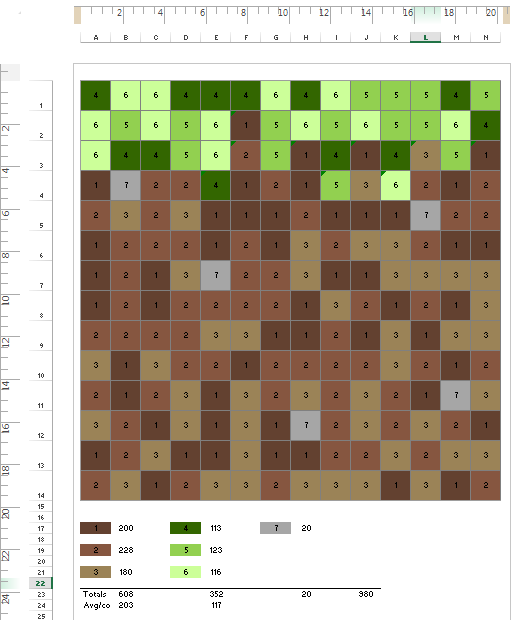 Download the Template File
Enter your email address below to download the sample workbook.
By submitting your email address you agree that we can email you our Excel newsletter.
Please enter a valid email address.
If you'd like to download the file and see the techniques I used first hand
you can do so here
, or maybe you'd like to make your own Minecraft cake….if I haven't put you off!
How I created the template:
On the View tab of the ribbon I set the Workbook view to 'Page Layout' and checked the 'Ruler' box.

By setting the view to 'Page Layout' I was able to set the row and column height based on centimetres (instead of points) so that my design would be to scale when printed.

The ruler is optional but I find it a handy visual tool for the scale.

I printed 5 of these templates and used them to make sure my icing squares were the right size, and to pre-lay the icing before placing it on the cake....yes, I placed each one of those squares twice!

Tip: You can change the ruler default units to centimetres, inches or millimetres in the Excel Options > Advanced > Display:

I set up a grid of cells 14 high x 14 wide x 1.43cm square….why 1.43cm you ask…because that's as wide as I could make them and still print them on an A4 piece of paper. After all I didn't want to be cutting and sticking paper together as well.
I also didn't want to have to 'think' about creating a random pattern. So, I used the RANDBETWEEN function to generate the pattern with numbers. There were 3 shades of brown and 3 shades of green. Browns were numbered 1 to 3 and greens 4 to 6 (I manually coloured the 5 grey squares).

I used Conditional Formatting to apply the colour fill to each cell based on the result of the RANDBETWEEN formulas.

Note: the RANDBETWEEN function is volatile which means it will recalculate every time you edit a cell, and in various other circumstances like changing the column width and more. As a result you might like to copy your formulas and paste them as values to stop it constantly changing.

I used the COUNTIF function to add up how many squares of each colour I needed.

3-D Mock-up of the Cake

I took some screen shots (Print Screen button) of the pattern and pasted the images into Excel to show Conor what the cake would look like.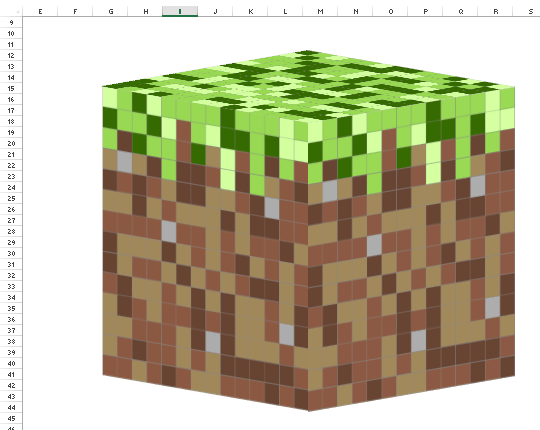 To create this image I used the Crop tool to cut the screen shots to size, and the Picture Effects to give the panels perspective so it looked more like a cube: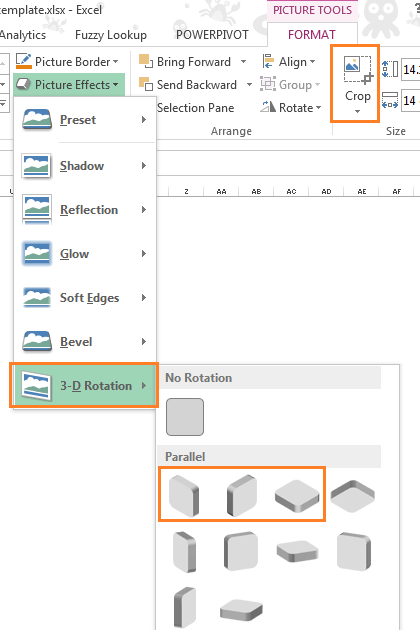 Then used the 3-D rotation options (right-click > Size and Properties) to align the sides (although I couldn't get it perfect).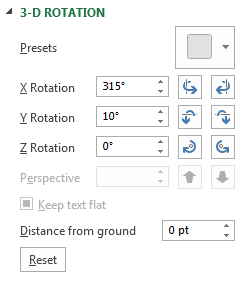 Cake Stats:
Here are some more facts on the cake….optional reading for those who are interested 🙂
There are 980 squares of icing on the cake (and a lot left over) made up of 7 different colours. Actually due to some subsidence issues (caused by heat and humidity) I had to do away with the bottom row so there were only 924 on the actual cake in the end.
I cut the squares out with a pizza cutter and then because the pizza cutter didn't cut them perfectly I trimmed most of them with a knife to make sure each one was square!
Each square was painted with apricot jam (jelly) and glued to the cake (one....at....a....time).
There were 4 layers of cake inside – 2 chocolate and 2 vanilla.
Time to make it…I didn't keep a timesheet as it would have been too scary, but I made it over a period of 3 weeks, colouring and cutting out icing, and baking and freezing the cakes (I only had one cake tin). I finished assembling it at midnight on Friday (the day before the party)!
Dimensions 8000cm3/487inches3...or 20cm (7.87")x 20cm x 20cm.
Total weight…I didn't weigh it but given the ache in my arms carrying it I'd say it was around 6kg/13.2lb!
Servings – 50+ generous slices.
Did the kids like it? Yes, very much and many asked for seconds which is a first for my cakes! Usually they just lick the icing off and leave the cake. Maybe they're growing up…or maybe my cakes are getting better. I'm going to assume the latter 😉
Will I ever make this cake again? No way! And it's a shame since I learnt so much making this cake that if I did it again it would be much better (after all you should learn from your mistakes and I made plenty of them).
Other Unusual Uses for Excel
I've used Excel for a myriad of tasks including using formulas to write HTML for my web pages. I can write 100's of rows of HTML in seconds using Excel, which sure beats writing each line by hand.
I've also designed the kid's party invites, edited photos and images, made a Snakes and Ladders game and much more.
I'm not the only one who uses Excel unconventionally. Here are 25 drawings and games made with Excel, including this amazing Excel Avatar picture (I know it's not up to James Cameron standards, but it's still impressive for Excel):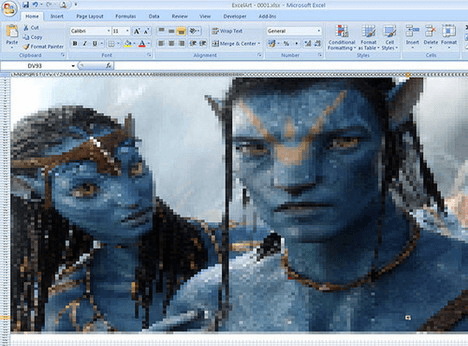 And here is a photo of one of our members who used PowerPoint to design the harlequin pattern for this costume. Clearly he is not a Excel die hard like me or he would have used Excel not PowerPoint! 😉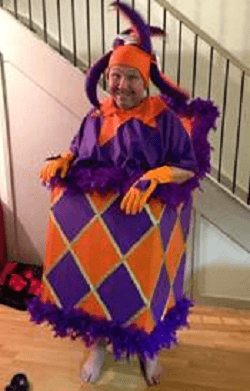 What out of the ordinary things have you used Excel for? Let me know in the comments below.