Getting the formatting in your chart right can make the difference between clear, concise information and just a pretty picture.
Take a look at this stacked column chart using some of the built in Excel chart formats: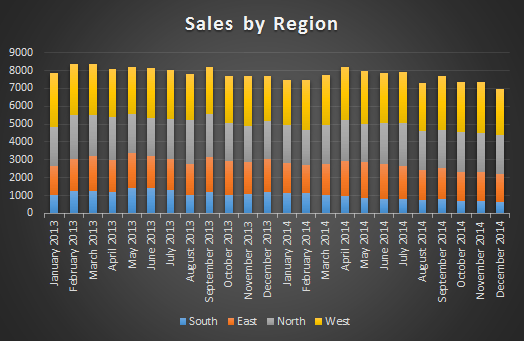 What's your initial reaction?
Here are some of mine:
Striking use of colour
It looks nice
But then the analyst in me starts to try to make sense of the chart and glean information. Here's what I find:
I have to flit between the legend and the columns to figure out which colour represents each region. Then I have to try to remember them while I analyse the chart.
I wonder if the chart is displaying sales units or monetary value
I have to turn my head to read the horizontal axis labels
I can see the trend for the South series in blue as it starts on a level base but the other series are all affected by the height of the blue series.
It's difficult to tell how the other series performed
It's difficult to compare the series against one another
I'm having to work hard to get any useful information from this chart.
I'm getting bored…. I might just admire the colours
Ouch! The yellow, orange and blue on the dark background hurt my eyes if I try to focus on them
Actually Chart, you is UGLY!
If you produce charts that initially look nice, but make the chart recipient work hard to get any meaning from them then your report recipient's initial reaction will be similar to mine. And unless they are really motivated to understand the data they're likely to end up at the 'getting bored and admiring the colours' stage pretty quick.
The worst thing is you may never know because they probably won't tell you. It's our job to make meaning from the data and communicate that message in the quickest way.
Let's take a look at our Ugly Chart's makeover:
Before and After
I hope from this you can see the importance design and formatting have on your charts. I teach these fundamental data visualisation rules and more in my Excel Dashboards course. Why not take a few minutes to check it out.