I was reading a health magazine last week and the chart below caught my eye.
click image to enlarge (sorry about the quality, it's a photo of the magazine and photography is not my 'thing' 😉 )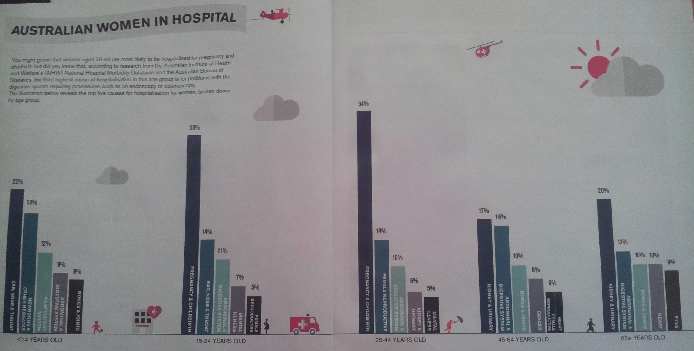 ×
There's something fundamentally wrong with this chart. Can you see what it is?
Overall the layout is good. The columns are sorted from largest to smallest allowing us to quickly see the reasons for hospitalisation in order for each age band. The scale for each chart starts and finishes at the same point so the columns can be fairly compared.
But what do the column colors represent? My initial thought was that they would color code the different reasons, allowing me to quickly find the same reason in each age band.
Color can also be used to draw attention, but the largest and smallest columns both use strong bold colors, so that doesn't appear to be the motivation here either.
After some time I realised that the colors simply match the column order. The gratuitous use of color has distracted me from the message, wasting my time for no good reason. The columns are already sorted from largest to smallest, I don't also need different colors for each column.
Note: you may have noticed that the age bands are different sizes. Generally the bin sizes should be equal, but since the values are percentages of a population, as opposed to absolute values, it is ok to have different size bins.
The Power of Color
"A good design will use color to save the viewer from thinking too much. With several hundred million years of evolution behind us, color perception is deeply wired into our fabric. As a result, color perception is fast, accurate, automatic, and effortless.

On the other hand, thinking is a relatively recent evolutionary advance, and we are not yet very good at it. By thinking, I mean reading text, attaching meaning to an icon, searching memory, etc. These activities are relatively slow, error-prone, require mental resources and effort and take learning.

How many times have you misread a word? Probably often. How many times have you mistakenly seen blue as orange? Probably never, even if you are a dichromate.

In sum, a designer should strive to capitalize on our hard-wired perceptual capabilities whenever possible."
Source:  http://www.visualexpert.com/FAQ/Part5/cfaqPart5.html#p5.6
Better Excel Chart Colors
Click image to enlarge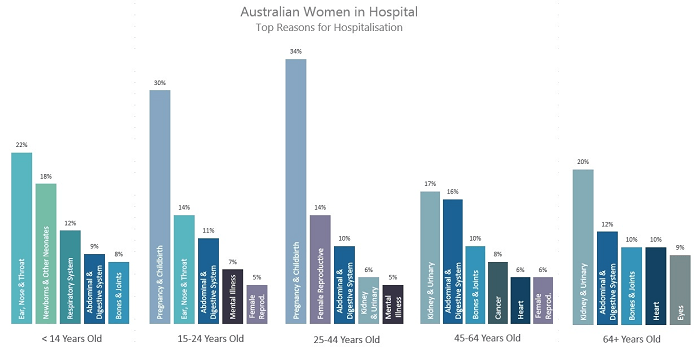 ×
By using color to create relationships in the data I'm able to quickly glean the following insights:
Abdominal & Digestive System is an issue throughout life
Pregnancy & Childbirth and Mental Illness are prominent from 15 to 44 years old
Kidney & Urinary start causing issues from 25 to 44 and progressively become more common
Bones & Joints are problems when you're young and later in life. No doubt for different reasons.
Issues with Ear, nose & throat seem to improve by 25
Trying to glean the above insights from the first chart is tediously slow and error prone because I'm forced to read each label and memorize their position. In contrast the second chart (above) allows me to easily single out a colour e.g. Abdominal & Digestive System, and focus on it as it moves through the age bands.
Download the Workbook
Enter your email address below to download the sample workbook.
By submitting your email address you agree that we can email you our Excel newsletter.
Please enter a valid email address.
Techniques used to build this chart:
There are actually 5 separate charts.
I used a Ghost Series to ensure the axis scale is the same on each chart.
I duplicated the series in each chart so I could have 2 sets of labels: one for the percentage set to 'outside end', and a separate label for the category label set to 'inside base'.
I set the color of each column manually by clicking on the column once to select the series and then again to select a single column. I then changed the fill color.
Reasons to Use Color in Charts
Color is perhaps the most powerful reporting tool we have available because it's so quickly and clearly conveyed. We can use it to:
Draw attention to a key metric or data point. Bold colours have more emphasis than lighter shades.
Form distinct areas in your report. Use white space to segregate. An example of this is the wider space between the columns separating each age band.
Link data points and areas together using the same colors to show they have something in common. Equally, don't use the same colors for different types of data as this can be misleading.
Less is more. While the colors in this chart are complimentary, if I'm honest there are probably too many colors for my liking. I'd be inclined to pick out 3 key reasons and color them, with the rest a paler shade of grey to detract attention away from them. This would also make it easier for people with color vision deficiency to read the chart. More on that in a moment.
A good rule of thumb is to use no more than 3 different colors in your reports. You can use shades of a color to differentiate.
Common Color Mistakes
Christmas Tree Effect: Too many bright and varied colors.
Misleading color relationships: The same colors used to code different types of data.
Gratuitous color: gradient fills and dark backgrounds in charts.
Formatting for Color-blind / Color Vision Deficiency
While we're on the subject of color it's a great time to share some resources for choosing colors suitable for readers with color vision deficiency:
Color Brewer: For choosing sequential, diverging and qualitative colors that are color blind safe, print friendly or photocopy safe.
Coblis Color Blindness Simulator: A helpful simulator to see how readers who have color vision deficiencies see the colors you used.