You might want to save your charts as images that can then be used in other applications, like email or displayed on a website.
Selecting a single image then copying/pasting or saving it, isn't too much bother. But if you want to do that for several images it quickly becomes tiresome.
I've written some VBA, and created a userform, that allows you to save any or all charts in your workbook as images.
When the userform is launched you'll see a list of all charts, in all worksheets, of the active workbook.
You can then click on whatever charts you like, and by clicking another button, all those charts are saved as images.
The Userform
I had previously written some code to export a single chart but I thought it would be much better to allow the user to see all the charts in a workbook and select the ones they wanted to save as images.
So I started desiging a form that ended up looking like this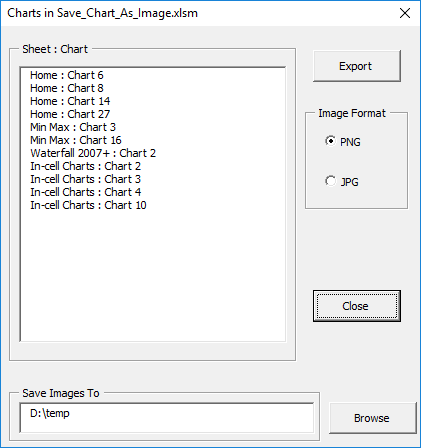 When the form is displayed, the code behind it goes through all sheets and lists any charts it finds, showing you the sheet name, and the chart name.
By default the images will be saved to the same folder the workbook is in, but you can change this by clicking on the Browse button and choosing your own folder.
I've allowed the user to choose to save either as a PNG or a JPG, with PNG being the default. I pretty much always use PNG as the file size tends to be smaller than JPG.
To choose the chart(s) to save, just click on the chart name with your mouse. You can choose multiple charts using CTRL+Click or SHIFT+Click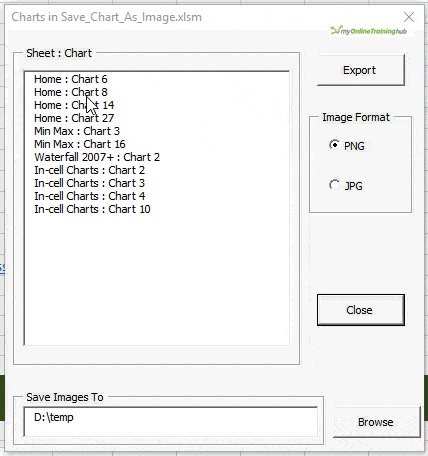 With charts selected, click on Export to save them.
Useful Chart Names
You can see from the image above that Excel gives charts generic names when it creates them.

You also have the issue that you can have charts with the same name, on different sheets.
If you try to save two charts with the same name, you may overwrite one of them.
To make these names unique, and more descriptive, select the chart, then in the Name Box, type in your new name and hit Enter.

When you now display the form, the chart has its new name.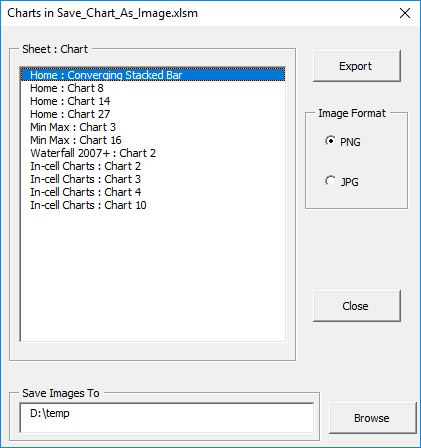 Download the Workbook
This sample workbook contains all the code and the userform to save your charts as images.
Enter your email address below to download a workbook containing this VBA code.
By submitting your email address you agree that we can email you our Excel newsletter.
Please enter a valid email address.