Charts provide a visual representation of data, making it easier to understand and interpret large amounts of information quickly.
At least that's the objective, but too often poor choice of chart formatting is more of a hindrance than a help.
In this tutorial we'll look at the types of Excel chart formatting that is an instant give away that you're new to data visualization, and the formatting that pros would choose instead.
Watch the Video

Download PDF
Enter your email address below to download the PDF containing all the pro tips in this blog post.
By submitting your email address you agree that we can email you our Excel newsletter.
Please enter a valid email address.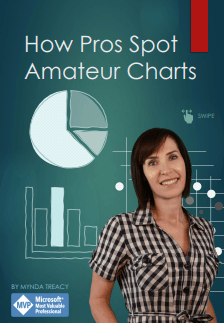 Take Your Chart Game Pro
Avoid these 10 tell-tale signs that show you're a chart amateur.