If you don't have Excel 2013 then this post will be a bit like window shopping with an empty wallet. You get to try stuff on and test drive it, you just don't get to take it home. Window shopping is still fun though, right?
Excel 2013 has gone all iPad on us and now we can even incorporate Apps right inside Excel. I think of them as fancy add-ins.
One such free App is Bing Maps. We can see it below in action with this Olympic data I've analysed in a PivotTable, linked it to the Bing Map and added a Slicer to allow you to easily choose the year.
Go ahead and try it out yourself – click on the years to select different data, click on the dots on the map to see the medal breakdown.
Note; for some unknown reason the Bing Map gets its knickers in a knot over some countries in this Web App view. For example it told me it couldn't find Greece! It works fine in my desktop version of Excel though. If you get an error just click the 'x' to close the error message and the remaining data will load, or download the file by clicking on the Excel icon at the bottom of the Web App screen (need Excel 2013).
I think it's pretty snazzy (as my Mum used to say back in 1985), and dead easy to use.
The Good Points
Dead easy to set up and use
Nice interactivity – zoom/pan and clickable dots reveal more information
Map automatically updates as data changes
Choose between circles or pie charts
Customize colours
Filter from the Map filter icon
Embed in Excel Web App (although seems to be temperamental in the Web App – maybe some form of 'App jealousy' going on between the Excel Web App and the Bing Maps App! ;-))
Much easier to use than Power View Maps for Excel
The Not So Good Points
Limited to 100 lines of data – if you need more then you'll have to progress to Power View Maps which are a whole new (exciting) league
Keeps resizing the map when data is refreshed
How to Plot Data in Bing Maps in Excel 2013
1. Download the Bing Maps App
You can download the free Bing Maps App here. Note: You need Excel 2013 for this.
2. Setup Your Data
List your data in a tabular format with your row labels in the first column and the values in columns to the right. Mine happens to be in a PivotTable: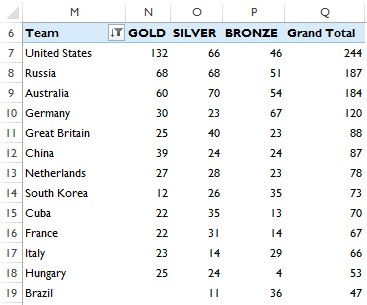 Select the columns you want plotted in your map including the headers. Note: I don't want the 'Grand Total' column plotted so I only selected cells M6:P105.
As I mentioned earlier, there is a limit of 100 rows of data, so I had to omit some data.
3. Insert a Map
Go to the Insert tab of the Ribbon and click on 'My Apps' and select 'Bing Maps':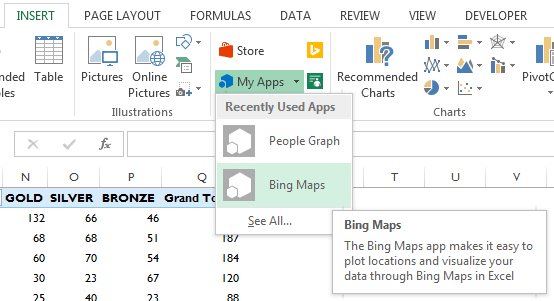 Click on the 'Pin' icon in the map header:

This will plot your selected data in pie charts on your map. Click on the cog icon (to the right of the pin icon) to set your colour and data point preferences (I chose gold, silver and blue for bronze – anything bronze-like just got lost):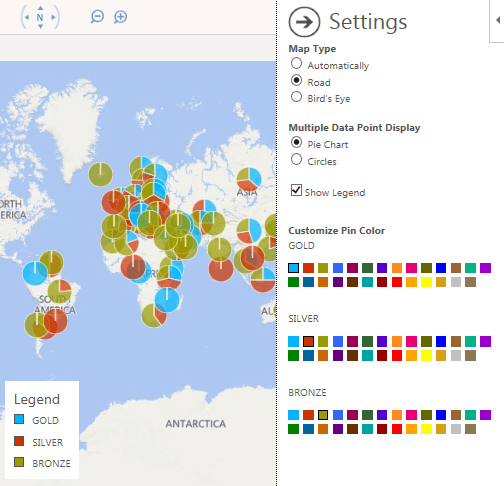 Left-click on the outer edge of the map to activate the pull handles so you can resize it to suit:

4. Interact with your Map Data
Details: Click on the dots to reveal more details: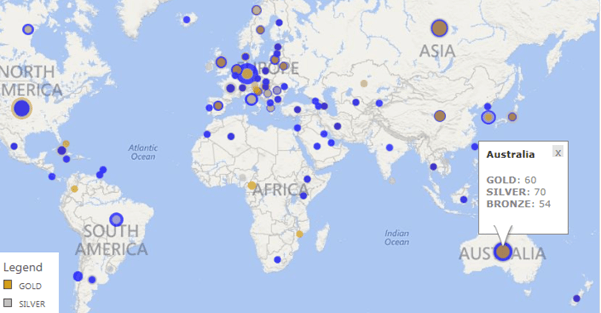 Zooming: Click the zoom buttons in the top left or click in the map and then use your mouse wheel to zoom in/out: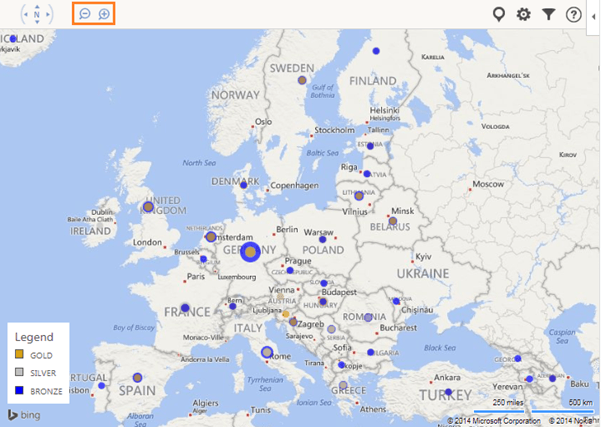 Excel 2007/2010 Alternative
Now, for those of you who don't have Excel 2013 I did try to find an alternative way to plot data in a chart with a world map set as the background it but I ran into some road blocks.
Namely I couldn't find a map and co-ordinates for every country that matched accurately enough. If only the world was flat!
The curvature of the earth makes plotting data on maps at a world scale very difficult. It's ok at a country level, even for countries the size of the United States of America, so I'll add a tutorial for this to my To-Do list, but for now I throw the towel in at trying to find a map and co-ordinates by country that match. If you have one please send it to me and put me out of my misery.