From time to time I get asked which Microsoft Office licence* should I get; Office 365 subscription, or the one-time payment for a perpetual licence i.e. perpetual licences are the ones you pay for once and own forever…or until you decide to upgrade.
The answer is simple really; perpetual licences are dead. There I said it. I know you don't want to hear it and ok, yes you can still buy perpetual licences, but for how much longer remains to be seen.
Before the perpetual licence fans out there throw their toys out of the cot, it's not as bad as it sounds. In fact, subscription licences are a far better deal in a lot of instances. Especially if you like to upgrade your software every 3 years or so.
*Before you call me out on my spelling of licence I'd like to explain that in British English there are two spellings; the noun is licence, whereas the verb is license. For the most part I'll be referring to it as a noun, hence my spelling.
Office 365 vs Perpetual Cost Comparison
And we're back…the accountant in me likes to compare numbers. I looked at home/personal licences and business licences and in the table below I compared the annual cost over 3 years (see the last column):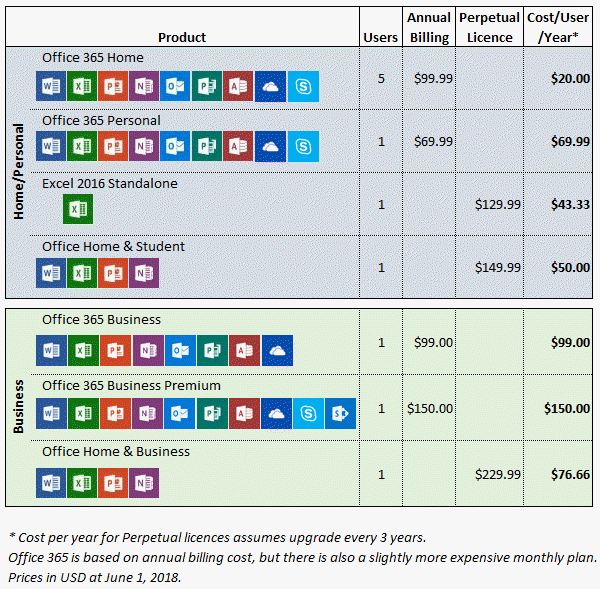 Now, this is just a handful of the product options available because to show you them all would be like drinking from a fire hydrant.
And anyway, the point I want to make here is that the cost comparison over 3 years of ownership is pretty close and in some cases Office 365 is a ridiculous bargain.
For example, if you have 2 or more PC's in your household then Office 365 Home is the best value. If you use all 5 licences, then it's $20 per person/device per year. Even if you only have 2 users or 2 devices it's still cheaper than the perpetual licence.
And if you're a business user then Office Home & Business might be slightly cheaper than the Office 365 Business option, but you don't get Outlook, Project, Access and OneDrive, so it's not comparing like for like.
Whichever option you choose, Office 365 is a fraction of the cost of one cup of coffee per week. And I haven't even gone into the deep accounting woods by comparing the costs based on the Time Value of Money. i.e. paying up front vs spreading the cost over time, which would make the subscription licence even more attractive.
Office 365 vs Perpetual Benefit Comparison
Everything the perpetual licences have are available with the Office 365 licences, but the same can't be said the other way around.
The biggest benefit to getting an Office 365 licence are the updates with new features. Office 365 users get new features, perpetual versions don't. Every time I write a newsletter about a new Excel feature I get a swathe of people emailing me to ask where they can find it in their perpetual version of Excel. It's never fun replying to those emails because I know I am the bearer of bad news. ☹
Office 365 Excel Updates
So far this year (2018) we Office 365 users have enjoyed the following updates:
Deselect cells: Make selections in your worksheet and deselect cells that you accidentally clicked without having to start over. "I never accidentally select the wrong cells", said no one ever! You know you want this.
PivotTable Default to SUM instead of COUNT: Back in the day, ok last month, if you put a field in the values area of a PivotTable that had any empty cells it would COUNT the data instead of summing it. Even if every other cell contained a number. It was infuriating, but now if you add a numeric field to the values area it will default to SUM. Hooray! Of course, if you have some cells that contain text then you're going to get a COUNT, but then that's fair enough.
Chat with co-authors while you edit: Collaborate more effectively by chatting with your co-authors without ever leaving Excel (desktop or online versions of Excel). Yes, Google Sheets isn't the only tool offering online collaboration.
Quick Insights: Have Excel generate interesting visualizations based on your data. Excel uses Machine Learning to interpret your data and detect patterns, outliers and other interesting insights. No chart experience required. I'll be writing about this feature in a newsletter soon. It's quite amazing.
New Data Types (in preview): AI-powered data types pull data from online sources e.g. stock prices and geographical data. More Types will be added in future.
Microsoft Translator: Translate words, phrases or sentences to another language with Microsoft Translator. You can do this from the Review tab in the ribbon.
And some key features released in 2017 were:
Personalize the default PivotTable layout: Set up a PivotTable the way you like and start with that layout every time you create a new PivotTable.
3D models: Use 3D to increase the visual and creative impact of your workbooks.  Easily insert a 3D model, then you can rotate it through 360 degrees.
Power Query Add Column from Examples: Users can create new columns by example and split table columns into rows.
And that's just the Excel updates. Don't forget Word, PowerPoint, Outlook etc. also got updates. My favourite Word update recently is the built in Dictate tool. I may never type again 😊
Office 365 vs Perpetual Misconceptions
Some other common concerns I hear about the subscription plans, aside from the distaste in paying for it every month or once a year, surround access to the software.
To be clear; the software is still installed locally on your machine. You do not have to be connected to the internet to use it.
Microsoft aren't the only company moving to a subscription pricing model. Adobe did it in 2017. Many phone apps have a monthly subscription. It's the way of the future.
I think the biggest objection for moving to the Office 365 subscription plan is the dislike of paying monthly for something you used to buy and have forever. But you didn't really have it forever because the majority upgrade their software every 3 years.
It's time to look at software pricing differently, embrace the subscription model and reap the benefits of new features as soon as they become available. It's the way of the future. Don't be held back with a perpetual licence.
What Version do I Have?
If you're not sure what version you have, go to the File tab of any Office application > Account.
Under 'Product Information' it will tell you if you have the subscription version of Office 365 and what SKU. In the image below, you can see I'm on the Office 365 subscription and my SKU is ProPlus: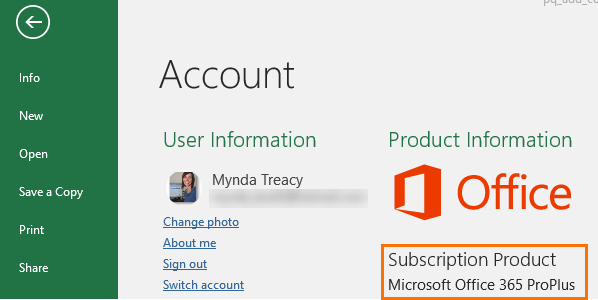 Office 365 users may have noticed that upon start up, Excel and other Office applications no longer say 'Excel 2016', instead it simply says 'Office 365':
Note: As an MVP I don't get any rewards (financial or non-financial) for encouraging you to switch to the subscription model. It's just my personal recommendation.
Please Share
If you liked this please click the buttons below to share.