2012 has been an amazing and rewarding year at My Online Training Hub and we're excited to see what 2013 will bring.
Thanks
When we started this website it was primarily because I loved working with Excel and I wanted to help others so they could love it as much as I do.
I didn't anticipate that I would make some amazing new friends from all around the world, or how rewarding it would be to help so many people.
The daily emails I get from members sharing their reasons for wanting to learn more and saying thanks is what inspires me to do more. Thank you.
Gift
I've made you a gift. You have to answer some easy questions to unwrap it. Here's a sneak preview: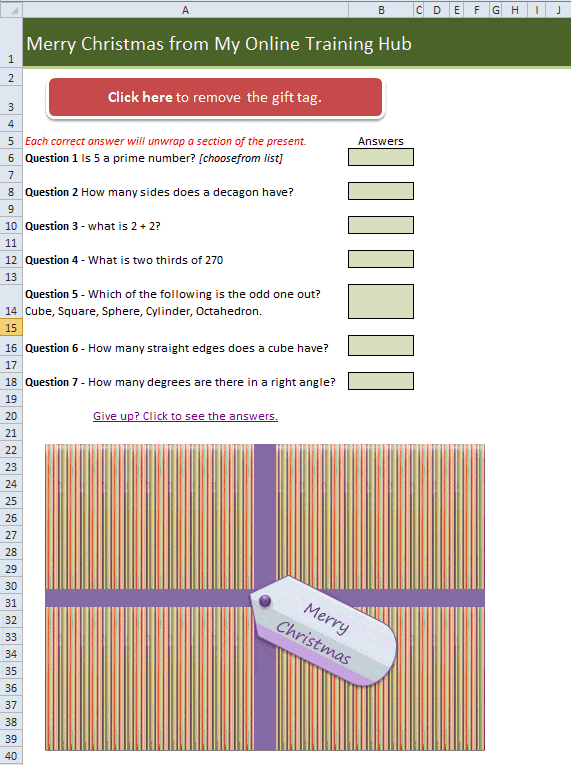 Enter your email address below to download the sample workbook.
By submitting your email address you agree that we can email you our Excel newsletter.
Please enter a valid email address.
Download your gift here.
Note: This is an Excel Macro Enabled Workbook with a .xlsm file extension. Please ensure your browser doesn't change the file extension to a .zip.
If you get stuck you can click on the link in the file to see the answers 😉
I'd also like to thank Debra Dalgleish, Daniel Ferry, Roger Chandler, Adrian Pask, Victor Chan and Oz Soleil for spreading the word about our training on their websites and newsletters. Thank you 🙂
What to Expect in 2013
Advanced Excel Course
This year I've been working on an advanced Excel course and I hope to have it ready early 2013.
In it I group the topics into levels so you know what the difference is between beginner, intermediate and advanced skills and can focus on getting to the level you want.
VBA Course
Phil has been working on a VBA course which he hopes to complete early 2013.
Office 2013
New courses for Excel, Word and Outlook 2013.
But First, a Rest!
As you can see we've got a lot planned for 2013 and to prepare I'm going to take a few weeks off from writing the weekly newsletters to spend time with my family.
Everything else operates as usual; you can still access the training and sign up for a course.
If you celebrate Christmas I hope you enjoy the festive season and holiday break.
Best wishes for 2013.
Mynda.