The Scenario
Let's say that you have a lot of sheets in your workbook and you want to merge all the data onto a single worksheet.
If you have your data laid out in the same way on each sheet then this piece of VBA will do the trick for you.  Maybe you have sales reports for different regions/products/salespeople on separate sheets, something like this :
Sheet 1

Sheet 2

The code allows for a header row (which is taken from the first sheet), and just copies the data off the remaining sheets.
Merging the sheets together will give you this :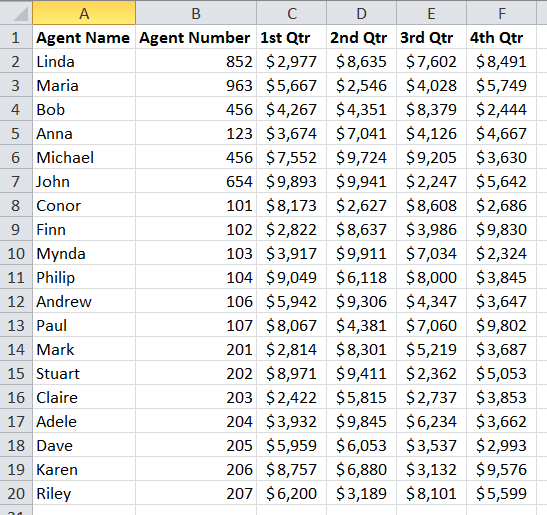 Note : I used Excel's RANDBETWEEN function to generate the sales figures. I wasn't going to type out those numbers by hand, and if you need to generate random numbers too, try RANDBETWEEN.
The merged data is copied onto a sheet called MergedData.  If you want to change this sheet name, just change the value between the double quotes of the MergeSheetName variable in the VBA as shown here :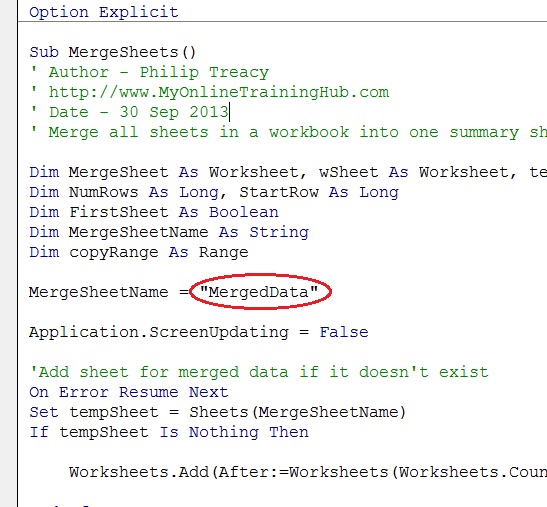 When you run the code this is what happens :
A new sheet called MergedData is created (or whatever you want to call it).  If this sheet already exists then all data on it is deleted
The header row and data from the first sheet in the workbook is copied to the merged data sheet
The data from all other sheets is copied to the merged data sheet
The header row on the merged results is made BOLD
The columns on the merged results are auto-fitted
What to Expect from the VBA
There are certain things the code does not do and it's important to understand these so you don't end up with unexpected results
The range to be copied must be contiguous.  I use a VBA property called CurrentRegion which copies a range bounded by blank rows/columns like so :

Our active cell is B2 so the range to copy is A2 to F4. CurrentRegion will select the range starting at A1, but I'm resizing the range in VBA to exclude the first row as we've already copied that from the first sheet. We only want the header row once.
Row 6 and Column H are ignored as Row 5 and Column G are blank – these are where CurrentRegion understands the range ends.
You can read Microsoft's explanation of CurrentRegion here
This code cannot be used on a protected worksheet, CurrentRegion does not support this.
The code pastes values and formatting.  So your merged sheet will not contain any formulas
Where's the Code?
Enter your email address below to download the sample workbook.
By submitting your email address you agree that we can email you our Excel newsletter.
Please enter a valid email address.
Copy the code below into your own module, save this text file which contains the code or download the workbook and open the VBA editor (ALT+F11) to check out the code and start merging.

Option Explicit

Sub MergeSheets()
' Author - Philip Treacy
' https://www.myonlinetraininghub.com/merge-excel-worksheets-with-vba
' Date - 30 Sep 2013
' Merge all sheets in a workbook into one summary sheet

Dim MergeSheet As Worksheet, wSheet As Worksheet, tempSheet As Worksheet
Dim NumRows As Long, StartRow As Long
Dim FirstSheet As Boolean
Dim MergeSheetName As String
Dim copyRange As Range

MergeSheetName = "MergedData"

Application.ScreenUpdating = False

'Add sheet for merged data if it doesn't exist
On Error Resume Next
Set tempSheet = Sheets(MergeSheetName)
If tempSheet Is Nothing Then

    Worksheets.Add(After:=Worksheets(Worksheets.Count)).Name = MergeSheetName

End If

'Setup
Set MergeSheet = ActiveWorkbook.Sheets(MergeSheetName)
MergeSheet.Cells.ClearContents
FirstSheet = True
StartRow = 2

'Process each data sheet
    For Each wSheet In Worksheets
        
        'If we are on the sheet where we are copying the merged data to, skip it
        If wSheet.Name <> MergeSheetName Then
        
            'Calcuate how many rows of data to copy from the sheet
            NumRows = wSheet.Range("A" & wSheet.Rows.Count).End(xlUp).Row
            
            'Copy header row from first sheet
            If FirstSheet Then
                
                wSheet.Range("A1", wSheet.Cells(1, Columns.Count).End(xlToLeft)).Copy
                MergeSheet.Range("A1").PasteSpecial xlPasteAll
                FirstSheet = False
                
            End If
            
            'Activate sheet to be copied and select the range of data for copying
            wSheet.Activate
            wSheet.Range("A2").Select
            Set copyRange = ActiveCell.CurrentRegion

            'Resize the range to exclude the header row, but copy all other data
            copyRange.Offset(1, 0).Resize(copyRange.Rows.Count - 1, copyRange.Columns.Count).Copy

            'Paste values and formatting
            MergeSheet.Range("A" & StartRow).PasteSpecial xlPasteValuesAndNumberFormats
                        
                        
            'Set StartRow which is where the next lot of data will be pasted into
            StartRow = MergeSheet.Range("A" & MergeSheet.Rows.Count).End(xlUp).Row + 1
            
        End If
        
    Next wSheet

'Tidy Up
    MergeSheet.Rows(1).Font.Bold = True
    MergeSheet.Cells.Columns.AutoFit
    Application.CutCopyMode = False
    Application.ScreenUpdating = True
    MergeSheet.Activate
    Range("A1").Select
    Set MergeSheet = Nothing
    Set tempSheet = Nothing
    
End Sub


What do you think?
If you need a hand adapting this to do something else for you please let me know.
This code was written as a result of a question from one of our students, Anna Reifman, thanks Anna.
I'd like to hear from you if you have a problem you think VBA could fix, or if you have your own solution to merging sheets, or even if you have adapted my code to do something else.
Please share
I'd be very grateful if you let others know about this using your favourite network. Just click the icons below.