Dates incorrectly entered or imported as text are a showstopper. We need our dates entered as date serial numbers to be able to leverage the Date Functions, use them in math and lookups, or even use them in PivotTables. So, often the first thing we need to do is fix Excel dates formatted as text.
However, it can be tricky to tell if a date is text, because unlike regular values, a date will often appear the same in the formula bar as it does on the face of the cell, as you can see below: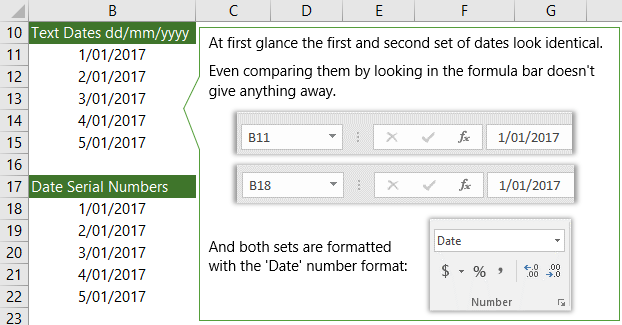 Don't worry, I've got several never fail, dead easy ways to tell if dates really are date serial numbers, or if they're actually text masquerading as dates.
Text Date Quick Test 1:
My favourite way to test if dates are entered correctly is to use the keyboard shortcut CTRL + Back Quote. Dates entered correctly will be displayed as their date serial number and dates entered as text will still display as text: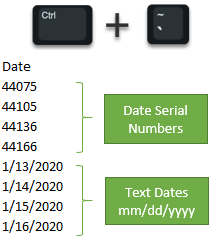 Note: If you also have formatting and formulas on the worksheet you'll notice the CTRL+ Back Quote keyboard shortcut also temporarily removes the formatting and exposes the formulas. Use the keyboard shortcut CTRL + Back Quote to revert to the previous view.
Text Date Quick Test 2:
Easily test if dates are text by selecting more than one cell containing your dates, then glance down to the status bar to see if you get a Sum result. The status bar is in the bottom right of the Excel window:

That's right, the dates that are correctly entered as date serial numbers will display the SUM result in the status bar when you select more than one cell containing a date. Whereas text will only display the count.
Caution: in Excel for Microsoft 365 a SUM will appear in the status bar if proper dates and text dates are included in the range, therefore this isn't a reliable option for that version of Excel.
Text Date Quick Test 3: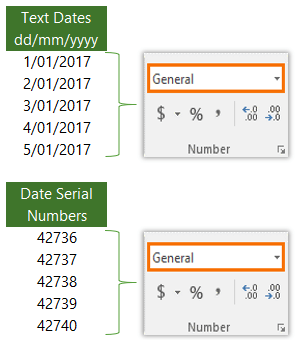 Another quick test is to change the cell format to General.
If your date format displays the date serial number (as shown in the second list of dates to the right) you're good to go, but if it still displays a date (as shown in the first list of dates on the right), then you've got yourself some text dates that need fixing.
It's not as simple as just changing the cell format to 'Date'. Those text dates are stubborn. We'll get on to fixing dates formatted as text soon.
Text Date Quick Test 4:
Widen the column; any dates that are text will align to the left, assuming no other alignment formatting has been applied to the cells.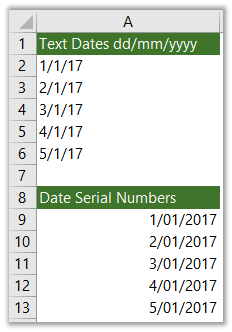 Fix Excel Dates Formatted as Text
Option 1: Use Built in Error Checking to Fix Dates
More recent versions of Excel are good at detecting dates incorrectly entered as text and tagging them with a warning notification. Hovering your mouse over the warning tells you the date is entered as text:

Clicking on the warning reveals a list of options for fixing the date, or ignoring the error, as you can see in the image below: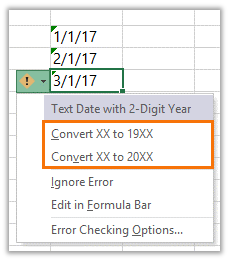 Tip: if you have a lot of dates to fix, or a lot of formulas referencing these dates then converting them to date serial numbers with this method could be slow. Option 2 may be quicker.
In cases where the warning doesn't display, as well as in earlier versions of Excel, we need to resort to other methods of fixing dates formatted as text. Let's take a look.
Option 2: Power Query
The video below runs through 5 common date formatting problems and illustrates how easy it is to fix them with Power Query. The bonus with Power Query is that you can refresh the query to get new data and have it automatically fix those dates too.

Download Workbook
Enter your email address below to download the sample workbook.
By submitting your email address you agree that we can email you our Excel newsletter.
Please enter a valid email address.
Option 3: Paste Special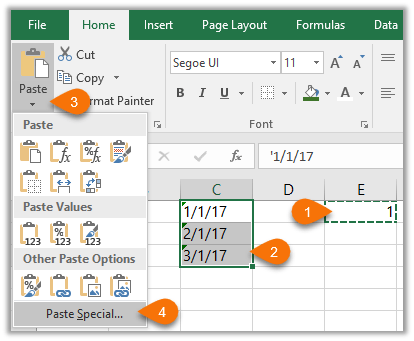 In an empty cell enter 1 and copy the cell to the clipboard
Select the cells containing the text dates you want to convert to date serial numbers.
Home tab > Paste >
Paste Special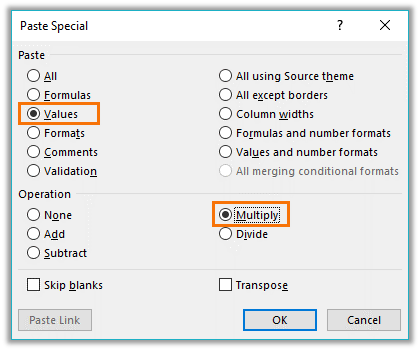 In the Paste Special dialog box select:
- Values
- Multiply (or Divide)
Tip: Paste Special > Values shortcut keys:
ALT > E > S > V > Enter or CTRL+ALT+V > V > Enter
Alternate approach: You can also use Paste Special with 'Add'.
Simply copy an empty cell > Select your date cells > Paste Special > Values & Add!
No need to go back and delete the '1'.
These methods will return a list of date serial numbers which you can then apply a date number format to.
Tip: on long lists with lots of formulas referencing your dates this method is often quicker than the error checking method in option 1.
Option 4: Text to Columns
If your text dates aren't formatted based on the standard structure for your region e.g. dd/mm/yyyy or mm/dd/yyyy, then a great tool to use is Text to Columns, because this allows you to specify the order of the date characters ensuring that they are converted to date serial numbers correctly.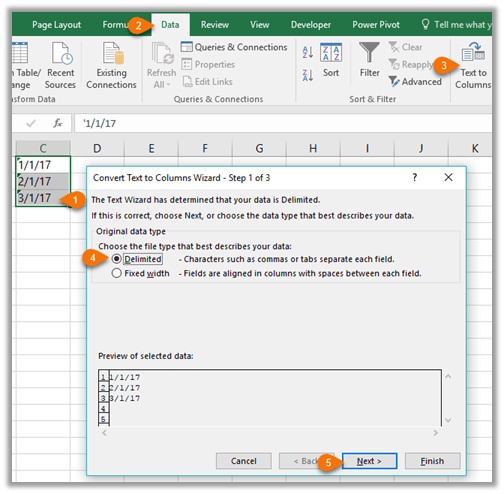 Select the cells containing your dates
Data tab
Text to Columns
Delimited
Next
In step 2 of the wizard simply click Next.
In step 3 of the wizard you can select the order of the date data from the drop down: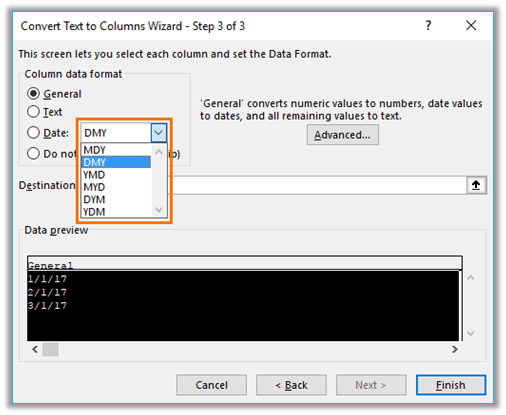 Note: this is the format of the text you're converting, not your final desired format.
Your final desired format can be applied with custom number formatting.
Option 5: DATEVALUE Formula
The DATEVALUE function takes a date text string and converts it to a date serial number, as you can see in this example: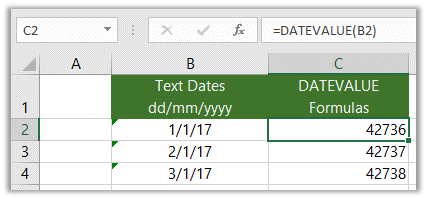 Tip: You'll probably want to convert those DATEVALUE formulas in column C to values with Paste Special > Values and get rid of the text dates in column B. No need to have them cluttering up your spreadsheet.
Need more ideas on how to fix Excel Dates formatted as text? Check out this post: 6 Ways to Fix Dates Formatted as Text in Excel
Excel Date and Time Formatting
Now that you know how to fix Excel dates formatted as text you'll want to format them, and maybe even use a custom date or time format. Here's a post with everything you need to know about formatting Excel dates and time.