The Excel NETWORKDAYS.INTL function (new in Excel 2010) returns the number of working days between two date serial numbers, excluding weekends and holidays. Weekend days can be specified.
NETWORKDAYS.INTL function syntax:
=NETWORKDAYS.INTL(start_date, end_date, [weekend], [holidays])
start_date A date serial number or text
end_date A date serial number or text
[weekend] This optional argument allows you to specify which days are included in the weekend. See list below: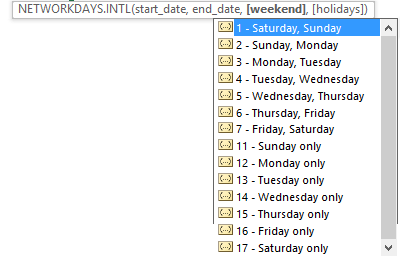 [holidays] This optional argument can be a range of cells containing holiday dates that you want to exclude from the workday count. In the example table below, my holidays are in cells J24:J31 are out of view.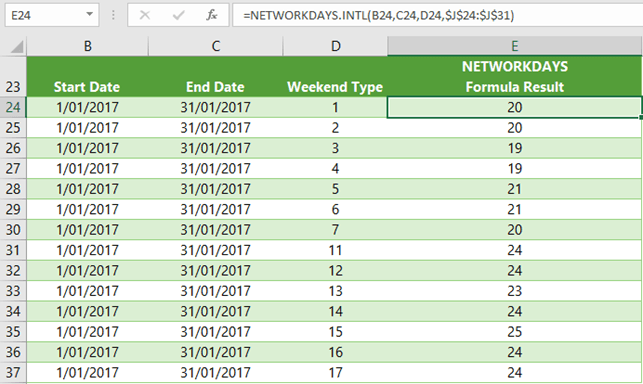 Note: NETWORKDAYS.INTL results are inclusive of the start and end dates.
Tip: NETWORKDAYS.INTL works with dates stored as text, but this is not reliable. It's always best to work with date serial numbers.
Bonus Tip: the weekend argument can be stipulated using a text string of 7 characters, with each character representing a day, starting with Monday. A 1 represents a non-working day and a 0 represents a workday. See examples below which stipulate non-workdays for Thursday, Friday, Saturday and Sunday.
The text string can be placed in a cell e.g. D45 or directly in the formula, see cell E46.

In earlier versions of Excel we only have access to the NETWORKDAYS function, which doesn't allow us to specify which days are weekends.
Free eBook - Working with Date & Time in Excel
Everything you need to know about Date and Time in Excel - Download the free eBook and Excel file with detailed instructions.
Enter your email address below to download the comprehensive Excel workbook and PDF.
By submitting your email address you agree that we can email you our Excel newsletter.
Please enter a valid email address.