Excel Formula Help is Here
Excel formulas can be frustrating to understand, especially when you start nesting functions.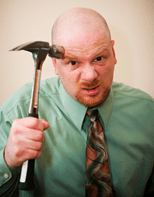 If you've used Excel for a while you've probably experienced the urge to bang your head on the desk in frustration. You may have even succumbed to that temptation. I know I have.
In the video below I share a handful of tips that will enable you to understand any formula and figure out why it's not returning the value you're expecting, or even worse, why it won't let you enter it at all!
Here's an email one of our members sent after watching this video:
"WOW! I've been using Excel a rather long time (mostly self-taught) and never picked up the some of the techniques you showed in this short video. I learned SIX new-to-me techniques just watching this 7-minute show! My coworkers think I'm an "Excel guru" but watching this…I'm nearer a novice!

I almost clicked out of the video when I saw it was troubleshooting formulae – a common enough task for me. But then I saw the tool tip and you moved it! I can't tell you how many times that thing has gotten in the way, but I didn't know it was moveable. And the other 5 troubleshooting tips in this video that I didn't already know – wonderful, wonderful!"
| | |
| --- | --- |
| For best viewing quality: press play then 1. click the cog and select 720p HD, and 2. click the icon on the bottom right of the video to view in full screen. | |
Relieve Frustration Around the World
Do you know anyone else who bangs their head on the desk in frustration with Excel Formulas?
Let's spare the world of Excel Formula frustration. Please click the link above to Tweet this, or scroll down to use the buttons below to share these tips with your friends and colleagues on LinkedIn, Google+1 and Facebook.
Want More?
Now you're ready to tackle anything check out my Excel Formulas List for new tricks to learn.
Sign up for our free Excel Tips and Tricks Newsletter and get loads more tips like these.