If you need to calculate due dates for projects or payments then Excel's EDATE function will make life easy for you.
Excel's EDATE function is great for:
calculating when a payment is due or project is to be completed
calculating the date x number of months ago or into the future
Excel EDATE Function
Syntax
=EDATE(start_date,months)
Returns the serial number of the date that is the indicated number of months before or after the start date.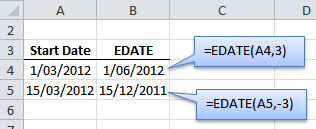 Extra Tip – Calculate Date from Today
3 Months from today:
=EDATE(NOW(),3)
3 Months prior to today:
=EDATE(NOW(),-3)
Note: if the date displays as a serial number simply change the formatting to a Date format. CTRL+1 to open formatting dialog box.
To be continued next week……