Using Data Validation to restrict what gets entered in a cell or range of cells is great for standardising your workbooks.
But what if you want a second data validation list to only show values that are specific to the first list, like the one below?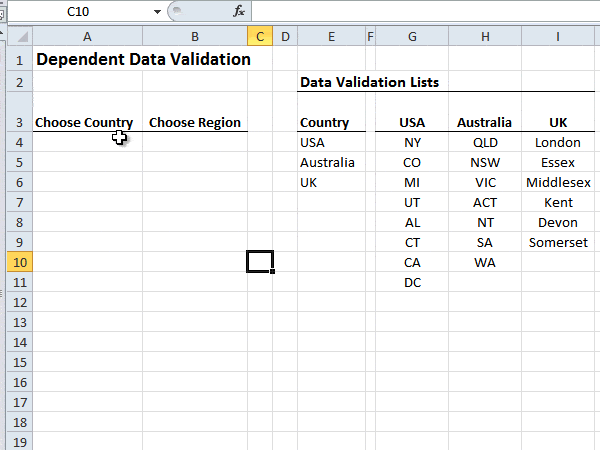 Well, that's exactly what Jackie emailed me about the other day, and here's how you do it.
How to set up Dependent Data Validation Lists
First of all enter the data for your lists. These are mine: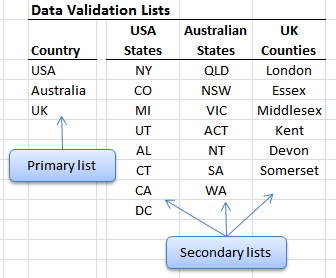 Now, give your primary list a named range.
To insert a Named Range:
Highlight the range of cells containing your list, excluding the header.
Up in the name box (the name box is highlighted by the orange box in the image below) type in the name you want to use (with no spaces) and press ENTER. As you can see, mine is called dv_country.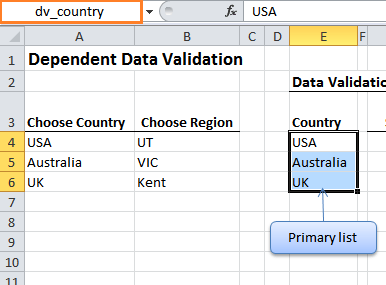 Now give your secondary lists named ranges too.
Here's the trick: you must use the data from your primary list for your secondary list names.
So, my secondary list for the USA states is called 'usa', Australia's secondary list is called 'australia' and the UK list is called 'uk' as you can see in the image below.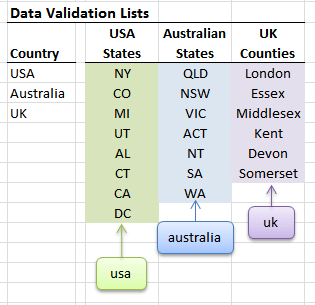 Now you're ready to set up your data validation.
Setup Data Validation
Choose the cells you want validated using your first list. Mine are A4:A6.
On the Data tab of the ribbon > Data Validation > Data Validation
Choose 'List' from the 'Allow' field
Enter the named range for your primary list in the Source field
Press OK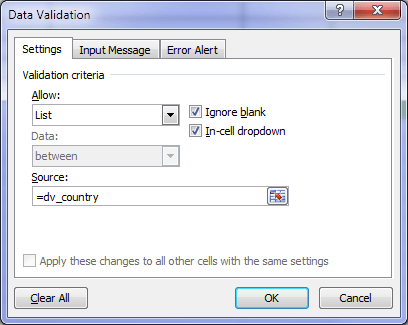 Setup Dependent Data Validation
Select the cells you want validated. Mine are B4:B6.
On the Data tab of the ribbon > Data Validation > Data Validation
Choose 'List' from the 'Allow' field
In the source field enter an INDIRECT formula that references the first cell containing your primary data validation. Mine is A4 therefore my formula is =INDIRECT(A4)
Press OK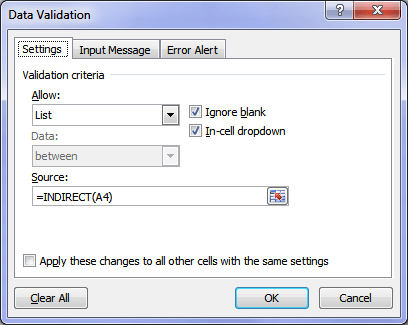 Bob's your Uncle (as we used to say when I was about 12).
Enter your email address below to download the sample workbook.
By submitting your email address you agree that we can email you our Excel newsletter.
Please enter a valid email address.
More on Named Ranges.
More on the INDIRECT Function.