One of the most common questions I get is:
Should I be using Power BI to build dashboards instead of Excel?
If the person you ask this of has only used one tool or the other, then you're likely to get a biased answer.
I have taught thousands of people how to build dashboards using both Excel and Power BI, so you can be assured that I will give you a balanced view.
The video below takes you through the main differences and pros and cons of each, enabling you to make an educated decision on which tool will suit you best.
Excel Dashboards vs Power BI Video

Excel Dashboards vs Power BI Comparison Table
The pros and cons of each tool are summarised in the comparison table below: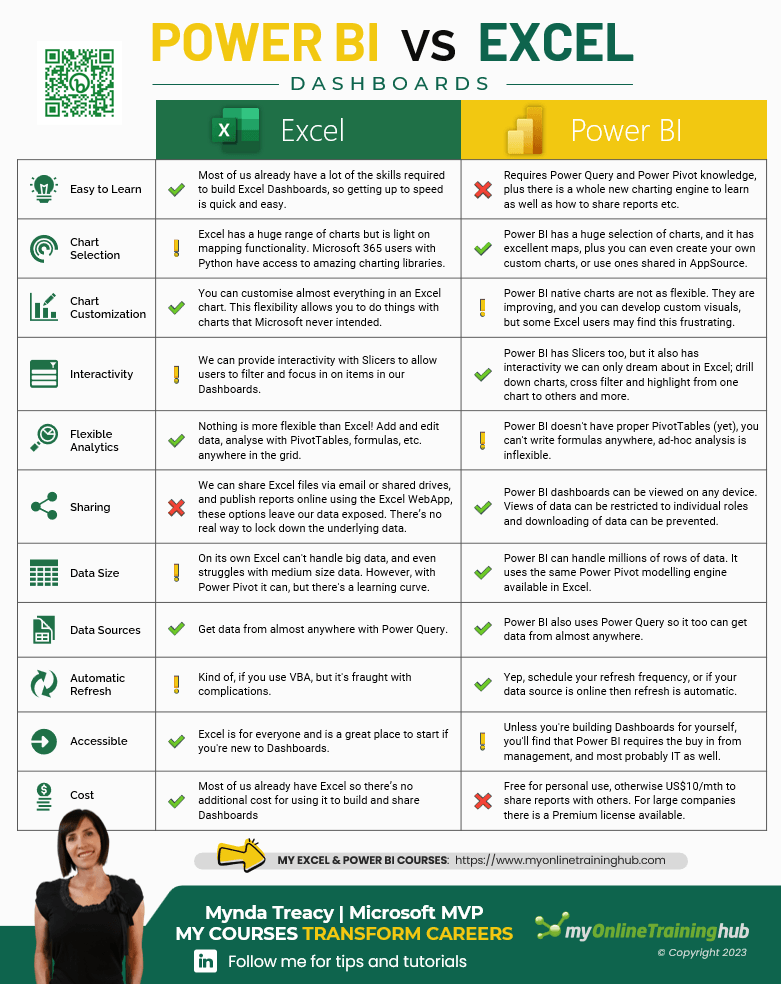 Download Comparison Table PDF
Download a PDF copy of this Excel vs Power BI Dashboards table.
Enter your email address below to download the sample workbook.
By submitting your email address you agree that we can email you our Excel newsletter.
Please enter a valid email address.
More Power BI Resources
Learn Power BI, Power Query and Power Pivot with Mynda.
Get up to speed fast with these focused courses that'll have you impressing your boss and co-workers with amazing interactive Power BI reports that refresh without you lifting a finger.
Get all 3 courses in a discounted bundle from the Power BI course page.
Download Power BI tools including the Desktop and Mobile apps (free)
Sign up for a Power BI Service account (requires work or school email address)
Don't have a work or school address? Use this workaround to get Power BI without a valid email address.
More Excel Dashboard Resources
Learn Excel Dashboards, Power Query and Power Pivot with Mynda.
Benefit from the same Power Query and Power Pivot tools in Excel to build interactive Dashboards, and when you're ready to move to Power BI, you'll have a head start.