They say the true Excel fan has uninstalled Word from their PC, and removed the F1 key from their keyboard (accidentally pressing F1 opens 'Help' which slows you down).
After all, who needs Word when you have everything you need to write a letter right there in Excel?
A must know tool for us Excel Die Hards is the Fill Justify tool which enables us to rearrange text across columns and rows automatically.
You can see in the animated image below that it's quick to change the number of rows or columns the text occupies by simply selecting the text and the number of columns you want it to span by applying the Fill Justify tool: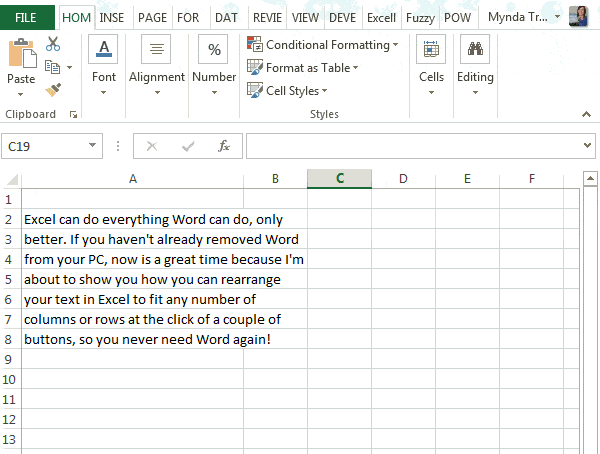 If you manage to read the text in the animated image above you should know that I am joking 🙂 Excel can't.... um,... there must be something it can't do that Word can....um...oh, there is one thing; it can't do Mail Merge!
You'll find Fill Justify on the Home tab of the ribbon in the Editing group: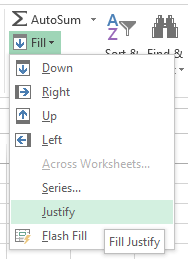 And if you use it all the time you can add it to your Quick Access Toolbar so it's always just a click away.
Tips:
Excel will automatically select the number of rows required. If you select too many rows Excel will just fill what it needs, and if you select too few it will give you a warning, which is handy if you have data underneath your text.
Excel only includes the rows of text that are selected.
The text can be in one row or multiple rows.
You can repeat the process again and again until you have it just the way you want.
The text is in the first selected column, it is not merged across cells.
Limitations
Ok, maybe uninstalling Word is a bit hasty 🙂 …. If you have more than 255 characters in a single cell, Excel will truncate the characters down to the first 255, or the last complete word under 255.
You can check how many characters in a cell using the LEN function. For example if you have a sentence in cell A1 you can use this formula: =LEN(A1) to return the number of characters.
If you've got more than 255 in one cell then you'll need to split it up into multiple cells before using Fill Justify.