Did you know there are only two functions in Excel that consist of one character?  They are T and N. Both are simple and very handy.
In this tutorial we're covering the Excel T function and I'll show you a few different uses for it.  And just like 'T', this tutorial is going to be short and sweet.
Excel T Function syntax
=T(value)
In English (this time straight from Microsoft for a change) the T function reads:
=T(checks whether a value is text, and returns the text if it is or returns double quotes (empty text) if it isn't)
Examples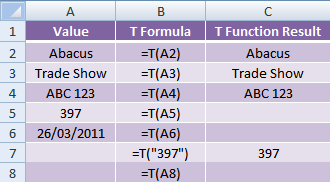 When to Use Excel's T Function
When you refer to a blank cell simply using =A1 you will get a 0. If you want to use this result in another formula it can cause problems, or it might simply be that it makes your spreadsheet appear untidy.
The table below goes through a few scenarios:

Row 12's result in column D is fine since there are no blank cells referred to in the formula, but  looking down column D we can see some of the formulas result in a '0' included where it's not wanted.
Go here for more on the CONCATENATE and ampersand (&) formulas used above.
Enter your email address below to download the sample workbook.
By submitting your email address you agree that we can email you our Excel newsletter.
Please enter a valid email address.
Download the workbook
. Note: This is a .xlsx file. Please ensure your browser doesn't change the file extension on download.
Have you got a use for the T function? Tell me what you think in the comments below.