In my previous post about Excel forms the date picker I used was a 32 bit ActiveX control. If mentioning 32 bit ActiveX controls makes your eyes roll back in your head, then this post is for you 🙂
This date picker is implemented as a VBA class. Which means all you need to do is include that class module in your workbook and you are ready to use the date picker in your forms. I've even included an example workbook with all the code you need.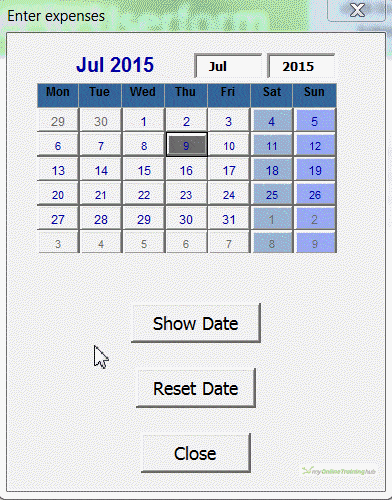 Because the code for the date picker is included in your workbook, you can distribute it and anyone using your workbook doesn't have to install any other files.
The ActiveX control only ran on 32 bit systems, but this date picker class runs on any version of Excel both 32 and 64 bit.
Excel date picker code
My thanks for the class code go to the authors, Krisztina Szabó, Gábor Madács and Roberto Mensa over at https://sites.google.com/site/e90e50/calendar-control-class. They do some great stuff over there so have a look.
You can download the example workbooks from E90E50 which let you insert a date into a cell in your sheet. My sample code presents a form and allows you to choose a date. What you do with that date is up to you, so it's ready for you to adapt to your needs.
My sample workbook also contains code to reset the date to today.
Download Your Excel Date Picker
Enter your email address below to download the sample workbook.
By submitting your email address you agree that we can email you our Excel newsletter.
Please enter a valid email address.