The Excel ISOWEEKNUM function (new in Excel 2013) returns the week number of a date serial number. The first Monday of the year marks the start of week 1.
Tip: It also works with dates input as Text, but this could be unreliable so it's always best to work with date serial numbers.
Excel ISOWEEKNUM Function Syntax
| | |
| --- | --- |
| Syntax: | =ISOWEEKNUM(date) |
Where the date represents a date in a format Excel recognises known as the date-time serial number. It can be contained in a cell, as shown in the examples below, or entered directly into the formula. E.g
=ISOWEEKNUM("2017,12,27")
Excel ISOWEEKNUM Function Examples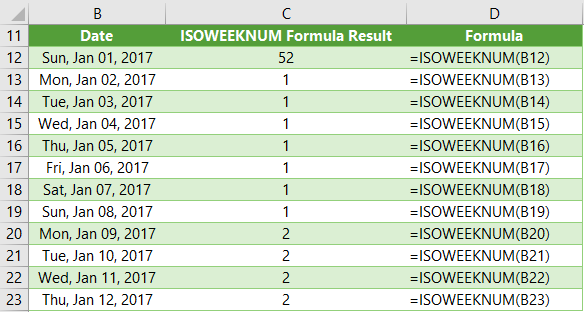 Free eBook - Working with Date & Time in Excel
Everything you need to know about Date and Time in Excel, including all Date functions explained with examples - Download the free eBook and Excel file with detailed instructions.
Enter your email address below to download the sample workbook.
By submitting your email address you agree that we can email you our Excel newsletter.
Please enter a valid email address.
Related Tutorials